Zoe Bäckstedt obliterates all competition to become British female national cyclocross champion
After overcoming a difficult start, Cameron Mason destroyed the field to take the men's title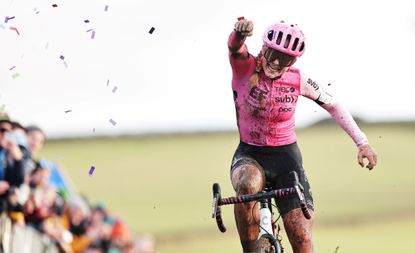 (Image credit: SW Pix)
Zoe Bäckstedt annihilated all competition to become British female elite national cyclocross champion and under 23 champion in Milnthorpe this afternoon.
As she sprinted away from the start line, Bäckstedt didn't look back and soon opened up a huge lead leaving her fellow competitors to scrap for second and third from the start.
Speaking to Cycling Weekly after the race, Bäckstedt explained that getting a good start was crucial on the heavy course in the Lake District.
"I had a fast start which I was really happy with. Coming onto the first section it was pretty sketchy as there were a lot of ruts forming in the mud so I knew how important getting it right from the start was," she said. "I've had a lot of good starts in races recently, so I just went from there."
On Saturday as she surveyed the course, the 18-year-old predicted that she would need to do a lot of running in order to maintain an advantage. Once the racing was underway on Sunday afternoon, Bäckstedt's prediction soon appeared to be correct and post-race she explained that the sections involving running were where she could really push on.
"It was a fast course. There were several places out there, particularly on the climb after the pits, where you could put a fair bit of power down, although the running was where I could really make up a fair bit of time," she said.
After dominating proceedings on home soil, Bäckstedt explained that with the cyclocross world championships in Hoogerheide, the Netherlands just around the corner, she would be fully focussed on a podium finish.
"I'm feeling full of confidence after getting the national title today, but the worlds is another thing altogether," Bäckstedt said. "There's going to be a lot of different riders there and different competition but honestly, I'm looking forward to it so much."
"Let's try for the podium out there now. Why not?"
CAMERON MASON OVERCOMES DIFFICULT START TO LAND MEN'S NATIONAL TITLE
Meanwhile Cameron Mason overcame a difficult start to land the men's senior national title.
The Trinity Racing rider was slow off the start line and soon found that last year's winner, Thomas Mein, had built an early advantage.
Mason was able to remain level-headed and calm, and soon clawed back the deficit to the early frontrunners to pull himself back into contention for the title.
The Scotsman's natural ability and skill soon shone through as he pushed on through the technical sections, involving a fast downhill chicane, before disappearing into the distance.
Once he had finally taken the lead, Mason didn't look back and sped around the fast and sweeping course to lap his nearest rival Mein and land a spectacular win.
Speaking to Cycling Weekly, Mason explained that he had learned from past mistakes where he had "attacked the course too early" and the difficult start soon worked in his favour as his rivals tired.
"I'd made the mistake last year of trying to attack the course a bit too much fairly early on," Mason said. "This year I wanted to let the race come to me. I had a terrible start which is what it is, but then my pace really started to show after a few laps. All I had to do was string a few corners together and ride at my own level then once I had that gap, I just went into time trial mode as much as I could to the end which paid off."
Elsewhere Seb Grindley also overcame several mechanical issues to secure a superb junior men's national title and explained post-race that his preparation had been far from ideal.
"It was hectic out there! I had a shocking start but managed to make my way through to the front of the pack after about a lap," he said. "I then dropped my chain which was really stressful, so I just had to keep my head on to be honest and claw my way back and stay smooth through the race."
"It's certainly not been the best prep for me before the race too. I was pretty ill for about a week and it's only recently cleared up. Today I felt great but I've missed a fair bit of training. In the end everything turned out good though so I can't complain.
Imogen Wolff took the junior women's national title with a dominant performance which she explained left her hoping she would make the selection for the upcoming world championships.
"I'm chuffed with this today. It's been a long time in the making. With world selections coming up next week I'm really hoping that I'll have done enough to be able to pull on the stripes out there," she said.
Thank you for reading 20 articles this month* Join now for unlimited access
Enjoy your first month for just £1 / $1 / €1
*Read 5 free articles per month without a subscription
Join now for unlimited access
Try first month for just £1 / $1 / €1