2025 Tour de France to begin in Lille and the north of France
It will be the first "home" Grand Départ since 2021, in the Nord Department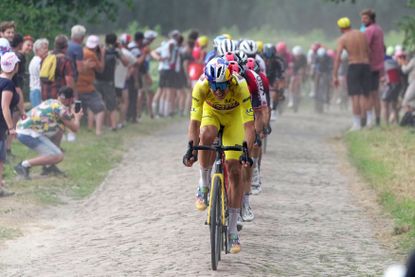 (Image credit: Getty Images)
The Tour de France will visit the north of France for the first time in three years in 2025, with the Grand Départ taking place in the Hauts-de-France Region, the Nord Department and the Lille European Metropolis.
Details of the opening of the 112th Tour will be announced in a fortnight's time, on 30 November in Lille, but the race's organisers, ASO, have initially announced that the first stages will take place in the north of France on Tuesday. The first stage will start in Lille, the capital of the region.
It raises the possibility of a stage over the cobbles of Paris-Roubaix, as happened last time the Tour visited the Hauts-de-France, in 2022, on a day from Lille to Wallers-Arenberg that was won by Simon Clarke.
Both the 2023 and 2024 routes largely ignored the north of the country, with the most northerly place being Paris in the former, and Troyes in the latter. This was partly due to both having Grand Départs in countries to the south of France: Spain and Italy respectively.
Therefore, 2025 will also mark the first time in four years that the Tour actually begins in France, resetting a pattern of one foreign start, one domestic, that was interrupted by the pandemic. After a run of three in a row outside of France - Copenhagen, Bilbao, and Florence next - it is a return to tradition.
According to La Voix Du Nord, a French newspaper based in Lille, the first four stages of the 2025 Tour will take place in the Hauts-de-France, with a sprint on the opening day, followed by a stage which takes in the cobbles, and a possible finish in Belgium, just across the border. It is believed the Tour will then visit Normandy and Brittany, as is redresses the balance of largely southern-tilted races in recent seasons.
Lille hosted the Grand Départ once before, in 1994, when Chris Boardman won the prologue before Djamolidine Abduzhaparov won a sprinter friendly stage one. That year, the Tour ended up jumping into the south of England for two stages in the opening week, but that not happening this time around.
The Tour last started in the Nord de France area in 2001 when Christophe Moreau won the prologue time trial and pulled on the first yellow jersey.
2025 will also represent a return to normality in another way, as the race will conclude in Paris on the Champs-Élysées after a hiatus in 2024, when the Tour is concluding in Nice.
This year Black Friday is running from November 24th - 27th. We've rounded up all the best Black Friday bike deals we've found in our main hub page. With deals spanning components, tech and riding kit, you're guaranteed to find a bargain.
Thank you for reading 20 articles this month* Join now for unlimited access
Enjoy your first month for just £1 / $1 / €1
*Read 5 free articles per month without a subscription
Join now for unlimited access
Try first month for just £1 / $1 / €1