All things must pass: SD Worx's 'bizarre' victory streak finally comes to an end after 20 wins
From the Basque Country to Switzerland, SD Worx has been creating history with its run of wins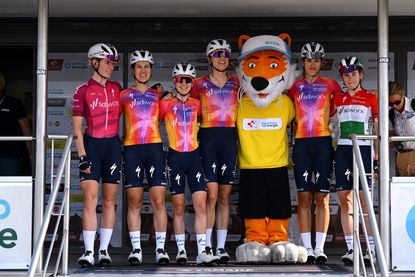 (Image credit: Getty Images)
What were you doing on the 7 May? Back then, in the distant mists of time, was the last moment that SD Worx competed in a race and didn't win it. Then, it was La Vuelta Femenina, where Annemiek van Vleuten somehow, somehow, won the overall by nine seconds from Demi Vollering.
That was, until Monday afternoon, when, 43 days later, Eleonora Gasparrini (UAE Team ADQ) won stage three of the Tour de Suisse to bring the winning streak to an end on Monday afternoon.
That meant 20 races competed in and won by the Dutch team, a frankly ludicrous run of form which saw victories for Lorena Wiebes (3) , Demi Vollering (5), Lotte Kopecky (4), Marlen Reusser (3), Kata Blanka Vas, Lonneke Uneken, Barbara Guarischi and Mischa Bredewold, plus a TTT win.
You run out of superlatives for a team which keeps winning like this, keeps monstering over everyone else. There have been three separate stage races this year where SD Worx has won every stage and the overall, which includes the six-stage Thüringen Ladies Tour. It is ridiculous. Even dominant cycling teams of the past - Jumbo-Visma, Quick-Step, Team Sky - didn't win everything.
Cycling is not a sport conducive to streaks; there are too many factors at play, too many things that could go wrong or go right, too many riders competing for a single win. Often, teams are competing over different objectives at the same time, making it practically impossible for the same team to keep winning, at different races, in different countries, with different riders.
Take Jumbo-Visma, the best men's cycling team in the world, who at a point in May was competing at the Giro d'Italia, the 4 Jours de Dunkerque, and the Tour of Norway, at the same time of in quick succession.
It might be slightly different in women's cycling, with less racing in total, and teams more able to pick and choose what they send riders to, but it is far from simple. In order for the 21-win streak to keep going, SD Worx had to win every stage of Itzulia Women and the Vuelta a Burgos Feminas, while Lotte Kopecky won the Veenendaal-Veenendaal Classic. "Just win, Lotte, and our streak will keep going."
Winning streaks are not unheard of in cycling, but they are unusual, reserved for true greats: Marianne Vos won eight races in a row in 2011, while Eddy Merckx managed five victories consecutively in 1972. Earlier this year, Tadej Pogačar managed five in a row, too.
However, 21 in a row for a team does seem like a first. SD Worx's predecessor team, Boels-Dolmans, managed five in a row in 2018, while Faema might have won four in a row on a few occasions thanks to Merckx in the 1960s, but 21 is next level.
Even the team themselves consider the streak "bizarre". One wonders if the riders got tired of celebrating - probably not.
"If you look at our results, I can really only conclude myself that it is ridiculously good," Danny Stam, the team's sports manager, said before the Tour de Suisse. "We have had a bizarrely good spring. We never expected these performances ourselves."
"I can't exactly pinpoint a reason for this success either. We had a good preparation for the season in Spain, where we again worked a bit harder than previous years. Then we were quickly successful and managed to keep this flow in the team. Everyone drives each other to a higher level this way.
"Of course we are immensely proud of it. However, we also know that this series is going to stop somewhere. Every race you start again at zero."
SD Worx has somehow managed to build a team that can win in almost any situation: across stage races, one-day challenges and in sprints, and it is something that its rivals couldn't seem to stop. The Dutch team has won 35 times this season, 24 times more than FDJ Suez, who has won the second-most of any team. In fact, SD Worx has finished second in 16 races, five more times than FDJ has won.
In Lorena Wiebes and Lotte Kopecky the team has two of the fastest, if not the two fastest, women in the peloton; in Marlen Reusser they have one of the best time triallists and all-round rouleurs, and in Demi Vollering they have the best climber/puncheur in the world of women's cycling right now. Add in the enviable cast of support riders, from Kata Blanka Vas to Christine Marjerus, and it is hard to beat the juggernaut.
It took a 21-year-old on stage three of the Tour de Suisse to finally derail the train. Gasparrini pounced on Reusser and Vollering's leadout work, powered past Arlenis Sierra (Movistar) to take the win in Ebnat-Kappel, the second of her career. It is hardly back to the drawing board for SD Worx - the team still lead the GC and points competitions - but it is a fresh start.
The streak being over also seems like good news for those of us who hope for a competitive Tour de France Femmes, just over a month away. Let's see how many wins SD Worx rack up before then.
Thank you for reading 20 articles this month* Join now for unlimited access
Enjoy your first month for just £1 / $1 / €1
*Read 5 free articles per month without a subscription
Join now for unlimited access
Try first month for just £1 / $1 / €1