'Bring on opening weekend, I am so ready'- Zoe Bäckstedt full of confidence as the 2023 Spring Classics draw near
18-year-old Bӓckstedt looking to round off cyclocross season with British national title, as she prepares for the cobbled classics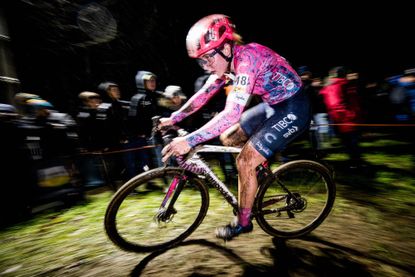 (Image credit: Getty Images)
After a long winter of cyclocross, Zoe Bӓckstedt is full of confidence as she awaits the opening weekend of the cobbled classics in Belgium.

Speaking to Cycling Weekly at the British national cyclocross championships, Bäckstedt said that the full details of her road programme are yet to be decided. However, her season is likely to begin with the women's edition of Omloop Het Nieuwsblad in late February.
"I'll be doing Het Nieuwsblad and that's about it for now. We'll have to see how I am after this cyclocross season," she said. "I don't want to do too much too soon and end up tiring myself out."
"Although yeah, opening weekend in Belgium and Het Nieuwsblad, bring it on I am so ready for it," she added.
"I honestly can't wait to get racing, it's going to be so good out there."
Despite having one eye on the beginning of her first full season as a professional with EF Education-Tibco-SVB on the road, Bӓckstedt is aiming to become British national cyclocross champion before the upcoming world championships in Hoogerheide, the Netherlands in February.
Coming into the national championships, the 18-year-old has picked up several top ten results throughout the winter in the UCI cyclocross world cup. Bӓckstedt explained that testing herself against some of the world's top riders has left her feeling confident ahead of a big few weeks of competition.
"The Christmas period has been really good to me," Bӓckstedt said. "It's been really exciting being up in the top ten's and top five's of some of the World Cups that I've done, particularly in some of the races where I've been up against some of the best riders."
"I'm just excited to be able to race a national championship again, particularly as I missed last year as I got Covid just before it," she added.
Bӓckstedt was on the sidelines on Saturday to support Ceris Styler of Bӓckstedt Bike Performance who landed the veteran women's national title. The 18-year-old explained that coming along to support Styler had given her a chance to preview the course ahead of Sunday's elite women's race.
"I've just tried to get a look at the course and see what some people do picking their lines, it will have changed by tomorrow with a lot of wetter mud," she said.
"It looks like there may be a fair amount of running, but nothing that you don't expect in a bit of cyclocross. I'm sure there will be plenty of sliding around as well. It's just good to be back racing in the UK for a bit."
Thank you for reading 10 articles this month* Join now for unlimited access
Enjoy your first month for just £1 / $1 / €1
*Read 5 free articles per month without a subscription
Join now for unlimited access
Try first month for just £1 / $1 / €1
Digital News and Features Writer
Tom is a Digital News and Features Writer at Cycling Weekly.
Before joining the Cycling Weekly team, he worked at Oxford Brookes University, most recently in the Internal Communications team. An avid cycling follower with a keen interest in racing, his writing previously featured on Casquettes and Bidons.