Cameron Mason cites Tom Pidcock as key influence after silver medal ride at European CX championships
'I'm not at my limits yet' says 23-year-old from Scotland after narrowly missing out on elite men's title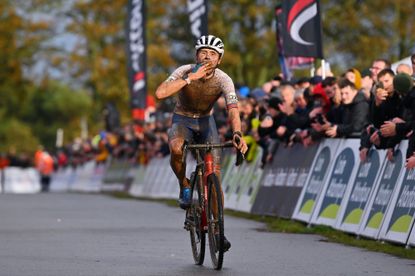 (Image credit: Getty Images)
Cameron Mason has credited former cyclocross World Champion Tom Pidcock as a major influence on his career after riding to a sensational silver medal at the European Championships.

The 23-year-old from Scotland became the first rider from outside Belgium or the Netherlands to podium in the elite men's race and finished just seven seconds behind race winner Michael Vanthourenhout.

Mason - who recently left Trinity Racing to join the Cyclocross Reds squad - later told Cycling Weekly that he had been inspired by former team-mate Pidcock's achievements as he looks to hit similar heights himself in the years ahead.

"We all need role models," Mason said. "Of course, when I first started watching cyclocross, it was Sven Nys and then Mathieu [van der Poel] and Wout [van Aert]. These role models are great but they're not very relatable. They've spent their whole life racing at that level in Belgium, you know, they speak a different language, they're from a different culture.

"Then with someone like Tom to be racing at that level with the background he has, which is a real kind of go ride background, of club coaching, of grassroots racing, of inter regionals, all that stuff.

"I have come from a similar background in UK Sport to him and it just shows that with the right kind of people around you, the right combination of luck and right time, right place that's the direction things can go in. That's a part of the reason why you don't stop believing because you see someone you can relate to also reaching those heights so I think it's right to credit a bit of that to Tom [Pidcock].

"I'd like to think I'm one of those people now for younger riders. I do think it shows that a little patience and determination can result in some good things."
Throughout the closing stages of Sunday's race, Mason worked tirelessly to put Vanthourenhout under pressure as he closed in on the Belgian.

His silver medal combined with a fourth place in the infamous Koppenbergcross suggests that the only way is up for the 23-year-old. Mason echoed that sentiment and explained that he believes he is still yet to reach his potential in the discipline.

"It'll just be interesting to see when we stop saying that," he said. "I kind of hope we don't and I can just keep going all the way to the top but, you know, the body and the mind have limits but I really do think I'm not at those limits yet.

"It probably says a lot about the person I am as well and what I've dealt with to get to this point. Throughout all the ups and downs it's important just to keep the faith and keep the kind of direction going because it does pay off and its days like the weekend where it is obviously quite clear for everyone to see.

"There are also lots of small wins that get you to a point like yesterday where I can kind of go for those medals."

"Yesterday was not a perfect race," Mason added. "It was not ideal, you know, from my grading to my start to my aggression on the first few laps, it wasn't ideal and there are still more performance percentage points to be brought out through training, through possibly a road programme. I think there's still a good amount in there still, which is pretty exciting.

"It's just going to be a case of working on those small things, those small details, really kind of getting into the marginal gains and that's maybe that next kind of three or four percent which gets the win which is pretty cool."

Meanwhile Great Britain's Zoe Bäckstedt and Cat Ferguson added to Great Britain's success by taking the women's under 23 title and a silver in the junior women's category respectively.
Thank you for reading 20 articles this month* Join now for unlimited access
Enjoy your first month for just £1 / $1 / €1
*Read 5 free articles per month without a subscription
Join now for unlimited access
Try first month for just £1 / $1 / €1