'Gravel is insanely hard' - Kasia Niewiadoma shows of her rainbow jersey with a win at Big Sugar Gravel
Norwegian Torbjørn Andre Røed takes the sprint in the men's race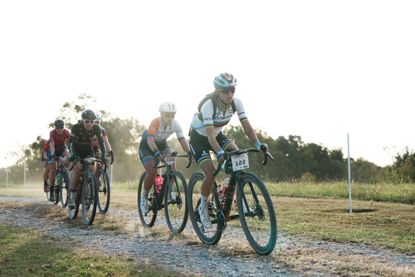 (Image credit: Lifetime)
Freshly crowned gravel world champion, Kasia Niewiadoma (Canyon-SRAM), rode her rainbow kit to victory at her second-ever gravel race on Saturday, 21 October, at Big Sugar Gravel in Bentonville, Arkansas, USA.
Big Sugar Gravel offers two signature races: the marquee 100-mile course (which was actually 104 miles) through the Ozarks with approximately 7,000 feet of elevation gain, and a fast and scenic 50-mile course.
The 104-mile gravel race doubles as the series finale of the Life Time Grand Prix series, which meant the fields were stacked with the country's best off-road talent.
While Niewiadoma soloed to her finish, the men's race came down to a sprint finish, won by Norwegian Torbjørn Andre Røed.
The Life Time Grand Prix series was won by U.S. national gravel champion Keegan Swenson and the formidable Sofia Gomez Villafañe, who each took home $25,000.
Kasia Niewiadoma shows of her rainbow jersey with a win at her second-ever gravel race
Dominant all season long, off-road specialist Gomez Villafañe was quick to make her mark on the race with an early breakaway. But she had company with the newly crowned gravel world champion, Niewiadoma, sitting in her wheel.
The duo, however, made a costly mistake as they took a wrong turn and thereby losing their lead to last year's winner, Paige Onweller, who was joined by Jenna Rinehart and Sarah Sturm.
When Gomez Villafañe and Niewiedoma rejoined the lead group, it was Niewiadoma's turn to launch an attack. She kicked hard just moments after rejoining the group and no one had a response. She quickly built an advantage of two and a half minutes on the chasers who eventually gave up the fight. Niewiadoma soloed to the finish some nine minutes ahead of second place finisher, Lauren De Crescenzo, a phenomenal soloist in her own right. Anna Hicks came across the line one minute behind De Crescenzo to round out the podium.
"I feel like hearing about gravel beforehand I was like 'oh, sweet we'll just ride for long and then relax and have fun' but it's insanely hard, and I feel like every single roadie should know that because I know at some points we were like oh, gravel is for people who don't want want to really race but it might be the opposite," Niewiadoma commented after the race.
While the racing is different from what she's used to on the WorldTour circuit, the Canyon-SRAM rider was praiseful of her gravel competitors, and hinted that she may do some more gravel events.
"The girls we very strong out there for sure," she said.
"To be honest, the last five kilometers I was like 'never again.'" It's super hard but I feel like yeah, always after winning and after a big suffer fest it feels so satisfying that you want more."
Torbjorn Andre Røed sprints to victory in the men's race
The men's race also began with some early breakaways. Norwegian Jonas Orset was the first to escape the pack, and was joined by American John Borstelmann.
They didn't stay away for long, however, as they were soon swallowed up by a lead group of race favorites, including U.S. national gravel champion, Keegan Swenson.
Punctures riddled the field. Eventual winner Røed was unlucky as well and had to burn some matches to get back to the action.
Unhappy with the competition, Borstelmann made another attempt to break free with some 25 miles left in the race. At first he appeared successful, gaining a minute and a half over the chaser group led by Swenson, Lachlan Morton and Cole Patton.
As the miles ticked down, Borstelmann was reeled in as the lead group prepared for an exciting finale. A group of five riders entered the finishing straight first for a furious dash to the line.
Røed narrowly outkicked Brendan Johnston for the win. Alexey Vermeulen finished in third, Swenson fourth and Cole Paton was fifth.
"It feels pretty awesome," Røed said after the finish. "I've wanted this for a while and feel like I've had the legs to do it and it's awesome to put it together."
Thank you for reading 20 articles this month* Join now for unlimited access
Enjoy your first month for just £1 / $1 / €1
*Read 5 free articles per month without a subscription
Join now for unlimited access
Try first month for just £1 / $1 / €1