'It's not nice to lose in that way' - Tragic end for breakaway duo on stage six of the Giro d'Italia
Simon Clarke and Alessandro De Marchi had their dreams crushed with 200m to go in Napoli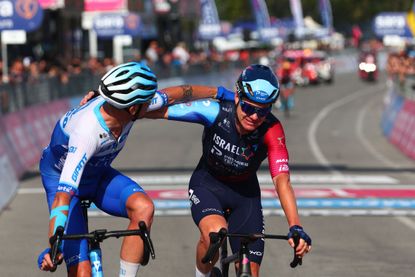 (Image credit: Getty Images)
Cycling is a sport full of pathos. There is only one winner at the end of a race, which means there are often more than 170 riders left wanting more, disappointed. There are crashes, moves that don't quite work out, riders distanced through no fault of their own through mechanicals, or the most heartbreaking of all, the climber caught out in the wind.
The pathos was in abundance on Thursday's stage six of the Giro d'Italia, as two riders crossed the line sadder than anyone else in Napoli at that moment, in a city full of joy, for footballing reasons. Not only was the breakaway caught within sight of the finish line, but this could be a final chance for both of the riders in the move.
With 67km to go, Simon Clarke (Israel-Premier Tech) and Alessandro De Marchi (Jayco AlUla), two 36-year-olds, two former teammates, forged off the front of the five-man breakaway, in the knowledge that their companions were only anchors at this point, not engines pulling them forwards.
The effort seemed futile - two riders against the might of the peloton, with five teams prepared to pull the leading duo back - but as the kilometres ticked by, the hope was still there.
With 40km to go, the pair still had 2-30 over the chasing peloton. With 30km to go, it was still over two minutes. 30km to go and it was still at 1-39. Amid the street furniture and chaos of inner-city Napoli, it looked like a day where the break could make it.
Into the final kilometres, and the gap kept dropping, but it seemed like it might just be enough for Clarke and De Marchi, who surely still believed. If they didn't, they were doing a good impression of people who did believe.
However, as good as the pair worked together for a couple of hours, there would always be a point at which that loyalty was stretched to breaking point, and they started working for themselves. Sadly for De Marchi and Clarke, there was no time to work this out on the road, and the pair seemed to accept their fate inside the last kilometre.
The heartbreak, the pain, came in sight of the finish line, after the duo had already gone under the flamme rouge, well within 500m to the finish.
This is the cruellest heartbreak of all, the famous, beautiful win taken from under their noses while the prize was in sight. The sprinters overtook them once De Marchi and Clarke realised that all was lost.
Clarke called it "devastating". There was no time to come to terms with the gutting result, the denouement coming all too quickly. It is, as they say, the hope that kills you.
"It's not nice to lose in that way, getting caught with so close to go," he said. "I'd probably prefer to be caught with 10km to go rather than 200 metres. You can't win them all, but if you don't try then you never know. Tomorrow's another day.
"Look, at the end of the day, there's always going to be a moment where you have to decide to stop pulling. You can't pull all the way until 10 metres to go. We needed 10-15 more seconds. It was just the way it was.
"I just keep working hard and every year work a little bit harder. I don't sit at home and look at how old I am, I just keep working harder than ever, actually, and that enables me to still put in performances like today."
Immediately after the stage finish, De Marchi said he was "disappointed" that it was just the pair alone; however, none of their break companions were able to offer much in the way of assistance, clearly. The sprint teams are all too canny to let the escape get too big, so this was how it had to be.
"Super hard, but we tried," the Italian said. "We didn't give up, so we will see. We will try again."
De Marchi and Clarke might try again, but aged 36, will they have many opportunities to do the same again? To see the finish line, in a two-up sprint?
Cycling always provides as much pain as joy. Pedersen celebrated, completing his Grand Tour stage trilogy, while Clarke and De Marchi consoled each other. The range of emotions covered in one tableau. Onto tomorrow, another day for pathos.
Thank you for reading 20 articles this month* Join now for unlimited access
Enjoy your first month for just £1 / $1 / €1
*Read 5 free articles per month without a subscription
Join now for unlimited access
Try first month for just £1 / $1 / €1