Katie Archibald clinches Track Champions League title in London
Brits in form on final weekend as Archibald, Dylan Bibic, Harrie Lavreysen and Ellesse Andrews win overall leagues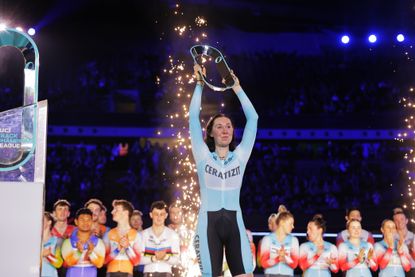 (Image credit: Alex Whitehead/SWpix.com)
Katie Archibald secured the overall women's endurance title at the UCI Track Champions League on Saturday, on another rousing round for the Brits.
Having won every elimination race so far this series, the two-time Olympic gold medallist bowed out third in the event in round five, but still earned the league win by 15 points.
Her overall victory rounded off a commanding double-header weekend for the Brits, in which five different riders prevailed.
"It feels very good [to win]," Archibald told Cycling Weekly afterwards. "It wasn't a sort of unassailable lead at the end there, and it's a shame not to win on the final round.
"I feel mainly bad because this was the race that my sister came to, so she might not be the lucky charm I was after, but I'm really happy."
Endurance league winner in 2021, Archibald was always the forerunner for this year's crown. She took the leader's jersey in the first round in Mallorca, Spain, and kept it on her shoulders throughout the competition.
"I'm not the most explosive, I'm not the longest, but my natural form lies really in track racing and those three to five minute efforts, which is exactly what this series is," Archibald said. "When it comes to firing the gun, this, for some reason, is just what I'm good at."
It was a successful night, too, for fellow Scots Mark Stewart and Neah Evans, who took their first victories of the series, each winning a scratch race.
Stewart was part of a four-rider move that swapped through turns to hold off the pack in the men's event. In the final lap, the 28-year-old peeled off the front and drove away to victory, before Will Perrett sprinted to a British one-two.
"For at least a few laps, we were a team against the bunch," Stewart said. "I knew with four laps to go we had a big enough gap, and I love that way of thinking - and these are millisecond thoughts - but you're like, 'Right, how can I beat this guy? What's his strength?'
"To be able to, basically, in one lap, turn around that thought process, execute it and go, 'Mega, I was right. It paid off,' is pretty cool."
Stewart's victory enlivened the home crowds in London, who unleashed a wall of noise when Evans thundered to victory later in the night.
The Scot latched onto an attack from Olivija Baleišytė (Lithuania) with eight laps to go, and then powered solo, waving to the stands as she crossed the line.
"It's one of those cliché things where you always say, 'home crowds, the noise is amazing,' but it really is," Evans told Cycling Weekly. "We had been off the front a little bit, so I knew I didn't have the sharpest legs for the sprint, and then the crowd just started roaring and I was like, 'Go on, give everything.'"
Elsewhere, scratch race world champion Will Tidball (Great Britain) finished second to Canada's Dylan Bibic in the men's endurance league.
Harrie Lavreysen (Netherlands) and Ellesse Andrews (New Zealand) took home the sprint league titles, the duo having asserted their dominance throughout the competition. Lavreysen won seven of his 10 events across the five rounds, while Andrews won six.
Thank you for reading 20 articles this month* Join now for unlimited access
Enjoy your first month for just £1 / $1 / €1
*Read 5 free articles per month without a subscription
Join now for unlimited access
Try first month for just £1 / $1 / €1