Katie Archibald wins as Brits shine at Track Champions League in London
Trio of British victories sets tone for double-header final weekend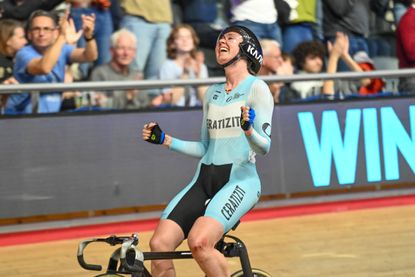 (Image credit: Simon Wilkinson/SWpix.com)
Katie Archibald crowned a barnstorming night for the Brits at the UCI Track Champions League on Friday, continuing her unbeaten run in the elimination race at the series.
The Scot's victory followed wins for Danni Khan and Will Tidball, who both had the home crowds roaring inside London's Olympic velodrome.
The loudest cheer of all, though, came on the final race of the night, when Archibald lifted her arms triumphantly, having jostled with Norway's Anita Stenberg, and despite an earlier crash.
"[The elimination race] is the thing I enjoy most," she told Cycling Weekly trackside. "I think [Stenberg] was trying to hold me out when we went down to three with Lara [Gillespie], and you could tell she was thinking that maybe I didn't have the legs.
"What's funny is that, you know when someone shoves you, you shove them back? And it's like, you wouldn't have done it if you weren't provoked? I was like, 'Here we go', and I tried to do the same to her.
"I went for a drag race," Archibald continued. "Quite often, psychologically, if you get in front of them before the banking, most people crack."
And crack Stenberg did. Archibald has now won all four of the elimination races in this third series of the Track Champions League, and was driven on in London by her family wielding a Scotland flag on the home straight.
She will now take the leader's jersey into Saturday's finale, with a 12-point advantage over Stenberg.
"It's been a really good test," the 29-year-old said of the series so far. "I quite often attack early and the other riders know that, but if you've ridden well, they can't do anything about it. Throughout this series, that's only happened once.
"When it's gone down to me and Anita, I've had to scrap for every metre."
Earlier in the evening, scratch race world champion Tidball opened his Track Champions League account with a victory in the men's elimination race.
As he went into the final lap, shoulder-to-shoulder with Belgium's Jules Hesters, the 23-year-old stirred the crowds with a rousing hand gesture. He then lost his opponent's wheel, closed the gap, and won dramatically by a tyre's width on the line.
"You've got to have some fun, you know?" Tidball told Cycling Weekly, after high-fiving the front row down the back straight. "It's not a World Championship, I'm here in front of a home crowd. Alright, [it was a] shame it wasn't in my rainbow jersey, but what are the chances you get to do something like that?
Following his scratch race win at August's Super Worlds, Tidball joked that he became "the opposite of an athlete", drinking "lots of beers on the beach" and "celebrating a bit too much".
He is now back to form, he said, adding: "It's nice to get a bit of attention. I've gone a few years without getting the limelight, so it's nice that things are coming good."
🔄 Men's Elimination Race results 🥇 - Will Tidball 🇬🇧🥈 - Jules Hesters 🇧🇪🥉 - Sebastian Mora 🇪🇸Does it get much closer that THAT?! Tidball by the smallest of margins 📏 and the crowd loves it! #UCITCL pic.twitter.com/JtuShFEnEqNovember 10, 2023
See more
The first Brit to win in London this year was Saint-Piran rider Khan, who claimed a surprise victory in the women's scratch race.
"I'm speechless," she said as she warmed down on the rollers, a stunned expression on her face. "I never envisaged that I'd be part of this fantastic event, let alone go on to take a win in London."
The 28-year-old stepped away from her career on the track in 2016 to concentrate on the road, only returning to the boards this year. She was part of a three-rider move in Friday's scratch race that went with seven laps to go.
"I've been watching every race for the last few rounds," she said, "and it's been won by someone going with seven or eight [laps] to go. I've got boxed in every time and finished fifth, sixth, seventh, so I really didn't want that to happen again."
This time, Khan led the final lap and narrowly held off Lily Williams (USA) across the line. She thanked her coach and father afterwards - "I couldn't do it without them," she said.
Elsewhere, Team GB's Katy Marchant finished runner-up to Alessa-Catriona Pröpster (Germany) in the match sprint, while the Colombian duo of Kevin Quintero and Martha Bayona bossed the keirins.
The riders will return to London's Lee Valley Velodrome on Saturday evening for the closing round of the competition.
JUST...WOW! 🤩Dannielle claims the Scratch Race on the line as Lily Williams mounts a late challenge. But the Brit holds on for a win in front of a home crowd. Goosebumps! #UCITCL | @BritishCycling pic.twitter.com/26IStjoMPvNovember 10, 2023
See more
Thank you for reading 20 articles this month* Join now for unlimited access
Enjoy your first month for just £1 / $1 / €1
*Read 5 free articles per month without a subscription
Join now for unlimited access
Try first month for just £1 / $1 / €1