Mark Cavendish: 'All I've ever wanted is to be treated as a human being'
The Manxman starts his season in Oman not understanding the fuss around him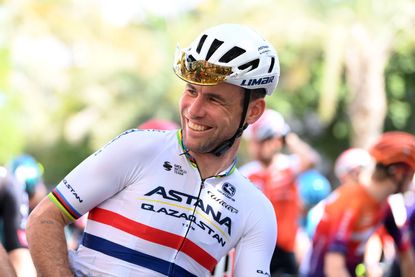 (Image credit: Alex Broadway / Getty)
Get The Leadout Newsletter
The latest race content, interviews, features, reviews and expert buying guides, direct to your inbox!
Thank you for signing up to The Pick. You will receive a verification email shortly.
There was a problem. Please refresh the page and try again.
Mark Cavendish is in no mood for the obvious questions.
You know the ones: Tour de France participation, that record, his season goals, etcetera. He's never had time for them during his illustrious 18-year career, and he's not going to break a tradition of a lifetime now. When someone asks him the Tour question ahead of the Tour of Oman, he doesn't even provide a response.
Yet as he shuffles in his seat onboard an unmoving double-decker wooden boat that looks like it hasn't ever set sail into the Gulf of Oman, the Briton does want to reveal one thing: he feels loved at his new team Astana-Qazaqstan in a way that he hasn't felt for quite some time. And that's significant for an emotional character.
"They've just been nice, you know," the 37 year old smiles. "I guess if you go somewhere new as a journalist, if you go into a new situation, you're always going to feel a bit on the outside. If you come in and your colleagues embrace you, it makes you feel nice straight away. It's exactly the same as that.
"If you go into your first day of school you can either be nervous and be embraced, or be left on the edge. I've been embraced really nicely here. It's great, yeah. It's a nice laugh."
It was around two months ago that Astana's manager Alexander Vinokourov called Cavendish up, offering him a spot on the team following the closure of his prospective new outfit B&B Hotels-KTM.
"The biggest thing about everything was how Vino spoke to me," he says. "Just the context in how he spoke: I didn't have to feel that I had to prove myself. It was quite professional."
It's hard not to shake the perception that he is alluding to something else with that comment. We never get to ask for the interview is cut short after only eight minutes, Cavendish visibly irritated by rudimentary questions, and claiming he had nothing new to say.
But he does go back for more. "I'm very happy," he says. "Very excited. It's been a lovely welcome. We haven't really needed to have such an open conversation [about race program or team selection], it just seems that we're on the same page.
"A fundamental part is that I don't have to prove myself. Picking and choosing riders is not something I've ever really done anyway."
Cavendish's win tally is currently 161 - more than any other male rider still competing. In an interview with The Times earlier this week he spoke about his insatiable thirst for winning, and there's a sense - though one that is unconfirmed - that he hasn't put any serious thought into retirement just yet.
But as the sun goes down and the strength of the heat abates, Cavendish doesn't want to profess his love of winning. In fact, he's annoyed why around a dozen journalists have flown out to Oman specifically because, let's be frank, he is on the startlist. It's as if he is struggling to grasp that he remains a cycling icon.
"I just want to race [and] like every other bike rider, I just want to be on the same level as every other bike rider who doesn't have a story written about them when they haven't done anything," he pleads to deaf ears.
"I want to be on the same level as them: let my legs do the talking of what I do, enjoy riding my bike with my teammates and be treated as a human being. That's it, that's all I want, that's all I've ever wanted, to be treated as a human being. Like every other bike rider that is here and in world cycling."
There is, however, an important topic to be breached. Astana have never been known as a sprint team. When announcing the signing, Vinokourov admitted that "the arrival of a top sprinter is kind of a challenge for us".
Cavendish is wise enough to the reality. "For sure the sprints are very new to the team," he admits, "but with how they race… if I didn't believe in what they had here, I wouldn't be at the team. It's a very, very good team. Astana actually have an incredibly strong team."
Six days in Oman, in and out of Muscat, passing through the desert and up and over mountains will help form a bond. "There are not many, if any, sprint opportunities, but it's a good place to prepare my race fitness and get to know the guys," the current British champion predicts.
"There is more than just a sprint team in Astana, so to get to know each other properly it's actually a very good place to do that here."
Thank you for reading 20 articles this month* Join now for unlimited access
Enjoy your first month for just £1 / $1 / €1
*Read 5 free articles per month without a subscription
Join now for unlimited access
Try first month for just £1 / $1 / €1