Michel Hessmann anti doping positive a 'black day' for Jumbo-Visma says boss
22-year-old German rider suspended by Dutch team in August after positive test revealed presence of diuretics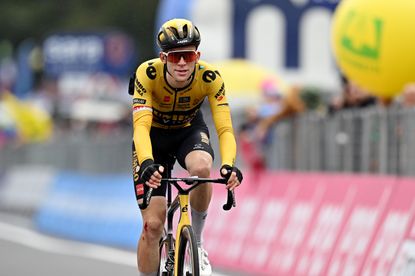 (Image credit: Getty Images)
Richard Plugge has said that the day Jumbo-Visma were notified of German rider Michel Hessman's positive anti-doping test was a 'black day' for the team.

Hessmann was suspended by the Dutch squad in mid-August after an anti-doping test conducted in June came back positive. The test revealed the presence of diuretics in Hessman's system. Jumbo-Visma immediately made the 22-year-old inactive until further details were known.

In his latest column in Wielerflits' Ride magazine, Plugge went into further detail about the day Jumbo received the news.

He said: "Wednesday, August 16, 2023 was a black day for our team. For the first time in ten years, we received the message that a rider from our team, Michel Hessmann, had a positive doping test. We had to look in the mirror ourselves, are we doing everything right?

"Everyone involved in and with our organisation must be aware of everything. Germany has a doping law, so the public prosecutor's office is automatically involved. Criminal law has the presumption of innocence, while disciplinary law reasons the other way around. It is up to the athlete to prove that he has done nothing wrong.

"If the test is carried out properly, there are two possibilities, either it is conscious, or it is contamination from a supplement or other medicine."
Plugge also elaborated on the way in which the Dutch team work to avoid potential contamination in any products they use.

"It is mandatory within our team to only use supplements and medicines that have been batch checked for doping substances, to minimise the risk of contamination. Many products contain remnants of other products," he added.

"In short, an athlete cannot simply take a supplement, drug or energy drink without knowing whether it has been tested beforehand. There can be a (in or out-of-competition) doping control 365 days a year, the athlete must be sharp every day.

"That is part of cycling policy. Riders (the multiple winners or leader jersey wearers) are checked between thirty and 150 times per year. That is good and should remain that way. We stand for fair sport in which talents cross swords on equal grounds."
'We understand the scepticism'
The Hessmann positive came shortly before Jumbo-Visma completed a phenomenal clean sweep of the Vuelta a España podium.

American Sepp Kuss won the race overall, Tour de France champion Jonas Vingegaard took second and Giro d'Italia winner Primož Roglič finished third.
After the race all three riders acknowledged the scepticism that inevitably had started to creep in but insisted that the team's incredible season is believable.

Two-time Tour winner Vingegaard said: "For sure we understand the scepticism that there is but people also need to know how much we sacrifice for everything and how much we do everything in detail.

"We go into every detail to be as good as possible. I think that especially in this team, we do everything perfectly and it makes such a big difference, and I don't think that people realise how much of a difference it makes.
"I think it's always good to be sceptical, especially when a team is doing well, as long as it's not allegations. "As long as we speak about it, because of what happened 20 years ago, then I think that will prevent it happening again.
"I'm 100 percent sure that my two colleagues are not taking anything as well as myself."
Thank you for reading 20 articles this month* Join now for unlimited access
Enjoy your first month for just £1 / $1 / €1
*Read 5 free articles per month without a subscription
Join now for unlimited access
Try first month for just £1 / $1 / €1