Neah Evans and Charlie Tanfield take National track titles
Olympians put in strong performances on the first day of competition in Newport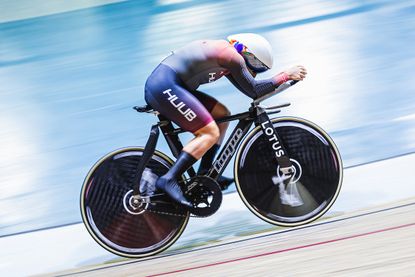 (Image credit: Alex Whitehead/ SWpix.com)
Olympic experience proved decisive on the first day of the British Track National Championships as Olympians Neah Evans and Charlie Tanfield took home two of the five titles on offer.
The third was won by British Cycling's Team Inspired in the team sprint and British Cycling academy rider Emma Finucane won the women's sprint competition in dominant fashion. Meanwhile, Thomas Wing, piloted by Josh Dunham, won the MB para-sprint title.
Evans, the reigning champion in the individual pursuit, one of the two national titles she is defending at these championships in Newport, Wales, put in a dominant performance catching home-favourite Ella Barnwell (Inspired) with 500m still to race.
The Huub rider powered on to set a time of 3.24.180 for the three-kilometre distance.
Evans was one of very few Olympians that are down to ride at the National Championships. When asked why she decided to race, she said: "I think it's something to be respected. For some ladies, this is the highlight of their year, and they want to pitch themselves against the best in the country and I want to show up and put in a good performance."
She added: "Yes I've got bigger targets this year but it's always nice to come away with a national title."
"I was really pleased with my quali ride but in the final I fluffed the start slightly but I still held it together after that," the Scotswoman said.
The pair were joined on the podium by bronze medallist Frankie Hall, who looked like she might have gone out too strong as Kate Richardson (Inspired) chipped her advantage down to under a tenth of a second, but the Loughborough Lightning rider recovered to win by a comfortable margin.
In the men's gold medal ride off Charlie Tanfield (Saint Piran) did 4.11.745 to best Michael Gill (Huub-WattShop) by nearly a full second. It was the Yorkshireman's first national title since 2019.
"A national title never gets old," he said.
Tanfield had set a time that was four seconds slower in the first round, which was still good enough to get him into the final, and attributed his performance to a reversion to his old pursuing position.
"I've been testing a few things. You try things and sometimes they work and sometimes the don't. So I reverted back to my old position, which was, on paper, slower." He also swapped his team Saint Piran skinsuit for a plain Huub one, though he said the difference between the two was likely marginal.
Tanfield said he was pleased to get his experimentation out of the way before he heads to the European Championships next month. "I'll be only one there that's not wearing the World Champs jersey. So I feel as though eyes will be on me to put in a strong performance," he added.
Sprint blitz
In the women's sprint final, Emma Finucane claimed her second national title, beating team sprint team-mate Sophie Capewell 2-0. "I feel like I really nailed that," the 20-year-old said after the event. "I just took each race as it came and spoke to my coach before each race, had a plan, had a tactic and executed it.
Finucane's speed proved unmatchable in Newport, where she qualified with the fastest time before taking a clean sweep of her subsequent heats.
"As the day went on, I just raced better and better and started to understand what worked for me and what didn't," she said. "That's my first win of 2023, so I'm super excited."
Thank you for reading 20 articles this month* Join now for unlimited access
Enjoy your first month for just £1 / $1 / €1
*Read 5 free articles per month without a subscription
Join now for unlimited access
Try first month for just £1 / $1 / €1