Tweets of the week: Smelly sponsors, family bike rides and is that Remco?
Filthy Italian language, agent meow and Tadej Pogačar keeps it casual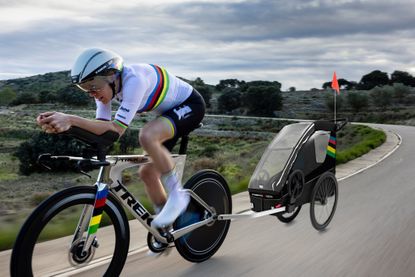 (Image credit: Trek-Segafredo)
It's been women's week on Cycling Weekly this week and so we should start by congratulating Ellen van Dijk on her pregnancy.
The fact that she's set to become just one of a growing list of mothers in the pro-peloton is a sign of how far the sport has progressed in recent years. When Lizzie Deignan had her daughter Orla in 2018 the fact she was coming back to race seemed unusual and remarkable.
The fact van Dijk is set to return next year for the Olympics feels, by comparison, unremarkable in the best possible way.
Plus, we know she'll be super strong as Trek have developed some excellent training aids for her.
1. Frankly, Lynx have missed a trick here
When a team wins so much they have arm pit sponsors 😂#TirrenoAdriatico pic.twitter.com/KqGpjgl9y1March 9, 2023
See more
2. We'd love to see and hour record attempt with one of these, please
An extra set of wheels coming soon for @ellenvdijk's Speed Concept 😜📰 https://t.co/Nx4yejYabo pic.twitter.com/gIKPJsvdPkMarch 9, 2023
See more
3. This makes us feel better about hearing "Oi, Wiggio!" out on British roads all the time
Small note to Belgium cycling fans at Tenerife: not every 🌈 jersey you see here is @EvenepoelRemco 🤣🤣🤣 My first days here I heard a lot of 'Remco' (so this video was not taken by people from Belgium 😉). pic.twitter.com/qepuEYXlYtMarch 9, 2023
See more
4. We're pretty confident we know what Giulio Ciccone is saying here, we just can't print it
5. Just a typical Paris to Nice Sunday club run
Pogi 😁 #ParisNice pic.twitter.com/ZvLiUTJeoTMarch 8, 2023
See more
6. We've all been in work meetings like this, right? Right?
7. We hope for Robert's sake he's not riding like a donkey
8. Being very good a bike racing does not mean you have great taste in warm-up music
9. We knew the Paris-Nice TTT format was unusual, we didn't know it was this unusual
Classified video from @EFprocycling warming up for today's TTT in #ParisNice2023 ….. #TangoDown pic.twitter.com/8Ix72UapxrMarch 7, 2023
See more
10. Dirty tactics
Someone is spying on our #ParisNice TTT prep 🐈#SpyGate #AgentMeow pic.twitter.com/UGG8K8uk0bMarch 7, 2023
See more
11. Any time is snack time
Riders having the italian 𝗮𝗽𝗲𝗿𝗶𝘁𝗶𝘃𝗶 during #StradeBianche 🍢🥓 ¿Unas brochetas durante la @StradeBianche ? Sí, dame tres. pic.twitter.com/9mq3L4QOkWMarch 4, 2023
See more
Thank you for reading 20 articles this month* Join now for unlimited access
Enjoy your first month for just £1 / $1 / €1
*Read 5 free articles per month without a subscription
Join now for unlimited access
Try first month for just £1 / $1 / €1