Who are Corratec and Q36.5? What do the Tudors have to do with it? A guide to 2023's men's team changes
A look at the new and renamed squads across the men's peloton, before the racing kicks off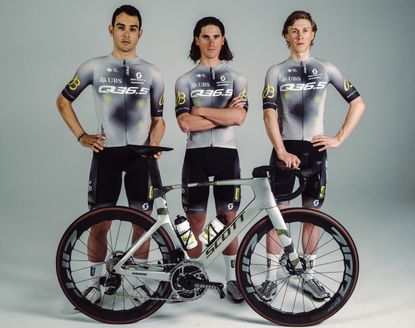 (Image credit: Q36.5)
Forget the 2022 season, 2023 is here and almost ready to kick off. It's the time of year when you have to try and remember who has transferred to where, what Ineos Grenadiers now look like, and where Alejandro Valverde is (he has, thankfully, retired).
As we head into the racing year proper, with the Tour Down Under days away, there are other confusing things to add into the mix. There are multiple teams with brand new names, and there are teams that have changed levels or have appeared, seemingly out of nowhere.
So before you switch on the Tour Down Under or the Saudi Tour or whatever and get discombobulated, here's Cycling Weekly's guide to everything you need to know about the squads you will be seeing racing this year.
The Soudal merry-go-round
After nine years of partnership with the Lotto team, Soudal have jumped ship to their great Belgian rivals Quick-Step, meaning that the team in blue, the one with Remco Evenepoel and Julian Alaphilippe, is now Soudal Quick-Step, while the team in red, the one with Caleb Ewan, is now Lotto-Dstny. Got it? Good.
This is sure to trip more than a few people up, especially as there are some people out there referring to Omega Pharma Quick-Step or Lotto Belisol.
Adding to the confusion, Deceuninck are now the suffix for Alpecin, not Fenix, while their women's team is Fenix-Deceuninck. Fine.
AlUla?!
You might still be calling them Mitchelton-Scott, but the Australian team owned by Australian caravan mogul Gerry Ryan is now Jayco AlUla, after their partnership with Saudi Arabia was increased to title rights. Simple. Forget BikeExchange.
Intermarché suffix switch
At ProTeam level, this squad was known as Wanty-Gobert and then Circus-Wanty, but when they came up to the WorldTour, the Belgian team became Intermarché-Wanty-Gobert.
No more, Gobert are no longer in the biggest font on the kit, but Circus are back. Intermarché-Circus-Wanty here we go.
Team Corratec
After just one year at Continental level, there is a new Italian team on the next step up. Gianni Savio's Androni Giocattoli squad are no more, but luckily there's another group of Italians to step into the breach.
It is very possible that they will get a wildcard invitation to the Giro d'Italia, especially as Lotto-Dstny have passed on their automatic entry. RCS love to invite Italians to the race, and Corratec could put out a fully-Italian team.
Among the riders they have brought onboard are Alexander Konychev, Valerio Conti, Attilio Viviani, and Charlie Quarterman; the team are proud of their young average age, which is under 25, so this could be a team for the future.
Q36.5 Pro Cycling
Q36.5 is the latest squad from Doug Ryder, the man who used to be behind Qhubeka/Dimension Data. Unlike that project, it is not South African-registered, instead coming from Switzerland, which explains the link with UBS. The team also has Vincenzo Nibali involved as a technical adviser.
Q36.5 is a Swiss cycling apparel brand that was founded in 2013, and the team also have Mercedes on board as a sponsor.
The riders are a mix of youth and experienced professionals, riders like Joey Rosskopf and Damien Howson joined by Negasi Haylu Abreha and Fabio Christen. It will be interesting to see how they gel, and which races they target. They don't look like they're necessarily designed for the Classics.
It is worth reading the team's mission statement:
"We're pro athletes, cycling fanatics and innovative minds, united in our passion for the sport and eager to be #RacingTheFuture.
"We believe that cycling ignites progress and positive change and paves the way for people and performance to move forward.
"We're a laboratory for innovation, a vehicle for change, and a springboard for talents – we're Q36.5 Pro Cycling Team, a team that races for more than just winning.
"We race to change the future through the power of the peloton."
Tudor Pro Cycling
Excitingly, there is not just one new Swiss squad this year, but two. It really is a big moment for cycling in the Confederation Helvetica.
Sadly, Tudor has nothing to do with Henry VIII or Thomas Cromwell, there are no Francis Drake or Elizabeth I references here. Instead, Tudor is a part of the same family of luxury watches as Rolex.
This team began as the Swiss Cycling Academy in 2019 at Continental level before it made the jump up, and is headed up by Fabian Cancellara.
It has gone from being a very young group to one that is more of a mix, with some of the peloton's best Swiss riders on the team, like Simon Pellaud and Sébastien Reichenbach. Eight of the 20 signed to Tudor are Swiss.
It will be interesting to see what Cancellara actually wants to achieve with his squad.
Bolton Equities Black Spoke
Bolton Equities Black Spoke are not new; the team from New Zealand has been around for a few years now, but now they are attempting to be a force to be reckoned with on the European circuit.
To that end, they've added Jacob Scott and Rory Townsend from what was WiV SunGod, to go with their Kiwi heart. With 16 New Zealanders, this must be the biggest Antipodean concentration in a single team since Orica GreenEDGE first burst onto the scene.
After the Australasian season has ended, expect to see the team on the road at smaller European races, aiming to catch the eye of race organisers to gain invitations to the bigger events.
Thank you for reading 20 articles this month* Join now for unlimited access
Enjoy your first month for just £1 / $1 / €1
*Read 5 free articles per month without a subscription
Join now for unlimited access
Try first month for just £1 / $1 / €1