Why one British rider is shelving his sprinting ambitions to become a leadout man
Jake Stewart is heading to Israel-Premier Tech after six years at Groupama-FDJ, and is changing roles in the process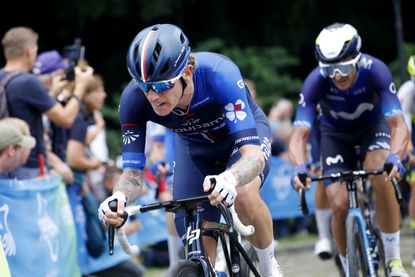 (Image credit: Getty Images)
Very few people come into professional cycling not wanting to triumph; almost all emerge from the junior ranks as serial winners, comfortably the best at age levels.
However, sport is often about finding your role in a bigger puzzle, and, more often than not, that means helping someone else win rather than chasing victory yourself. Very few people get to be serial winners.
In 2024, Jake Stewart won't just be changing teams - big in itself - but roles, becoming a leadout man rather than a sprinter, in recognition that that is where his talent and his future lies.
The Englishman is a fast finisher, someone who has won races as a professional, but accepts that his place is to help someone else win sprints, rather than doing so himself in the future. To that end, he has left Groupama-FDJ after six years, and will ride for Israel-Premier Tech next season.
"I'm going there as a Classics leader, and then going into the sprint leadout train with Ethan [Vernon]," he told Cycling Weekly last week. "It's where I wanted my career to go. I realised, I knew myself that I wasn't fast enough to be a bunch sprinter and win those bunch finishes on my own, but I have the power and characteristics to be a good leadout rider.
"I've grown up with Ethan, he lives 20 minutes down the road from me, we train a lot together and when we were discussing things with Israel, we [Stewart and Vernon] have the friendship and the trust with each other. We're already 90% of the way to winning races, the remaining 10% is legs and how you go in the race.
"That was a big influence in the move, to go there and do leadout with Ethan. Also having flexibility and freedom in the Classics, and having a team which will support me."
Stewart is a very versatile rider, good at lots of things, from Classics to short stage races - he finished second at Omloop het Nieuwsblad in 2021, third overall at the 4 Jours de Dunkerque in 2022 - but sees now that he is not to be a specialist sprinter.
He won't just be a leadout man, a co-leader at the Classics for Israel-Premier Tech too, along with the likes of Hugo Hofstetter; the squad might be a ProTeam, but has invited to all WorldTour races in 2024.
It's a big move for the man who spent two years at under-23 level with Groupama's continental team before turning pro with them in 2020.
"It's a big step I guess, it's the same in many walks of life, changing jobs," Stewart said. "It's a big step in reality too. It's gonna be interesting, but I'm really excited to work with new people and work with new ideas.
"It's a very different environment, moving away from a French squad, and I'm looking forward to getting stuck into that. The culture at the new team seems really vibrant."
While there was success at Groupama for Stewart, it was also a tumultuous time with injury and illness affecting him. The 24-year-old feels like it is time for a fresh start.
"I felt I needed to move on, and go somewhere different find the joy in riding again and the motivation," he explained. "It's a shame to go, because it's the team I grew up with, and there's a lot of good memories and friendships there. But in the end, it was the right thing to do to progress as a rider."
As well as bringing in Stewart, and Vernon for the sprints Israel-Premier Tech have signed Pascal Ackermann and Michael Schwarzmann as another sprinter/leadout man combination, George Bennett from UAE Team Emirates, and Hofstetter back from Arkéa-Samsic.
"Israel have put a big shift on trying to get younger riders in the team, and that's really exciting," Stewart said. "There's a wealth of experience and talent already there, and with the likes of Schwarzmann and Ackermann coming in as well, it will be interesting to work alongside them, there's a lot to learn."
He might no longer be riding as a nominated sprinter, but Stewart will be hoping to win all the same, as a collective now.
Thank you for reading 20 articles this month* Join now for unlimited access
Enjoy your first month for just £1 / $1 / €1
*Read 5 free articles per month without a subscription
Join now for unlimited access
Try first month for just £1 / $1 / €1