Cycliq Fly 12 CE action camera review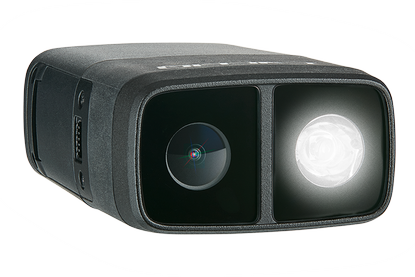 The Cycliq Fly 12 lets you record high definition video as well as providing a front light that's bright enough for daytime running or use as your primary light source at night. There are plenty of clever features, but it's a bit fiddly to operate without using the companion app and the unit is quite bulky too.
Reasons to buy
+

Single unit bundles lots of video, lighting and other functionality

+

Long run time

+
Reasons to avoid
-

Expensive

-

Quite heavy

-

Does not come with SD card

-
You can trust Cycling Weekly. Our team of experts put in hard miles testing cycling tech and will always share honest, unbiased advice to help you choose. Find out more about how we test.
Cycliq's bike camera packs in a light and alarm too
If you've watched a video of a cyclist being knocked off his bike by a kangaroo or other errant mammals, chances are it's been shot on the forward facing Cycliq Fly 12 or the rearward facing Fly 6 action camera.
Cycliq combines a camera with a 600 lumen light in the Fly 12 and with a red rear light in the Fly 6, so that its cameras do double duty as running lights too.
We reviewed the Fly 12 on Tech of the Month in April 2018, so if you want to see video footage recorded in the traffic of lovely South London, take a look.
The action cam in the Fly 12 will take MP4 1080p HD video at 60fps or 30fps, or 720p video at 60fps. It's plenty clear enough to get good definition, helped by electronic image stabilisation that's often a component of the best bike and helmet cameras. The 135 degree viewing angle is useful too – you can see that kangaroo emerging from the bushes and there's a built-in stereo microphone so that you can record its cries.
Charging of the Fly 12 takes some time – around 2.5 hours on a standard wall adapter and up to 8 hours from a PC, so it's not fast. Plus, the unit uses a USB C cable. This gives faster video download but is not compatible with a standard Micro USB cable, so you need to carry the cable around with you if you plan to charge up the unit away from home. Both the USB plug and the MicroSD card slot for recording your video live under a flap in the unit's side.
Once charged, run time is around 8 hours for video recording only or 4 hours if you use the light too. There's a Home Safe mode that prioritises the light if the battery starts to run low, keeping it running for around 30 minutes.
The light in the Fly 12 is powerful enough to keep you seen by day and by night. With nine different beam settings, it provides plenty of flashing and constant options too, although these can be selectively inactivated via the Cycliq app, to reduce the number of choices to toggle through. Or you can switch the light off and just record video. The Fly 12 will double up as a car dash cam as well as an action cam.
The Fly 12 records in a loop, overwriting the oldest footage once the memory card is full. You can set each video segment to be 5, 10 or 15 minutes long. But if you are involved in an incident, you can lock the footage or set the unit to do so, so that it is not overwritten.
It identifies an incident as occurring when the unit is tipped through more than 60 degrees for more than 5 seconds, which it assumes means that you've hit the deck. Of course, this isn't always the case, so you may find that it's gone into protected footage mode when you don't want it to.
Anther useful add-on feature of the Fly 12 is the built-in bike alarm. Once set using the mobile app, it will go off if the bike is moved.
The Fly 12 is designed to be mounted above or below the bar or stem. Under the stem, it's pretty unobtrusive, although at around 200g, it's quite a heavy unit. It attaches to its mount securely via an eighth of a turn, so it's quick to take on and off your bike. Cycliq includes a universal mount adapter, so you can attach the Fly 12 to a suitable out front mount too.
The unit is IP67 rated, so it can cope with rain, dust and submerging in a metre of water. Plus Cycliq says that it has hydrophobic coated the inside and outside of the unit to help keep it clean.
As with many bike accessories, there's an app to parameterise your Fly 12. It pairs up via Bluetooth and lets you control recording and light settings as well as check on battery and memory card status. The Fly 12 app also lets you pair via ANT+ and overlay your video with Strava stats. You can plug the Fly 12 into a PC or Mac and use the desktop app to achieve the same results, as well as to edit and share video.
The unit itself has just two buttons on it. Switch it on and it will start recording. It's easy enough to switch light modes, but it's a bit fiddly to try to do anything else without using the app. Communication of battery level, mode and other status info is via a single small LED that flashes either green or red and a series of beeps from the in-built speaker. It's a code that's confusing at first, but reasonably easy to get to understand.
The Fly 12 isn't cheap at £255 and you need to factor in the cost of a MicroSD memory card on top – Cycliq's is an extra £26.99 for 32Gb, although you can find Class 10 cards of this capacity cheaper elsewhere. But if you want to record that kangaroo taking out your mate, the Fly 12 packs a range of nice features into one handy unit.
Thank you for reading 20 articles this month* Join now for unlimited access
Enjoy your first month for just £1 / $1 / €1
*Read 5 free articles per month without a subscription
Join now for unlimited access
Try first month for just £1 / $1 / €1