Watch: Australian cyclist has lucky escape after kangaroo nearly takes him out (video)
Both cyclist and kangaroo came away unharmed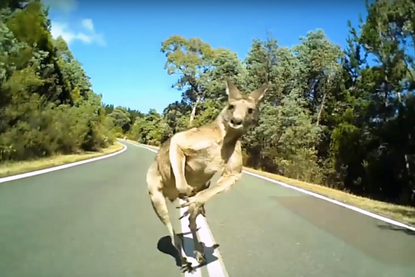 A cyclist in Australia has had a lucky escape after narrowly avoiding a nasty collision with a kangaroo on a high-speed descent.
The video shows the rider descending at around 70kph on the Brindabella Road to the west of the Australian capital of Canberra, when a kangaroo jumps out of the undergrowth at the side of the road.
Tony, the rider who uploaded the video to YouTube, described his reaction: "I just had enough time to swerve a bit and the kangaroo hit my left arm and the rear of my bike, somehow I managed to stay upright even though I had damage to the rear wheel and tire."
>>> Watch: Dog joins bike race; has the time of its life as it races ahead of peloton
The aftermath of the incident was captured by Tony's Cycliq Fly6 rear-facing camera, and shows the kangaroo continuing happily on its way, disappearing into the bush at the side of the road.
Unsurprisingly, this isn't the first time that we've seen Australian riders have lucky escapes from run-ins with kangaroos, with one group in Adelaide having their ride interrupted in January when a kangaroo jumped over the bunch.
Thank you for reading 20 articles this month* Join now for unlimited access
Enjoy your first month for just £1 / $1 / €1
*Read 5 free articles per month without a subscription
Join now for unlimited access
Try first month for just £1 / $1 / €1