Castelli Thermoflex kneewarmer review
Castelli's kneewarmers are some of the best we've tried with a great fit and soft feel.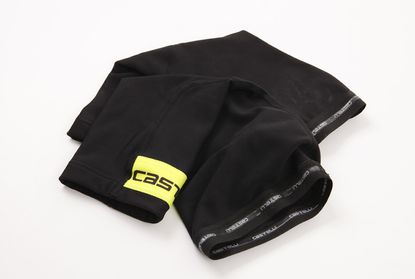 (Image credit: mike prior)
A brilliant set of kneewarmers that can be used from March through to October. Perhaps one of the most useful pieces of cycling kit you can buy
Reasons to buy
+

Double gripper around top seam

+

Length

+

Thin yet warm

+

Seams don't dig in
You might think it would be easy to make a good kneewarmer. After all it's little more than a tube of material. But it's not. Many companies, good ones at that, still get it very wrong with this garment.
I've tested many that have crept up my calf and bunched behind my knee, or slipped down underneath my shorts leaving that horrible gap of exposed thigh between them and the shorts. No one wants to see that.
Thankfully Castelli has nailed it by sticking to a few key rules. Most importantly in my opinion is the length - 395mm for size small. These ones are ideal; long enough that they sit below the widest part of the calf muscle helping keep them down and preventing that bunching behind the knee.
They are also nice and tight all round without being uncomfortable. As they use a light, thermal material (the pair weighs just 76 grams) they can be made to be tight (something else that helps keeps them in place, top and bottom) without the seams digging in to your skin. Not that there are many seams to do that.
The silicon grippers at the top are another great touch. The one on the inside means the kneewarmer grips your leg while the one on the outside helps them grip to the inside of the shorts. Double whammy.
My record is a five-and-a-half hour ride (with 20 minute cafe stop) without once having to adjust them. Perfect.
UK distributor: www.saddleback.co.uk (opens in new tab)
Thank you for reading 5 articles this month* Join now for unlimited access
Enjoy your first month for just £1 / $1 / €1
*Read 5 free articles per month without a subscription
Join now for unlimited access
Try first month for just £1 / $1 / €1