Fassa Separator bike protector review
The padded Fassa Separator bike protector promises to help keep your bike free from damage when not being ridden – we put one through its paces to see if our current old blanket in the boot of the car really needed an upgrade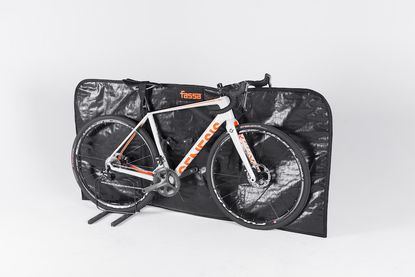 The Fassa Separator is expensive for what is effectively a padded blanket, but it's exceptionally well made and it's simple design and ease of use is really appealing. Once you start using it, it's incredibly handy and makes it hard to go back to the old oily blanket solution. Some riders will salute, some will slate, but don't expect to find anything similar for much cheaper.
Reasons to buy
+

Quick and easy to use

+

Padded

+

Protects adult bike with wheels

+

Flexible (easy to fold away)

+

Low volume

+

Ripstop PE Fabric

+
Reasons to avoid
-

Expensive for what it is

-

Could do with more straps

-
Your bike is always vulnerable to knocks and scrapes when you're storing or transporting it – and that's where the Fassa Separator bike protector comes in.
Until now – unless you have a cavernous garage with specific bike parking – the only real way of looking after your pride and joy when it's not being ridden was by either packing it away in a cumbersome bike bag or leaving it to the mercy of an oily old blanket.
>>> Nine bike storage solutions: hooks, racks and sheds
After suffering storage damage to their own bikes, the team behind the Fassa Separator bike protector decided there had to be a better way and, with necessity the mother of invention, the bike protector was born.
>>> Buy the Fassa Separator bike protector now for £60
Construction
At 1,885mm in length the Fassa Separator is about 5cm longer than an adult-sized bike with wheels in, offering some wraparound protection at both ends. It measures 920mm in height and aims to cover a bike frame and seatpost completely, sitting under the bars.
Velcro straps are positioned to go over the stem and saddle to secure the Separator in place. It's worth noting here that this isn't a bag – it's more of a divider. Fassa felt that bags were too bulky and not what it really needed. In effect, the Fassa Separator is a padded bike blanket.
The Fassa Separator bike protector is made from ripstop polyethylene material with a 14 threads per inch rating – the highest strength rating there is. It's the sort of fabric used in military products, so suffice to say it is very, very strong. Available in both black and silver, Fassa says the silver also has a built-in ultra-violet light inhibitor, protecting your frame further still.
Sandwiched between the ripstop fabric of the Fassa Separator bike protector is 8mm of closed-cell foam padding, which obviously provides a decent level of bash and scratch protection, but Fassa says the foam also compresses around the bike, meaning more stability and less movement and rubbing when on the move.
Fassa Separator bike protector in use
Unpacking the Fassa Separator bike protector I really liked the simplicity of the product. There's nothing fancy about it – it's simply a padded divider that you can attach to your bike to stop it getting beaten up, or even to stop passers-by brushing past an oily drivetrain. For some, this will be journey's end for the Separator, leaving it to do its job in a hallway or garage when having to lean bikes against each other or against a wall.
As someone who is constantly travelling with a bike I found the Fassa Separator bike protector useful for the car. Although I need to remove wheels to fit my bike in, it was flexible enough to wrap around the frame and then lean the wheels up against it – providing frame, wheel and car protection all at once. If you're lucky enough to have a van to transport your bike and you can leave the wheels in, then it's ideal for racking bikes top to tail as a simple divider.
I do think Fassa is missing a trick with the Separator by not including another couple of Velcro tabs at the bottom to secure it to bike wheels. Then it could also be used when hanging a bike up on a hook – as is the the set-up in most bike garages – where the bikes inevitably get clanged together when getting one down.
When not in use, the Fassa Separator bike protector's low volume means it neatly packs down flat and is easy to stow away.
Value
It's really tricky to pass judgement on the Fassa Separator's value. For some people, spending £60 on what is effectively a padded blanked is far too much. However, it is really well made and once you've started using it it's hard to go back to the oily blanket in the boot.
Protecting a bike that's probably set you back a few grand will make it seem like great value to some people, but others will be happy to make do with what they've already got.
Thank you for reading 5 articles this month* Join now for unlimited access
Enjoy your first month for just £1 / $1 / €1
*Read 5 free articles per month without a subscription
Join now for unlimited access
Try first month for just £1 / $1 / €1