LifeLine EVA Bike Pod review - will a $220.00 / £199.99 do the job?
A budget priced bike box that does the job, but is not without issues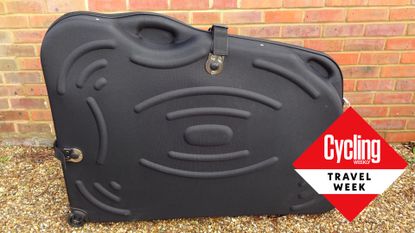 (Image credit: Future)
The LifeLine EVA Bike Pod is a relatively inexpensive option to carry your bike and has the space to fit it without too much disassembly. It's relatively lightweight too and reasonably manoeuvrable, although the carrying handle doesn't allow you to wrap your hands through it. The sides are quite crushable too, so I'd want to add plenty of extra padding before letting an airline baggage handler loose on my bike.
Reasons to buy
+

Not expensive

+

Smaller bikes don't need too much disassembly

+

Wheels are well protected
Reasons to avoid
-

Sides are quite crushable

-

Zip looks to be under strain

-

Feet may be vulnerable to damage
You can trust Cycling Weekly. Our team of experts put in hard miles testing cycling tech and will always share honest, unbiased advice to help you choose. Find out more about how we test.
The LifeLine EVA Bike Pod is, as its name says, made of EVA, which LifeLine says has high impact strength and good tear/abrasion resistance - both properties that are likely to prove useful when travelling with your bike.
The box isn't enormous, so it's relatively easy to move around, but still provides plenty of room for a part-disassembled road bike. It's relatively lightweight at 6.5kg (as against LifeLine's claimed 8kg).
The two halves of the clamshell case are joined with a fabric hinge that runs the length of the underside of the bike bag. They zip together with a chunky zip; there are three additional nylon straps with riveted metal anchors to hold the two halves together.
On the bottom there are plastic feet at the front and two rubber rear wheels built into the case, where they're less prone to being damaged. Two plastic rails help to protect the base and there are two carrying/pulling handles built into the case structure.
Inside, the LifeLine EVA Bike Pod has a fabric coated foam divider to separate the wheels from the bike's frame. Two straps in the top of the case support the frame so that it moves around less. Another two straps hold the upper side of the case clamshell upright when it's opened.
Lifeline includes a small combination lock and an address label with a slide-out tag, to add a bit more security, although the lock is unlikely to provide much resistance to attack.
LifeLine EVA Bike Pod: packing
I was pleasantly surprised how little disassembly was required to fit my size 54 bike in the LifeLine EVA Bike Pod. Although I needed to remove the bars from the stem faceplate, there was enough room to fit the saddle, set at 72cm, without needing to remove the seatpost from the frame. Even the right pedal fitted without removal, although I did need to remove the left one.
The wheels sit in two wells at the bottom of the bag, with a deeper one for the cassette and are separated from the frame by a padded layer with extra protection for the axles. There are holes in the outside of the bag, through which LifeLine suggests that you should insert your wheels' quick release skewers to hold the wheels in place. It's worth noting that these aren't wide enough to let you use thru-axles, so disc brake wheels won't be as securely held.
Once you've put your frame in the bag, the straps at its top help hold it in place and away from the base, although you may need to knot them to stop them from slipping. The bike seemed to fit better upside down than right way up, which should also prevent it resting on the chainrings.
When I'd it zipped, the bike seemed relatively well protected with no obvious places where mine was pressing against the bike bag's shell. The sides of the bag are quite flexible though, so it would be easy for a heavy-handed baggage handler (aren't they all?) to crush them. The two feet at the front of the bag also look like a weak point for in-transit damage.
Although I didn't do any additional wrapping of the bike, not being about to fly anywhere, it would be advisable to wrap your frame and wheels, as well as wrapping your bars and chain and securing them to the frame when packing. I'd add some extra padding on the outer side of the wheels and the frame too, to help protect everything that bit more.
Once packed, the long zip makes it easy to close up the bag. I did notice that the zip was under strain in places though, and there were several points where the teeth hadn't meshed together correctly, with two from one side missing that from the other. It zipped up fine, but longer term this might result in the zip failing.
Manoeuvrability
The LifeLine EVA Bike Pod is relatively easy to move around on its two large rear wheels, which seem sturdy. This does mean lifting the front of the bike bag by its handle, which doesn't have a space between its two sides, so you can't wrap your hand through it.
This is fine for shorter carries, but could get tiring if you're having to wheel your bike box through an airport. It would be nice to have a shoulder strap to help support the load. At least the box is reasonably stable when you do put it down for a rest. Since it's relatively lightweight, the 15kg or weight so of a road bike with the box isn't too hard to lift.
Value and conclusion
The LifeLine EVA Bike Pod ($220.00 / £199.99) provides a competitively priced option and is not too heavy or bulky. It's large enough to fit your bike without too much spanner-work, making for less hassle when packing and unpacking, making it a lower priced candidate among the best bike bags and boxes.
The bike is reasonably well protected, although the sides of the bike box are quite flexible, so a bike or wheels could be prey to crush damage unless you add extra packaging.
Compared to name brand and fully rigid bike boxes, the LifeLine EVA Bike Pod is inexpensive, although the zip doesn't work perfectly and looks as if it might fail with more intensive use. But for less frequent use and if you don't want to spend too much on a box, it's a good option.
Specs
Weight: 6.5kg
Size: Length 1200mm, Height (tallest) 907mm, Depth 280mm
Wheels: Two rear
Thank you for reading 20 articles this month* Join now for unlimited access
Enjoy your first month for just £1 / $1 / €1
*Read 5 free articles per month without a subscription
Join now for unlimited access
Try first month for just £1 / $1 / €1