Mason Exposure Ekar 13s x Classified Hub review - exquisite tech but lacking in focus
A beautifully designed bikepacking frameset built up with some 'up to the moment' componentry but the compromises don't quite hit the mark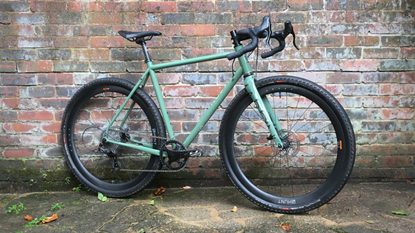 (Image credit: Paul Grele)
A beautifully designed and built frameset that has maximum versatility at its core. The Classified two speed hub allied to the Campagnolo Ekar 13 speed groupset, whilst all individually really good, led to a compromise in purpose. Is it an aero-esque road bike with off-road capability or a load carrying, bikepacking machine? A little more focus in either direction would make a good offering into a great one. The good news is that it is easily remediable. Just decide on your primary purpose for the bike and specify accordingly when buying.
Reasons to buy
+

Good looking bike with great versatility

+

Well made frameset

+

Full range of the cassette with no cross chaining

+

Uses a Thick/Thin chainring for chain security

+

Quick and slick change (Classified hub)

+

Wireless Classified hub with minimal drag detectable

+

Less need for a wide range cassette which can keep closer ratios for road use
Reasons to avoid
-

Cost of hub

-

Proprietary cassette

-

Closer ratios mean multiple clicks needed off-road

-

No indication which 'front' ratio you're in

-

Tyres are good off-road but a little draggy on-road
You can trust Cycling Weekly. Our team of experts put in hard miles testing cycling tech and will always share honest, unbiased advice to help you choose. Find out more about how we test.
The Exposure is Mason's frameset and bike that will allow maximum adventure, featuring, as it does, a wide set of attachment points for bikepacking bags. It is suited to the other end of the gravel bike spectrum to their Bokah model, which is purposed for faster adventure trips. The Mason Exposure is capable of longer trips with wider tyre clearances, very stable handling and kit carrying options.
The RangeFinder AS fork has 2x bottle or accessory mounts, as well as traditional pannier rack mounts. There are standard frame mount bosses: four on the down tube upper side; three on the under side of the down tube; three on the seat tube; two on the top tube for securing a top tube pack, and two on both sides of the seat stays. It has been designed for maximum adaptability and adjustment when using larger or full-frame bags.
On test is a 56cm model in the Optic Green colour option.
Mason Exposure Ekar: construction
Since 2014 Mason Bikes has been designing award-winning frames and collaborating with some of the world's finest frame builders. The Exposure model has been fabricated in Italy by Cicli Barco, which, like Mason, are a family run business.
The majority of the tubeset was developed with Dedacciai using their new 'ZERO', fine grain, micro-alloyed, progressive butted steel tubing. The UK made head tube uses a Reynolds 631 steel tube featuring a straight 44mm internal diameter, which allows the use of an EC44/ZS44 press fit headset. This allows for compatibility with all current fork steerer tube standards as well as angle adjust headsets. An oversize seat tube keeps the frame stiff but, by allowing a 27.2 seat post to be used, road buzz can be minimised.
The frame uses an adaptable, internal cable routing system. This allows the frame to be used with a combination of control systems. It allows you to adapt and evolve the bike to your requirements and riding styles. The interchangeable alloy parts allow six options:
1. Full cable outer.
2. Hydraulic Hose.
3. Split outer.
4. Electronic cable [e.g. Shimano Di2].
5. 2 x Hose/cable or Hose/Dynamo wire
6. Blank.
The 'RangeFinder•AS' fork is custom-tuned for both the Exposure and Bokeh models. It features pannier AND 'rando' style rack mounts, triple 'anything-cage' style accessory mounts. The fork can take either 160mm or 180mm discs and a flat-mount caliper, where the frame can use either a 140mm or 160mm disc. It will also accommodate up to 27.5 x 2.35" or 700C x 50mm tyres, as well as a 62mm bike mudguard.
Both axles normally use a 12mm Thru-Axle 'SwitchLever'. This features a removable CNCd lever key, fitted with a 6mm hex key. The key can be left in situ or removed and kept in you pocket if you prefer a cleaner look. However when using the Classified hub only the front axle will use this lever.
Mason Exposure Ekar: the ride
My first impression was what a lovely looking bike this was. My example was finished in the Optic Green colour with black componentry. It looked purposeful! I like a versatile bike and the extensive range of bosses and bolts spread across the frame and fork pleased me. They will allow a huge range of bikepacking luggage options for you to tailor your trip requirements. Also, to my eye, there was a really good mix of classic and modern bike visual elements, yet it looks very contemporary too. The lightly sloping top tube is one such element, and it allows plenty of room for a frame bag and water bottles beneath it. Space to fit mudguards too, should you wish, is always welcomed by me.
As an aside, many years ago my friend Rob and I used to do two day orienteering races (Polaris Challenge) and we would ride mountain bikes with a rack (for light bulky kit) and a backpack for everything else as we had to be self supporting during the event. We would've been so happy to have the current bikepacking bike and luggage options now available to carry our kit. It is really impressive...
Now onto how the Exposure rides, but first I'd like to explain that, more than usual, I'll keep the elements to the ride a little separated (handling, gearing, etc.) for reasons that will become clear later on.
The slightly slack head tube geometry, at 70.5 degrees, will have been chosen to give the bike more stability both off-road and when laden. However when riding on road it means that the rider must put a little more steering input to turn the bike. Often with a 71.5 degree bike you steer it by moving the body or hips, or at least that is the sensation. With the Exposure you need to use your arms a little more to steer it. The bike is certainly very stable when riding my regular Cross Country off-road route, and this leads nicely onto the tyres. The Schwalbe G-One Overland tyres work well off-road given their shallow tread, but be mindful that they are not meant to 'shred'. However I found them to be somewhat draggy on road. Compared to the Michelin Power Gravel tyres used on the Vitus Venon Evo Gravel, it felt more effort to keep them rolling along on the road. The tyres have a max psi of 55 and I initially ran them at 50psi, then at 40psi which worked better for me (on road) as I'm 66kg.
This Exposure bike has been fitted with a really interesting Classified hub which does away with the need for a double front chainring by providing two ratios within the rear hub, using an epicyclic system. They are switched between wirelessly from a switch mounted on the left brake lever. Classified use a proprietary spline system to attach their cassette to the hub, so using an old HG cassette, micro spline or other conventional system won't work! The upside to using this system is that you can use a single chainring with thick/thin teeth to retain the chain over rough ground as well as avoiding cross chaining. The whole cassette is available to you in either high or low ratio! Neat.
The standard Campagnolo Ekar 1x 13 speed cassette is a wider range 10-44t which when used with 38T chainring gives a gear inch range of 24.5" to 108" (obviously with 13 increments). The Classified Ekar cassette, used on this bike, has 11-36t with a 44t chainring, however the low ratio is the equivalent of a 30t chainring, which gives a range of 23.7" to 113" but over 16 increments. It is worth noting that the Classified system has a direct ratio of 1:1 in high and 1:0.686 in low, and this is the equivalent of 52/36 or 50/34 on road bike double setups.
Image 1 of 2
The Campagnolo Ekar 13s groupset is a nicely made set of components, and it was my first time riding with them. They are primarily purposed for gravel bike riding. The brake/shifters have a nice feel to the lever and the rear derailleur shifter will change up the block at up to four cogs at a time, but will only drop one at a time. I did like the U-shaped downshift button, as it meant you could shift from the hoods or the drops.
I was a little disappointed not to be able to drop two or three cogs at a time though. This made riding off-road harder as you usually want wider ratios, so when using a close ratio road style cassette you need to jump one or two cogs at a time to get the next appropriate gear. The gear changes were always reliable albeit slightly noisy when compared to the Shimano or SRAM offerings. I did find that the left brake hood would make my left hand go really numb every time I rode. I do occasionally get a little numbness on either hand and to combat it I ride with good quality mitts or gloves, but with the Ekar it was quite severe. Strangely the right hand was completely fine. I wondered whether it was the ridge in the rubber hood causing this but it is present on both levers... This is shown in the picture gallery below.
The Ekar brakes use discs and are hydraulic. I found them to work well and to be powerful, yet compared to Shimano disc brakes they were a touch wooden and were missing a degree of modulation and feel. But I never felt underbraked or unsafe with them. The levers were a good shape too.
The left hand shifter is a button which changes the Classified hub between its high and low ratios very quietly and reliably. I really enjoyed riding with the system, however you need a good memory... I would forget which ratio I was in and there are no indicators available to you other than remembering! The bar end light will only flash green when you press the shift button, also you can't look down to visually see where you are. So you press the button to feel where you are. Sometimes your legs can spin up if you go into the lower ratio! I have a similar thing with my own two speed hub which uses pedal kickback to shift so I am partially used to this method! Maybe Classified could make the bar end light flash two different colours depending on which ratio you're in? Just a thought.
This brings me to a conundrum; the gearing. I really liked the Classified Hub with its slick action and seemingly minimal drag or friction (as best as I could tell), I liked its quick shift, yet in combination with the 11-36t cassette - and, although it's range is wider than the standard Ekar 10-44t - I found that gearing choices were compromised. I'll explain. When on road the close ratios made sense, except that the tyres sapped the energy that would normally keep your ride flowing, with that sensation of flying that you sometimes get with a particular bike. On the other hand, when you took the bike off-road where the handling and tyres were better suited I found that I ran out of easy gears quite quickly on steeper hills. A particularly challenging hill that I'd cleared the week before using a 32/51 16.6" ratio was a real struggle with this 30/36 23.7" gear and I only made it a third of the way up that hill before having to walk. Now I appreciate that this was a really tough ask of the bike, however if you are riding a laden bike either on or off road then some seriously easy gears are useful. Now if this was a fast gravel bike, like the Mason Bokah or Vitus Venon Evo with minimal kit being carried that would be another thing, and the gears would suit them better...
Image 1 of 5
Although the bar shape on the lower sections (beneath the brake levers) is shallow and has quite an unusual shape with its gentle undulation, I found them to be comfortable. I liked the flare too. Also, even though the Vaude Aqua Box Light bar bag would attach to the Aero shaped upper bar section, I couldn't help thinking that a conventional round bar would be much more versatile when attaching luggage for a bikepacking trip. This links, in a way, to the Hunt 40 Carbon Gravel Race wheelset. They rode really well, being light, fast and stiff yet were somewhat overshadowed by the tyres' road performance and so I wasn't able to easily notice their qualities. They also have an aero rim, but I was confused at why a bikepacking bike with slower tyres needed this touch of aero. However on the Mason Bokah or Vitus Venon Evo Gravel it would make sense. So another conundrum then...
Mason Exposure Ekar: value and conclusion
Life involves compromise. We all know that. It is creating the most upsides and least downsides from a situation that we aim for. In isolation the frameset is excellent, with a beautiful build quality to be proud of, alongside its practicality and versatility as well as its ability to lug a load when needed. I really liked the Classified hub, with its slick shifting, weatherproof internals, minimal drag, although I worry about long-term support for a proprietary cassette system. I thought that the Campagnolo Ekar 13s system was good despite the single click downshifts and uncomfortable left shifter hood. I'd happily use any of these three products on my own bikes, however it feels like the sum of the parts weigh up less than the whole when used in this combination. Either be a great fast road bike than can handle some off-road (tyres were draggy), be a great off-road bike that can be enjoyed on road (gearing wasn't quite right), or be a fantastic bikepacking or touring bike that can handle off-road and on road (again gearing is an issue). For each of these three scenarios it felt compromised. Whichever way I cut it the compromise downsides felt too big for me and I'd want to change bits on it. As a point of comparison there were few, if any, changes needed on the Vitus Venon Evo Gravel which could ride on and off-road well with good gear choices for both scenarios as well as good speed over the ground, but it isn't a load carrier like the Mason Exposure.
As the frameset is £2,150, standard Ekar setup is £4,250 and this Classified/Ekar incarnation is £6,049, I would advise you to think hard about your own compromise requirements and usage for this bike, and specify accordingly. As this is a step up quality and price-wise for most people, you'll probably have some experience of what you'd want. If I was going to build a new bikepacking 'rig' then this frameset would definitely be on my short list. For me, as it stands, I would be thinking about changing the tyres and putting a smaller chainring on the front to get it closer to my own personal compromise...
Thank you for reading 20 articles this month* Join now for unlimited access
Enjoy your first month for just £1 / $1 / €1
*Read 5 free articles per month without a subscription
Join now for unlimited access
Try first month for just £1 / $1 / €1