Pearson HammerandTongs road bike review
A ride that perfectly blends pace and plushness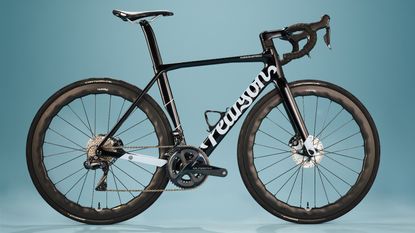 (Image credit: Phil Sowels/Cycling Weekly)
This could be simultaneously the fastest and smoothest endurance bike I've ever ridden. The ride quality of the stiff, aero frame paired with the big 32mm tubeless GP5000s is just mouthwatering. At £5,650 its value for money is on a par with similar bikes from the big brands, though as a smaller company Pearson will never be able to undercut the likes of Giant. However, if you don't want to follow the herd and are looking for something a bit different with a local name on the down tube that has a supreme ride, I can absolutely recommend the Pearson.
Reasons to buy
+

Lovely ride quality

+

Balanced geometry

+

Clearance for big tyres

+

Aero efficiency
The Pearson HammerandTongs is the newest, aero-ised version of the London brand's endurance bike (opens in new tab). It's named after the way it ought to be ridden but is also intended literally as a nod to the tools used by Pearson's founder, Tom Pearson, who was a blacksmith by trade when he founded the business in 1860 making Pearson's officially the world's oldest bike shop. The current owners, Guy and Will Pearson, are the fifth generation of the family.
Pearson HammerandTongs: frame
This bike was made in a carbon factory in China rather than a forge in Sutton, but the Pearsons have done quite a bit to shape it even though they haven't actually built it themselves.
They told me their supplier - the same one that makes the Pearson MineGoesToEleven race bike - didn't have a suitable endurance bike so they were more or less given free rein to design one. They say it's still open mould because other brands will be able to buy it from the supplier from here on.
The Pearsons are not at that level of the 'big boys' - Specialized, Trek, Giant etc - which is where you need to be if you want to own the whole process including the mould, but that doesn't matter because this bike matches any I've ridden in the past year from those brands. It's fair to say the Pearsons are punching miles above their weight with the HammerandTongs.
Image 1 of 6