Scott E-Sub Tour electric bike review
An interesting electric bike from Scott, which however has different points to develop in order to be great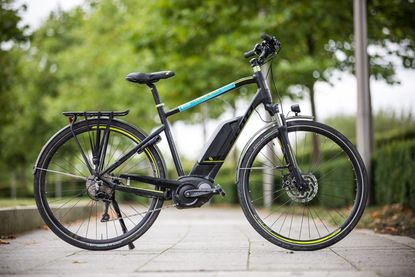 Overall, the Scott E-Sub Tour electric bike is a good bike, and it is nice to ride on it. The BOSH system, even though not as good as the Shimano STEPS, is a plus of this bike. However, both the frame lenghts could be too long for somebody (and not 100 per cent comfortable) and few other specification keep the Scott a little lower than the other electric bikes we tested.
Reasons to buy
+

Overall good ride

+

Great battery pack

+

Quick release wheels
Reasons to avoid
-

System doesn't work well when start on big gears

-

No quick-adjustable saddle

-

Mud guards and racks are fragile

-
You can trust Cycling Weekly. Our team of experts put in hard miles testing cycling tech and will always share honest, unbiased advice to help you choose. Find out more about how we test.
Unfortunately I didn't have a smooth start with the Scott E-Sub Tour electric bike. As the rear mudguard stays were bent, the fender was completely stuck on the wheel and made it impossible to ride it. This things can happen of course (particularly after a long delivery) but the quality of the the mudguard mount certainly left a little bit to be desired. Moreover, it took a bit of work to put it back in place and get the bike out for a ride
Frame
The Scott E-Sub Tour electric bike is a commuter (or as the name suggests, a touring bike). It comes in three different frames and shapes: a men's version, a women's one and also a unisex one. This is definitely a plus, as it shows Scott attention to both genders and the will to offer a complete product available for everyone. Not all brands can claim that for their best electric bikes.
>>> Electric bikes and the UK law: what you need to know
The frame of this bike is in aluminum (E-SUB 6061 Alloy) and it features a rather long top tube despite its non-straight shape (57.7 cm on size M). I personally found it a little bit too long for my liking (although I do have long legs and a short torso. The seat tube angle, at the same time, is quite relaxed (66°), meaning that the saddle is quite far back from the handlebars. Great for touring, but in this case it is a little bit too much particularly because combined with the long top tube spec.
Consequently, my feelings when riding were mixed: good because of the up-right position (which it reminded me a bit of another bike we tested, the Juicy Roller), but also not super comfortable because I felt a little bit too stretched in the front. It is a personal feeling, though, and the best is always to test it yourself and decide. If you're buying it through Rutland Cycling (who provided this bike for test), you can test for 30 days and return it if you're not satisfied with it.
>>> Electric bike batteries: everything you need to know
Both the battery and the motor (part of Bosch Active 250w System) are placed in the centre of the frame. This is very helpful when you lift and move the bike around (which it weights 24kg/53lb), and because it keeps all the weight and forces concentrated in the middle of the bike, which is good for handling.
>>> Owner of electric bike seized during Cyclocross World Championships revealed
Specification
In terms of specification there is always a lot to say about electric bikes, as they are generally really great and advanced piece of engineering. The main feature that this electric bike can claim is the full Bosch Active system, which is specifically designed for touring and commuters. It weights overall 4 kg and also features a rear derailleur (Shimano Deore RD-T610-SGS 10-Speed) that completes an already great specification.
>>> VOLT Infinity 1 electric bike review
The battery (a 400wH Li-on battery) is placed on the down tube, while the motor - which according to the UK and EU law cannot overpass the 250W of power while assisting pedalling - is placed within the bottom bracket area along with the torque sensor. The latter gives energy according to your pedal stroke force: the harder to pedal, the more energy it releases.
Watch: what's it like to ride an electric bike?
The drive system features five different level of assistance (Eco, Tour, Sport and Turbo) and could also be driven just with the gears and without electric support at all (although this does make the ride much less fun). After testing, I can definitely say that the Bosch's battery pack is the best on the market, both in terms of range and efficiency.
The Scott E-Sub Tour electric bike also has a very comfortable suspension fork, Shimano Deore shifters on the left of the bar, Continental Cruise Contact tyres on Rodi aluminium rims and a front and a rear lights both controlled by a button on the LCD screen. Both Shimano BR-M315 Disc wheels come with quick release screwers (not always a given on electric bike).
Ride
As the first impressions on the Scott E-Sub Tour were conflicting because of the geometry, so were my overall impressions after longer rides. The main issue I have experienced on the Bosch system is that if you start in a big gear at the back, it does not provide enough assistance. I felt this both when I was on the Eco mode and the more powerful ones. However, as soon as I dropped the gears down few notches on the back, the start was smooth and powerful as it is supposed to be.
>> Tyre manufacturer Vittoria to venture into e-bike tech with start-up Zehus
When you reach cruising speed the ride become pleasant again and if you can find your perfect position in the saddle, you can actually have great fun with this bike. Just remember to switch down the gears if you slow down and have to start again. The up-right position reminded me both the Juicy Roller and the Volt Infinity One. However, the feeling of assistance you can get on the Scott (even if still at the maximum of the law's indication) won't match other models.
Watch: what's it really like to ride a motorised bike?
At the same time, once you get used to this bike, and to the combination of gears and power assistance, the feeling in the saddle seems almost like on a light moped, as being able to switch the gears at the right time can really gives you the best of the Scott E-Sub can offer. Uphills, though, there will always be a limitation on the number of pedal strokes you will be able to maintain in order to get assistance from the system, that is 100rpm if you're on Turbo, Sport and Tour modes, and 90rpm in Eco.
Also impressive are the quick release disc brake wheels, the great quality suspension that make the ride on unpaved road even more comfortable, and the simple-to-use screen, front computer. If other bikes are held back by this, the Bosch is a very well performing machine and so is its battery. The latter showed a greater range (probably because the system consumes less) and its charge level not as prone to fluctuating as other systems but actually quite steady and precise.
Value
Electric bikes are not cheap and they will generally cost more than road bikes because of their complexed and advanced specification. That said, for these prices manufacturers offer quite a lot of features and if you purchase locally from a good retailer, you can also get a good customer service.
>>> Xiaomi QiCycle: the cheap, 7kg electric folding bike
The Scott E-Sub Tour electric bike costs £2,199 and it is in line with the market and the other models of the same category. Cheaper than the Volt 1 Infinity that features a Shimano Steps drive system, but more expensive than the great value-for-money the manufacturer Juicy has achieved with its Roller.
If you look at the specifications (particularly to the Bosch drive system), this price is definitely understandable. But if you look at how it works, its performances compared to the other ones, it is probably a bit less convenient always compared to other products out there. The Scott line of electric bikes, though, is still not limited to this model and it offers both cheaper and more expensive, powerful models.
Thank you for reading 10 articles this month* Join now for unlimited access
Enjoy your first month for just £1 / $1 / €1
*Read 5 free articles per month without a subscription
Join now for unlimited access
Try first month for just £1 / $1 / €1
Nick Busca is a freelance cycling and triathlon journalist. He is also a certified triathlon coach and personal trainer.