Ampler Curt e-bike review
Stripped back and stealth black, the Ampler Curt e-bike crosses the racer-hybrid boundary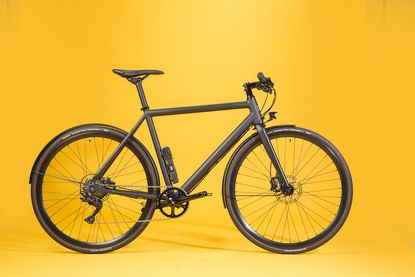 The lightweight, stripped-back Ampler Curt e-bike is a fantastic town bike that has closer links to road racers than hybrids. Agile and nimble, there's a lot to love, with looks sealing the deal.
Reasons to buy
+

Looks

+

Finishing details

+

Weight

+

Singlespeed or geared options

+

Responsive

+

Agility

+

Dynamo front and rear lights
The saying 'never judge a book by its cover' was never more apt for most e-bikes. In fact, it's probably one of the reasons why there are still many e-bike naysayers, as looks alone are preventing many people from poking a toe in the electronic bike world. Once they did, I'd bet 99 per cent of them would be immediate converts.
The industry, however, is getting there. The latest 2019 e-bike releases are looking, dare I say it, rather hot. Take for example the Ribble Endurance SLe, which turned a lot of heads in the Cycling Weekly office even before people realised it was electronic. And now there's the Ampler Curt e-bike.
What the Ribble and Ampler Curt have in common is their ability to not actually look like e-bikes.
>>>The best new e-bikes of 2019
Construction
Made from 6061 aluminium and teamed with a carbon fork, the Ampler Curt e-bike actually weighs in pretty respectably at around the 14kg mark for the singlespeed option, or 15kg for the 10-speed Shimano Deore option. This is around 1-1.5kg heavier than the top carbon road e-bikes but more importantly 8-10kg lighter than other commuter/hybrid e-bikes on the market, such as the Specialized Vado.
The weight of the Ampler Curt e-bike is actually a key design feature for the Estonian brand, with the words 'stealth' and 'stripped back' key words in its marketing. And indeed it is. Ampler has done a grand job of secreting the 48V 336 WH battery in the down tube, with only the oversized rear hub, which holds the 250w motor, the only real giveaway as to the bike's electronic credentials.
This is also probably where the biggest compromise of the Ampler Curt e-bike comes: with all the weight saving and hidden motors the battery is limited, with a claimed range of between 45 and 100km depending on terrain and assist mode. The upside is that if you do run out of juice it's light enough to carry on regardless, and even an hour's top-up will give you an additional claimed 33km, with a full charge, according to Ampler, only taking 2.5 hours.
There are two standard assist modes, normal and boost. Both hit a claimed 25kmph top speed, but the boost setting gives you up to 50 per cent more assistance (150 per cent compared to 100 per cent) over the normal setting.
Switching between the two is via the on/off switch located on the seat tube near the bottom bracket, which makes it near impossible to do on the fly. The easiest way to toggle between them, or better still have total control over the configuration of the battery assist, is to download the Ampler app (both iOS and Android compatible). The app also allows you to check battery levels, map and share rides, so a helpful addition all round.
The bike is finished nicely with respectable Shimano M500 disc brakes and shod in 32mm Continental Grand Prix 4 Season tyres.
The ride
Before clambering aboard the Ampler Curt e-bike, it's worth noting a couple of things.
First, as a website direct brand, the bike comes shipped directly to your house for free – well it does while we're still in Europe. It comes in a supersized box, so there's approximately four bolts to tighten and a pair of pedals to fit.
Second, in order to set you bike up, Ampler not only has a full, detailed 'how to' guide, but has also made probably the finest Allen key and spanner presentation box I've ever seen. With this level of attention to detail I just knew that the ride was going to be sweet, and I wasn't wrong.
It did take all of two minutes to put together the bike, slightly longer to find a EU to UK plug adaptor in our house and no, toothbrush plugs don't work sadly. Loft thoroughly rummaged and plug sourced it was incredibly easy to charge the battery thanks to the magnetic cable end.
This, however, is assuming that you have the ability to bring the bike close enough to an electricity source. The downside of a hidden battery is that you can't unclip it to bring it inside to charge it.
Bike set up and charged and I was off out. My first expedition was a general out-and-about ride to get a feel of the bike's characteristics, and it was clear from the outset that this is an out-and-out city bike.
Again compared to the Specialized Vado, which is a bit of a all-terrain mile muncher, the Ampler Curt e-bike is clearly happiest when racing cars away from lights, pulling out of junctions and generally cruising, at pace, along the cycle lanes.
I was struck just how nimble the whole bike felt and how agile it was. The handling especially, think responsive not twitchy. I was even able to ride a few laps of my downstairs on it to check the set-up to give you an idea of its nimble, athletic prowess.
Roaming ride out the way, it was time to do what the Ampler Curt e-bike was born to do: a commute into town where I'd do the whole coffee shop remote-working thing. It's worth noting here that town to me means a rather hilly commute, so sexy as the singlespeed belt drive looks, I was grateful for the 10-speed option I was testing.
I loved the way the bike just picks up immediately as pressure is applied to the pedal. There's no 'getting going', it's pow! straight out the blocks, although in a fully controlled manner as the power assist uses a torque measure in the bottom bracket to control the motor – so the harder you press down, the more power assist you get. This feature is perfect for hill starts, especially when you've decided to go the whole hog of city commuting and do away with bike kit in favour of high heels, skinny jeans, a rather large winter coat and of course an oversized bag stuffed with laptop, chargers, headphones etc slung over the shoulder.
Smugly arriving at the cafe, I ordered coffee and sat down to prep for a virtual meeting in 30 minutes, only to discover the cafe internet wasn't working. Cue the necking of just-ordered coffee, a quick phone google for alternative cafes with wifi nearby, before deciding that my best option was to promptly hot foot it back home again.
A commute that had taken me some 30 minutes to arrive now had to take less than 20 minutes by the time I had faffed with trying to get online, drunk the coffee and packed up again.
This time I immediately hit the boost setting on the bike and got pedalling. I'd be lying if I said the Ampler Curt e-bike did all the work, you still have to put in a reasonable amount of effort when on the flat, and I was slightly out of breath when I got home but it certainly did make things a lot easier and I got home with two minutes to spare for the meeting.
Value
Being a European direct brand, the price of the Ampler Curt e-bike is naturally in euros, €2,890 to be exact. This roughly converts to a couple of quid under £2,600. Whichever way you look at it, it's at the upper end of the hybrid/commuter e-bike scale.
Performance and looks wise, the Curt is pure class. I personally think it sits closer to the current road e-bikes in terms of weight, nimbleness and agile handling, and when compared to those, it punches well above its price tag,
Thank you for reading 10 articles this month* Join now for unlimited access
Enjoy your first month for just £1 / $1 / €1
*Read 5 free articles per month without a subscription
Join now for unlimited access
Try first month for just £1 / $1 / €1
Hannah is Cycling Weekly's longest-serving tech writer, having started with the magazine back in 2011. She has covered all things technical for both print and digital over multiple seasons representing CW at spring Classics, and Grand Tours and all races in between.
Hannah was a successful road and track racer herself, competing in UCI races all over Europe as well as in China, Pakistan and New Zealand.
For fun, she's ridden LEJOG unaided, a lap of Majorca in a day, won a 24-hour mountain bike race and tackled famous mountain passes in the French Alps, Pyrenees, Dolomites and Himalayas.
She lives just outside the Peak District National Park near Manchester UK with her partner, daughter and a small but beautifully formed bike collection.