SiS Caffeine Double Espresso gel review
SiS have launched a new gel which contains twice the caffeine content of their current products.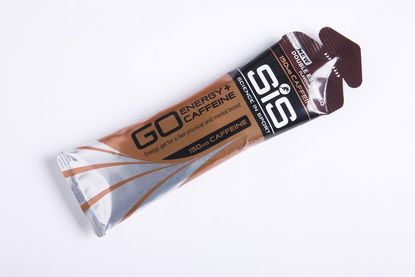 It might not tickle the taste buds of everyone, but it certainly succeeds at delivering a large caffeine payload when you need it most.
Reasons to buy
+

Quick

+

Convenient

+

Lots of Caffeine
Reasons to avoid
-

Expensive

-

Acquired taste
It's official: caffeine boosts your cycling performance. We reported on a number of studies that have demonstrated the potential performance gains through caffeine consumption. There are currently lots of caffeinated products on the market, including chewing gum, and SiS have now launched a new double strength gel to go alongside their existing products.
SiS's Product Director Luke Heeney says that they "used the feedback collected from some of the world's best cycling teams and other sports teams like GB Rowing to develop this gel. We know that as well as helping elites, it can help the amateur athletes get a boost when it's most needed."
SiS currently offer two caffeine gels, Berry and Cola, both of which contain 75mg of caffeine. By comparison, the new double espresso gel contains a hefty 150mg. We took one before a local chain gang and to say it gave us a 'kick' would be an understatement.
Taste is often sacrificed in sports nutrition, but we quite liked the Double Espresso Gel, although others may not. To someone who hasn't experienced it, it is best described as tasting like the filling in a Cadburys Roses Coffee Creams. If you are more of a strawberry cream kinda person then this might not be the most enjoyable taste sensation for you.
Why not just drink a cup of coffee we hear you ask? Well, the amount of caffeine in coffee can vary dramatically and appears to be highly inconsistent, with a mug of instant sometimes having more caffeine than an espresso. With a gel you get a consistent and measured dose of caffeine.
The gel also contains 22g of easily digestible carbs, to help fuel your muscles when the caffeine kicks in. If you are planning a long ride or sportive, taking a gel such as this, to get you through the last hour, would be ideal.
Thank you for reading 10 articles this month* Join now for unlimited access
Enjoy your first month for just £1 / $1 / €1
*Read 5 free articles per month without a subscription
Join now for unlimited access
Try first month for just £1 / $1 / €1
Oliver Bridgewood - no, Doctor Oliver Bridgewood - is a PhD Chemist who discovered a love of cycling. He enjoys racing time trials, hill climbs, road races and criteriums. During his time at Cycling Weekly, he worked predominantly within the tech team, also utilising his science background to produce insightful fitness articles, before moving to an entirely video-focused role heading up the Cycling Weekly YouTube channel, where his feature-length documentary 'Project 49' was his crowning glory.