Oakley Flight Jacket sunglasses review
Leading eye wear brand Oakley launched two new sunglasses this season and we've put one of them, the Oakley Flight Jacket, to the test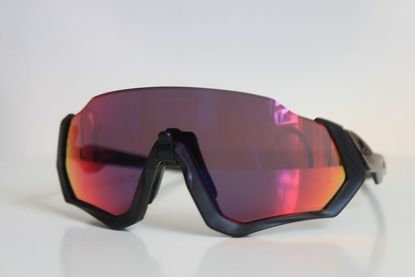 (Image credit: Garry Newton)
Another decent pair of sunnies from the American brand, though not as good as Jawbreaker of the Radar EV. Great vision and ventilation but being bottom heavy they tended to slip down my nose, something I haven't experienced with Oakley's glasses in the past.
Reasons to buy
+

Well vented

+

Comfortable on the face

+

Good vison
Reasons to avoid
-

Over rougher terrain they tend to slide down my face

-

Popping colour is very noticeable when riding
In typical fashion Oakley has brought another love/hate product to the market in the form of the new Oakley Flight Jacket, which was launched in April of this year.
The new sunnies follow a similar design to a personal favourite of mine, the Oakley Jawbreakers. However, the new Oakley Flight Jacket's remove the upper frame to help vision - especially whilst sprinting - and ventilation.
Ventilation is adjustable also with a moveable nose piece that basically can move the frames closer or further away from your face to give more airflow.
Typically of the last few releases from Oakley, the new Flight Jackets have divided opinion and that is true in the Cycling Weekly office. Some lovers of the design and some naysayers.
For me I'm a little indifferent in terms of looks but what is for sure is that I prefer the Jawbreakers in this regard.
What the Oakley Flight Jacket glasses have got going for them is great ventilation. I used these on a very muggy and slightly moist ride in Italy at the launch of the Pirelli Cincurato tyres last month. I experienced no fogging when stopped and didn't feel my eyes or face overheat despite the 27 degree temperature.
I didn't actually need to use the adjustable nose piece for more venting.
The Prizm lenses featured here are as good as ever, offering really good visuals in low or patchy light, allowing you to pick out potholes pretty neatly on descents.
They sit on the face nicely and the glasses fit around the temple and ears well - you can adjust the arms to suit helmet styles and fit around the ears. Although whilst riding on the road I didn't have much issue with slip down my nose, off road around Italy and some Strade Bianche gravel roads quite often the glasses would move down my nose.
The Oakley Flight Jackets almost felt a little bottom heavy; these glasses are not heavy at all, maybe just unbalanced with all the frame being at the bottom of the glasses.
I tested them with the Specialized Evade II and the Specialized Prevail. I used the Prevail on my Italian trip. The helmet straps don't sit flush to the temples so this could have a factor in the glasses slipping down, although I haven't had that issue with other Oakley models.
But ultimately these Oakley Flight Jacket's are a great pair of sunnies for cycling. You get unobstructed view and great optics, whilst the great ventilation helps minimise heat build up on the face. I like the popping pink colour over the black - other colours available of course!
Thank you for reading 10 articles this month* Join now for unlimited access
Enjoy your first month for just £1 / $1 / €1
*Read 5 free articles per month without a subscription
Join now for unlimited access
Try first month for just £1 / $1 / €1
Symon Lewis joined Cycling Weekly as an Editorial Assistant in 2010, he went on to become a Tech Writer in 2014 before being promoted to Tech Editor in 2015 before taking on a role managing Video and Tech in 2019. Lewis discovered cycling via Herne Hill Velodrome, where he was renowned for his prolific performances, and spent two years as a coach at the South London velodrome.