Pirelli is the latest brand to go tubeless with the new Cinturato tyre
Pirelli were one of the last remaining tyre brands not with a tubeless option in its range, until now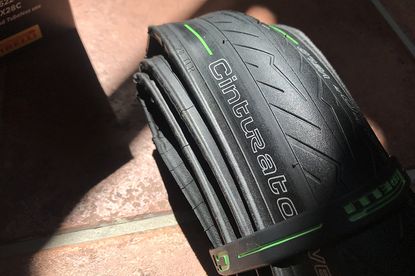 It's been less than a year since Pirelli launched its way back into the cycling market with the Pirelli P Zero Velo range, which included two other tyres in the 4S and TT. The well known tyre brand came in with heaps of cycling nostalgia and tyre making expeierence dating back to 1909, not only on two wheels but four as well.
The Italian outfit has now added to its ever growing range with a new tubeless ready tyre called the Cinturato. The name was used previously for racing tyres back in the 1960's with a 'radical wrap-around tyre structure' and at the time was hailed 'extraordinary' by five time F1 World Champion Juan Manuel Fangio.
Cinturato Tubeless Ready
For me it was obvious what Pirelli was going to launch - tubeless of course - however, the Italian brand surprised me by launching a reinforced tubeless ready tyre and not a high end racing tyre or a full tubeless only tyre for that matter.
Pirelli say that to match the market demand and new trends the new tyre Cinturato is for hard road conditions, light off road or gravel and urban commuting environment and should be treated as a true 'do-it-all' tyre.
It also says that at the moment, in a racing sense, professionals still want the safety of tubular tyre since a rider can still roll with a puncture without the tyre falling off the rim. As a result, it seems we won't be seeing tubeless tyres in the top flight tier for a while.
Piero Misani, head of R&D at Pirelli for both motor and push bike tyres, said the brand was challenged to extend beyond pure performance into other areas of cycling that demanded other needs like better puncture protection and comfort.
"Technology is opening bikes to a new type of riding and opening the cycling world to new riders and offers something different away from pure performance and pushing the road bike slightly more off road", says Misani.
"So the end user is looking for comfort, milage, grip and higher puncture protection. Also, extended reliability in all road conditions."
Pirelli were asked to keep wet grip and durability levels of the P Zero Velo, so its Smartnet Silica tech is used here. Puncture and sidewall protection is provided by its Armour Tech, whilst the tubeless system offers extra puncture protection and comfort.
The ride
Pirelli invited me to Italy to try out the new tyres. Our ride featured some Strade Bianchi roads in and around Tuscany, near the town Siena.
Our ride was only over 35km but did feature a number of paved roads mixed with dirt and gravel tracks.
The basic idea of the new Pirelli Cinturato tyre is to be able to offer performance on road, grip in the corners, and decent rolling resistance whilst being tough enough to handle very bad, almost unmade roads.
For the short time I spent with the tyres on the launch, so far so good. The tyres didn't feel sluggish at all on the open roads and seemed to glide along without fault on the stoned, pot-holed gravel roads. We hit flat sections over 40kph, climbed some hills and even descended off road.
On the road we even got treated to a twisty descent. Initial turn in was positive and grip levels in the dry seemed plenty. However, I need to refrain from full judgement until I try these on my usual bike in the UK. Keep an eye on CW for a full review soon.
Size and weight
The tyres range form 26mm to a whopping 35. So, no skinny classic Italian 23mm here andn since they are reinforced, predictably weigh a fair amount, too.
26mm - 290g
28mm - 320g
32mm - 350g
35mm - 380g
This means the Cinturato tyre is around 100g heavier than the all weather 4S, more so than the P Zero and almost double the weight of the lightweight tyre, which sits at 180g for a size 25mm.
Thank you for reading 20 articles this month* Join now for unlimited access
Enjoy your first month for just £1 / $1 / €1
*Read 5 free articles per month without a subscription
Join now for unlimited access
Try first month for just £1 / $1 / €1