Madison Element gloves review
Can you really keep your hands warm for just £20 this winter?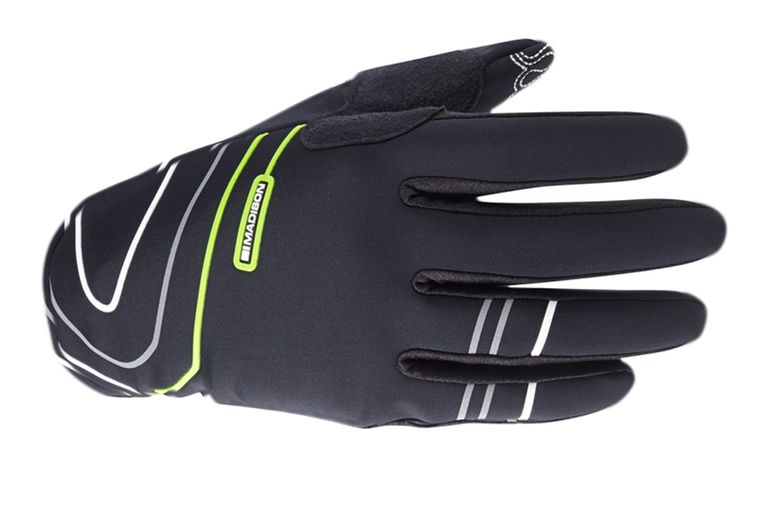 The Madison Element gloves are good looking, good value but only moderately warm.
Against
-

Not warm enough

-

Uncomfortable
As a rule, kit from Madison punches above its price point, so we had high hopes for the stylish Madison Element gloves. They definitely look the part in sleek, slim-fit black, with minimal clutter and just a dash of colour to bring them alive.
There's no padding to speak of, and the cuff is a simple pull-on affair. Silicon detailing on the fore and middle fingers give some extra grip at the controls, while Madison is at pains to point out that silver stitching on the tips of forefinger and thumb make using smartphones and bike computers a cinch.
>>> The best winter cycling gloves
Sadly we found that in use these gloves fell some way below our expectations. While it pulls on nicely and the fit is good, it only took a couple of miles of riding before the very prominent seam at the base of thumb and forefinger of the Madison Element gloves began to feel quite uncomfortable. This was accompanied by a definite lack of effective protection from the cold, which I eventually traced to the very thin, Lycra-esque material between the fingers. There's quite a lot of it too, and despite the use of windproof material on the backs of the hands, in cold weather you can literally feel the onrushing air chilling your digits.
Unfortunately the silver thread provides no silver lining to this sad story, as I had no more luck navigating my iPhone than with any other glove I've used - that is to say, very little. It was fine with my Garmin on the other hand, but then again so are all my gloves.
>>> 10 of the best budget winter cycling jackets
Madison calls these a "lightweight thermal winter glove for cold weather riding" - unfortunately this is overselling them rather as they're simply not warm enough for sub-5ºC riding. But that doesn't mean you should discount them - they could make a good value and rather stylish spring/autumn glove, but you'd want to take the scissors to that pesky seam.
For more info visit the Madison website.