Guee Sol 700 Plus front light review
A compact, but heavy, front light, The Guee Soll 700 is still a good and quality light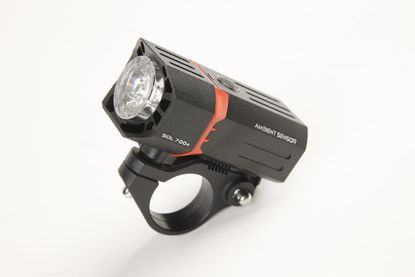 It is a both heavy (181 grams with the bracket) and the appearance is not the best I have seen, but the ambient sensor on the Guee Sol 700 Plus taht changes the brightness depending on light conditions is really smart. It is also not the brightest bike light out there, but it is enough to see well with.
Reasons to buy
+

Ambient sensor changes brightness according to outside light

+

Compact

+

Ventilation system
Reasons to avoid
-

Heavy

-

Doesn't look good
Why you can trust Cycling Weekly Our expert reviewers spend hours testing and comparing products and services so you can choose the best for you. Find out more about how we test.
The Guee Sol 700 Plus is a front light that fits in the "to see" category rather than the "to be seen" one. It is pretty heavy (181g with the bracket), but I was impressed by the tool-free mounting system that holds it very securely on the handlebars: all you have to do is loosen one bolt with your fingers, attach it around the bars, then retighten said bolt to secure it in position.
>>> Lumos helmet with brakes lights an turning signal close to launch
Once in position and attached to its mount, the Guee Sol 700 Plus can be rotated up and down, which is useful if you want to dip the light when you've got it on a high setting on narrow lanes, but does mean it can move up and down if you hit bumps. However, I liked the fact that the mount can also be used for GoPros and other action cameras during the day.
The Guee Sol 700 Plus illuminates very well up to 5-10 meters in front of you, while above this distance it loses part of its brightness. The very good feature of this light is also its very good lateral brightness (in the range of 3 to 5 meters), which makes the border of the road very illuminated and safer for the ride as you can see better objects and other obstacles on the sides.
>>> Bike lights: a complete buyer's guide
The standout feature of the Guee Sol 700 Plus is the ambient light sensor that will automatically adapt the light power according to the light conditions (and a maximum power of 700 lumens, to the medium on of 500 and the low of 250). The Guee 700 Plus features five different light intensities: high (2.8 hours), medium (5.5 hours), low (8 hours), strobe (7 hours) and flash (13.5 hours). Lumens are a derived unit of luminous flux and it measures the quantity of flux deriving from a certain light source.
The Guee Sol 700 Plus is only available in black, is waterproof and has vents placed in the front to help prevent the light from overheating with prolonged use. The light can be recharged with a mini USB cable.
For more details visit the i-Ride website (opens in new tab).
Thank you for reading 10 articles this month* Join now for unlimited access
Enjoy your first month for just £1 / $1 / €1
*Read 5 free articles per month without a subscription
Join now for unlimited access
Try first month for just £1 / $1 / €1
Nick Busca is a freelance cycling and triathlon journalist. He is also a certified triathlon coach and personal trainer.