New Orbea Orca first ride review: a lightweight renaissance for the brand's most iconic bike
Does the desire to offer a versatile and practical bike overshadow its climbing aspirations?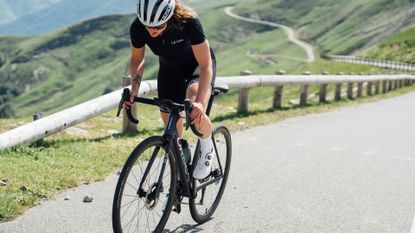 (Image credit: Orbea )
The launch of the Orbea Orca was a great opportunity for me to give both framesets a first ride shakedown. My initial thoughts are that the OMX frameset platform of the performance focused Orca M10iLTD PWR wasn't for me. While it sits at a similar price point to its peers, it just doesn't have any standout characteristics that give it the wow factor. It does have practical designs elements, but they don't really mesh well with the lightweight narrative. The Ocra M20iTEAM however, is the star of the show. It manages to balance claiming agility while instilling confidence in its pilot to urge the bike on. It's remarkable how just a different carbon layup and fatter tires can instantly make you feel more stable, proving that comfort can also be fast.
Reasons to buy
+

Two framesets to choose between

+

'Open' compatibility for consumer choice and versatility

+

Lightweight for price points

+

OMR offers comfort and confident inspiring ride
Reasons to avoid
-

Not the lightest bike on the market

-

OMX sacrifices comfort for stiffness and speed

-

Cheaper and lighter option than OMX
You can trust Cycling Weekly. Our team of experts put in hard miles testing cycling tech and will always share honest, unbiased advice to help you choose. Find out more about how we test.
Get The Leadout Newsletter
The latest race content, interviews, features, reviews and expert buying guides, direct to your inbox!
Thank you for signing up to The Pick. You will receive a verification email shortly.
There was a problem. Please refresh the page and try again.
It's been a good long minute since the phrase 'lightweight' and 'bike' have been paired together, but clearly 2023 is the year that it returns to the stage.
Over the past decade or so the best road bikes have mostly had 'aero' as a prefix, and understandably so as we strove to emulate our favorite sprinters who bought panache to the sport that was trying to distance itself from previous 'personalities'.
But as as new era of professional cycling dawns, bringing with it the battles of Tadej Pogačar and Jonas Vingegaard, the rise of Gaia Realini meaning that climbing mountains is back in fashion, and the best accessory is by far a lightweight bike.
I've covered the launch story in depth over here, where I share the full story on the new Orbea Orca to surface.
In that feature I focus more on Orbea, as one of the original founders of lightweight bikes, and how it feels like a coming of age of the twenty year old Orca, and how this seventh generation model dials back to its original climbing bike roots.
I say 'it', but actually it was a dual bike launch, as with previous versions of the Orbea Orca, there are still two framesets: the Orca OMX, a super stiff lightweight model tuned for optimal power generation, and the Orca OMR, a more compliant and forgiving frameset which weighs slightly more.
At the launch I was fortunate enough to ride both for around 70 mountainous kilometers a piece.
This is a first look review of both bikes. Fingers crossed we'll shortly be able to undertake a full look review when the bike lands in the UK for the first time.
Orbea Orca: Construction
If you're a fan of the previous Orbea Orca you may be pleased to hear that, in the main, the geometry remains unchanged.
The 53 sized Orca gets you a stack of 552mm, with a reach of 385mm, a reasonably natural front end that while is racy, isn't wildly low. This closely aligns with the new lightweight Factor 02 Vam, where, for a slightly longer 54 sized bike, there's only 4mm reach difference.
Orbea say the new Orca has shortened chain stay, and therefore wheelbase, from previous iterations, but on double checking the figures and these don't appear any different for the same for the size 53. The chain stay still measures of 408mm and wheelbase of 980cm (if anything the new Orca is 12mm longer). Something to dig in to later for the full review.
While the two framesets share geometry, it's in the construction that the duo of Orca's depart.
This, according to Orbea is in order to meet each framesets characteristic aims, with the stiff and strong T1000 chosen for the high end performance OMX. The slightly more compliant T800 is used in the construction of the OMR, which errs on the side of comfort and, as I mentioned in the launch story, thanks to being somewhere in the region of 13-15 percent less stiff than T1000.
While both framesets share the same new internally rounded tubing profiles, which Orbea say not only aims to soak up road buzz, but also smooths out corners, reducing the risk of excessive epoxy resin build up in the curing process.
Orbea also say its engineering team has worked hard to reduce the amount of carbon fiber overlaps in order to minimise additional weight. Easier said then done when working with the notoriously challenging unyielding T1000 fiber.
This behind the scenes effort has allowed the weights of the framesets to be as low as 1126g for the OMX, shaving 100g of the previous version, and 1440g for the OMR.
Clearly the end weights for the full bikes will vary significantly from these due to their finished build specification.
In terms of this first look review I was riding the top end bikes of both framesets, the Orbea Orca M10iLTD PWR (the OMX frameset) and the Orbea Orca M20iTeam (OMR frameset).
One area of the review that I am glossing over here is the wider debate on aerodynamics vs lightweight as a concept.
I deep dived in to the theory in the launch story, so head there if you're interested in my musings.
As a one line summary, I think it's fair to say that, geometry and construction techniques of each bike brand aside, aero watts need to be earnt by riding at speed, climbing watts are automatically saved when you shed weight.
Orbea Orca: Finishing kits
The brand have clearly thought long and hard about how best to pitch this latest Orca offering, and finishing kits play a big part in this. Allowing consumers to have open access to choose exactly how they want to dial their ride clearly is a big part of the bikes USP (unique selling point) .
To that end, there's a two piece bar and stem rather than a weight saving one piece cockpit. This, according to Orbea keep every riders options open as to what front end set up they choose to run, and the brand has even developed an adaptor to allow for an one piece to be fitted if you should wish.
The other 'open' choice is in the clincher wheels, and the brand's opting for a 'mini-hooked' internal rim. As I said in the launch story all about Oquo's first range of road wheels , this does away with having to deal with the question on 'is the bike industry divided over new tire and wheel rim-size regulations?' and allows way more tire combinations to be run on the wheels, but is it the lightest?
Orbea Orca: The rides
As a Basque Country brand, it's was clearly fitting that the Orbea Orca launch was based in the mountainous region of the Pyrenees, four hours or so inland from the coast.
While we weren't tacking the infamous climbs of the Col d'Aspin or giant of Col du Tourmalet, the lesser know Puerto de Larrau at 1585 meters and Alto Laza at 1129 meters both were sure good enough first ride tests for the bikes.
As a full disclaimer, thanks to a combination of a global pandemic, a young child and having to work for a living, my time riding bikes in the mountains has significantly decreased over the passed few years to resemble zero miles.
So it was with some trepidation that I swung my leg over the Orbea Orca M10iLTD PWR for my first day of riding up hill.
Orca M10iLTD PWR
It was immediately apparent why this is the range-topping Orbea Orca. Despite being dead last in the journalists race to ascend the Puerto de Larrau, the bike did all within its capabilities to haul me to up the 16 kilometers of climbing.
It's not that I'm unfit, its just there's a knack to riding in the mountains, and if you go out too hot at the start, there's no way of recovering later on in the climb.
It would be a lie to say I was just cruising. An untimely call back to the 'team' car mid-climb for images saw me having to put in multiple sprint efforts for the photographer and videographer, something that my lungs and legs were reluctant to do, but the bike was not.
The Orca M10iLTD PWR clearly seemed born to commit to repetitive efforts. The frameset's stiffness is harnessed along with the combination of the Shimano Dura Ace D12 groupset and OQUO Road Performance RP35 LTD Carbon wheels and is more than content to be continually propelled forward without absorbing and losing any power.
However, as with most vehicles designed for high end performance, the pecking order of deliverables will have 'fast' as a top priority, and 'comfort' at the bottom.
A little disingenuous, as I was grateful for the responsive bike on the way up the mountain, but the way back down was another story.
I need to caveat this again with lack of time in the mountains, continuous descending takes practice and it's hard to dial in to the concentration required as road features come up incredibly rapidly, but I struggled on the Orca M10iLTD PWR to find any comfort.
It's almost as if on the way up, the stiffness of the OMX frameset platform allowed me to over compensate for my lack of climbing strength, and on the way down, the unyielding ride meant I found myself constantly shuffling around on the saddle trying to find comfort. I was just perched on the bike, rather than feeling part of it.
I felt outclassed by the the agility of the Orca M10iLTD PWR and lost the ability to reign it in, like a highly strung horse which wasn't as predicable as I would have liked. This in turn saw me tense up, creating anxiety for every tight turn.
Not that it once skipped out or refused to lean, but I just wasn't ever sure if it was the bike or me in charge.
ORCA M20iTEAM
The only thing worse with having an apprehensive day in the mountains, is having a second apprehensive day in the mountains in the rain.
With the OMR frameset still to ride, all I could do was suck in my bottom lip and crossed my fingers as I cautiously sat astride the bike.
Arguably the second day did include a slightly longer run into the main climb of the day, but as anyone who as ever ridden in the mountains will know, taking a route along a valley road will always be far from flat. Or straight. Rivers will always take precedence meaning that the Río Anduña that flowed in the opposite direction to required crisscrossing several times.
When ridden at speed in the wet with 20 or so riders into a headwind, will always make or break a relationship with your bike, and I couldn't be happier to have been on the ORCA M20iTEAM. I think if I had still been on the Orca M10iLTD PWR I would have climbed off for a DNF of the press camp.
The OMR frameset welcomed me on board like a warm hug. The haughtiness of its OMX sibling is gone, and while its still clearly happy to roll along rapidly, it does so with a much more surefooted nature. Together we chalked off the 70kilometers / 43 miles, at around 32kph / 20mph, not bad for the weather on the day and a ride that was almost all up hill, with a 11km mountainous climb thrown in to boot.
There was nowhere near as much discomfort as when on the Orca M10iLTD PWR bike. While clearly there was a weight plenty, according to Orbea is around a kilo at 6.7kg vs 7.8kg, the ride never felt compromised for it.
If anything, I think areas of weight gain, in the form of the more compliant carbon, and fatter tires, 25c vs 28c, make the bike, for a rider such as myself by far the faster of the two in the long term as it inspired far more confidence to trust my riding.
Orbea Orca: Conclusion and value
Lets deal with the price tags first.
The range-topping ORCA M10iLTD PWR will set you back $11,599 /£11,999, for Shimano DuraAce Di2 and OQUO Road Performance RP35 LTD Carbon wheels. It's worth noting that this top spot is shared with the ORC A M11eLTD PWR, which is exactly the same bar being dressed in SRAM Red e-Tap.
The ORCA M20iTEAM is second from top when it comes to price points in the OMR range at $5,999 / £6,299 for Shimano Ultegra Di2 and OQUO Road Performance RP35 TEAM Carbon wheels. The ORC A M21eTEAM PWR, equipped with the slightly more expensive SRAM Force AXS with integrated power meter making it the most expensive at $6,899 / £6,999.
Clearly the range-topping OMX frameset of the ORCA M10iLTD PWR isn't for me, but that's very much horses for courses when it comes to comfort vs performance on a bike. What would deter me is that in a line up against other brands of bikes for a similar weight and its lightweight credentials just don't stand out enough.
While the practical and versatile elements of the Orca are immensely practical and allow for versatility for the consumer, they just don't fit well with the lightweight narrative. For a bike of that level, I'd expect all optimization decisions to be made by the brand rather than leaving them to the whim of the rider.
To be fair Orbea has said that the Orca offers the lightest bikes in each price point, but even the aforementioned Factor 02 VAM is lighter, and in the UK 'just' £200 more. I say just as I'm assuming if your in the market for a £12k a bike, £200 is neither here or there.
There's also the Canyon Ultimate CFR Di2 which weighs a claimed 6.32kg and costs $9,499 / £9,499. When we gave the new Canyon Ultimate first ride we also noted that the redesign of the bike was aimed at making it an all-rounder rather than a climbing bike.
I can't help wondering if the all rounder concept would have served the Orca better, rather than Orbea nailing its lightweight climbing story to the mast.
That said, what does jump to the front of the queue is the ORCA M20iTEAM with much friendlier and forgiving OMR frameset. Having spend most of the first half of this year convincing Editors that yes an Ultegra bike can really cost $10,000 / £10,000 plus, having this land in the mid-tier market for $5,999 / £6,299 feels really fair.
It's still a shed load of cash, but if, like me you need all the help in the hills you can get, both up and down, this will be your BFF.
Orbea Orca: Specifications
Orbea Orca M10iLTD PWR
Frameset: Orbea Orca OMX T1000 carbon
Groupset: Shimano DuraAce Di2 Powermeter 12sp 36/52, 11-30t
Wheels: OQUO Road Performance RP35 LTD Carbon
Tires: Vittoria Corsa Speed G2.0 TLR 25c
Handlebar: OC Road Performance Carbon RP11
Stem: OC Road Performance RP10
Seatpost: OC Performance XP10-S Carbon
Saddle: Fizik Vento Antares R1
Orbea Orca M20iTEAM
Frameset: Orbea Orca OMR T800 carbon
Groupset: Shimano Ultegra Di2 12sp 34/52, 11-30t
Wheels: OQUO Road Performance RP35 Team Carbon
Tires: Vittoria Corsa N.Ext G2.0 28c
Handlebar: OC Road Performance RP21 Alu SL
Stem: OC Road Performance RP10
Seatpost: OC Performance XP10-S Carbon
Saddle: Fizik Vento Antares R7
Thank you for reading 20 articles this month* Join now for unlimited access
Enjoy your first month for just £1 / $1 / €1
*Read 5 free articles per month without a subscription
Join now for unlimited access
Try first month for just £1 / $1 / €1
Get The Leadout Newsletter
The latest race content, interviews, features, reviews and expert buying guides, direct to your inbox!
Hannah is Cycling Weekly's longest-serving tech writer, having started with the magazine back in 2011. She has covered all things technical for both print and digital over multiple seasons representing CW at spring Classics, and Grand Tours and all races in between.
Hannah was a successful road and track racer herself, competing in UCI races all over Europe as well as in China, Pakistan and New Zealand.
For fun, she's ridden LEJOG unaided, a lap of Majorca in a day, won a 24-hour mountain bike race and tackled famous mountain passes in the French Alps, Pyrenees, Dolomites and Himalayas.
She lives just outside the Peak District National Park near Manchester UK with her partner, daughter and a small but beautifully formed bike collection.