Specialized Shoe Cover review
Specialized sent us a pair of shoe covers as the winter started settling in, and we took them out for testing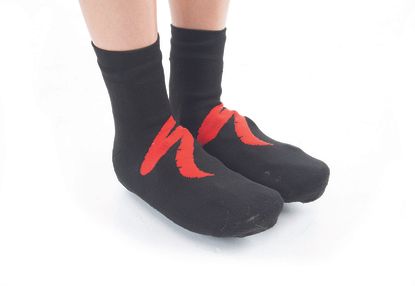 Specialized have created a very simple shoe cover that is tough and warm. Much thicker than a tradtional oversock, these shoe covers have lasted well, and we admired the simple design.
Why you can trust Cycling Weekly Our expert reviewers spend hours testing and comparing products and services so you can choose the best for you. Find out more about how we test.
The Specialized Shoe Cover is a simple product that does what you'd expect for a £15 pair of oversocks.
They're not quite your average shoe covers, though. The polypropylene material is much like a regular oversock, only thicker and tougher — a kind of overshoe and sock hybrid.
So far they've resisted wear and tear around the sole far longer than a regular oversock and thanks to that extra thickness, warmth and overall shoe protection are improved too.
To match up with the extra warmth provided, the length of the cuff is fairly substantial to prevent any coverage issues with your longs.
The lack of water repellency is slightly disappointing, and could render them far less useful as the worst of winter sets in: get caught in a wintry shower and their warmth could disappear.
These are a good low cost addition to your stock of cycle kit, but are unlikely to replace a full heavy duty pair of winter overshoes.
For more details head over to the Specialized website (opens in new tab).
Thank you for reading 5 articles this month* Join now for unlimited access
Enjoy your first month for just £1 / $1 / €1
*Read 5 free articles per month without a subscription
Join now for unlimited access
Try first month for just £1 / $1 / €1