Polarizing & Plush: the Fox 32 TC gravel suspension fork reviewed
Undeniably fun and remarkably comfortable, the Fox 32 TC is a worthy upgrade for gravel cyclists who like to shred or are singletrack-curious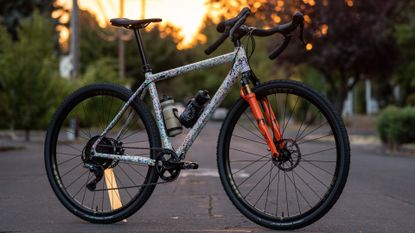 (Image credit: Charlie Kohlmeier)
Few products have triggered the off-road cycling trolls as much as the recent crop of gravel forks, but love them or hate them, it's hard to deny the performance and comfort benefits a suspension fork offers gravel riders. Unlike other products that increase comfort at the cost of performance, the Fox 32 TC allows you to push harder and go deeper than you might think.
Reasons to buy
+

Outstanding performance on small bumps, your wrists & hands will thank you

+

Familiar feeling damper

+

Adjustments are simple & clicks make distinct changes to performance

+

Impressive build quality

+

Fender mounts!

+

Long steerer tube will work with even the longest head tubes

+

Kashima & Orange look great
Reasons to avoid
-

Doesn't play nicely with 650B

-

Weighty

-

Axle to Crown length might not work well with your frame geometry (it's a LONG fork)

-

You will have to hear people say "just ride a mountain bike"
You can trust Cycling Weekly. Our team of experts put in hard miles testing cycling tech and will always share honest, unbiased advice to help you choose. Find out more about how we test.
Fox has been making legendary suspension products since 1977. Its products have been on countless podiums, and the brand is known for pushing the envelope of what is possible on a bicycle. In 2017, Fox released its first dedicated adventure fork, the 32 Step-Cast AX, which shares its DNA with the brand's XC mountain bike offerings. This 2022-released Fox 32 TC is redesigned from the ground up, and the result is a lighter platform tuned specifically for gravel riding, allowing you the confidence to push your rides further. Plus, that reverse arch and Kashima-coated stanchions look amazing.
Fox 32 TC: Construction
The Fox 32 TC comes in 40mm (tested) or 50mm travel options with three trim levels: Performance, Performance Elite and Factory (tested). The Performance level comes with a grip damper, while the Performance Elite and Factory come equipped with a Fit4 damper. All levels sit on Fox's 'FLOAT EVOL' air spring, specifically designed for this travel length. The Factory units come equipped with Kashima-coated stanchions and an option for Factory Orange paint.
Other specs include:
Brake Mount: Flat Mount, 160mm or 180mm max rotor size
Travel: 40mm or 50mm
Weight: 1226g
Axle: 12x100 Kabolt (note: dropout will not fit a 15x100 CX hub with sleeve to 12mm)
Max Tire Size: 700c x 50mm (Optimized for 700c – not 650b compatible)
Axle-to-crown: 435.5mm - 40mm travel • 445.5mm - 50mm travel
Steerer: 1 ½ tapered
High-speed Compression Adjustments: 3 Position — Open - Medium - Firm (Fit4 & Grip)
Low-speed Compression Adjustments: 22 Clicks in Open Mode (Fit4) Micro Indents (Grip)
Low-speed Rebound Adjustments: 10 Clicks (Fit4 & Grip)
What's in the box
The fork comes with two volume spacers, fender mounts, an instruction manual, and a tuning guide. Fox has been generous with the steerer tube on the 32 TC; it is 350mm long and should work with all but the most extreme headtubes. It is worth noting that the upper fender mount is in quite a different spot than a standard rigid fork. If you have a set of fenders that you have fit to a fork, they might need some slight adjustment to the top mount in order to fit properly on the 32 TC.
Setup
The tuning guide is easy to navigate and is a great way to get started. I used the guide for setup, which landed me on 121psi of air pressure and 12 clicks of rebound. Those settings felt great to start, and I only needed to adjust a couple things to get the fork feeling even better. It's worth mentioning that with this fork you'll have a aluminum steerer tube. This means you can take advantage of all the fun steerer tube storage solutions with this fork, like a ONEUP EDC. Bonus!
The fork I was replacing was a Whisky CX fork, coming it at 395mm axle to crown. The Fox 32 TC at 40mm of travel is a whopping 435mm — 429 at 15% sag. This is significantly longer than my fork, and after a quick search, it would seem that it is significantly longer than most rigid gravel forks. And I was a bit worried that this significant geometry change would adversely affect the ride.
Fox 32 TC: The Ride
Before I hopped on the bike, I was filled with doubts about this setup. As soon as I clipped in though, I knew it was the real deal. The fork is plush but supportive. It erases small imperfections in the road, and it keeps the wheel planted. I ride a Fox 36 on my trail bike, and the feeling of the suspension was immediately familiar. It was like I was on my trail bike but the miniature version.
My inaugural ride was a local group ride. The kind of ride where the goal is to ride as many trails as possible with the shortest road connectors. Folks show up on all sorts of bikes: CX, Gravel, Hardtail, Full-sus. It was the perfect testing grounds for the new fork. The initial climb is a steady 12% grade littered with cobbles, sharp rocks and various drainage cuts. I was impressed at how well the 40mm of squish was able to all but erase those bumps, and let me focus on pedaling. Normally on my rigid fork, my tire is deflecting off any surface not perfectly perpendicular to my path. On the 32, it would pop right up and over the obstacle with only a little feedback making it to my hands. On the descents, the fork is even better.
One of my biggest challenges with gravel riding is finding the right tire pressure to take the edge off on the descents while also maintaining performance in corners and compressions. Inevitably, you have to compromise on one of those. Either opting for beaten up hands or sloppy handling. With the Fox 32 TC, you don't have to compromise. This fork allows you to run high enough pressure in your tires to keep them from folding, and rely on the air spring to do the squishy part. The result is a mountain bike-esque feel. You can push harder, preload the suspension to pop off roots or take it off (small) drops and jumps. Once you start pushing, you might find some limits. I found that my tire selection couldn't quite keep up. To really maximize the fun of this fork, you'll need to run something with substantial side lugs for cornering, and some good braking traction. This would be a great platform for the Pirelli Cinturato M, Teravail Rutland or the WTB Raddler.
Once you get back on the road, you can flip the compression dial to firm and it will go from plush to almost rigid, allowing you to put in out of the saddle efforts without wasting too much energy. It's not a complete lockout but it's close and it works great on long road stretches. Over the next few weeks I took this fork out on a variety of routes, from 90% road to 90% trail. The fork performs exceptionally on long washboard-riddled gravel descents, rough road sections, and singletrack. My hands felt relief that they haven't in years of underbiking, and for that fact alone, I think this fork is worth it.
This brings me to my biggest qualm with the fork. Why didn't Fox design it to work with 650B? Seems like from a design perspective it isn't a huge ask but from a performance/flexibility perspective, it is a massive gain. For reference, the MRP Baxter fork can clear 27 x 2.4. The ability to run up to a 27 x 2.4 mountain specific tire opens up countless route possibilities. It also makes for more fun on the local trails. This fork would absolutely rip with a set of 27 x 2.3 Maxxis Minion SS rubber — oh the side knobs! But this is getting close to the point where we start flirting with the original question that triggered so many internet trolls. Why not just ride a mountain bike?
Value and Conclusion
So who exactly is this fork for? I believe the Fox 32 TC is a perfect upgrade for anyone that currently loves their gravel bike but is singletrack-curious. Someone looking to push the possibilities of their routes. Someone that is looking for a little hand and wrist relief but doesn't want to buy and store an entirely new bike.
For the Factory unit, you are looking at $949 / £1079 retail, which is pretty steep considering you can get a complete Kona Lava Dome or Specialized Rockhopper mountain bike for less. But getting a new bike does come with drawbacks; more storage, more maintenance.
At the end of the day, I think this is a fantastic piece of kit that will really enhance your riding experience. If you are a die hard 700c fan, I highly recommend this fork. If you like to ride 650Bs on your gravel bike, I would look into the MRP Baxter.
Oh, and once you install one on your bike, be prepared for everyone to share their opinion about it with you…
4 out of 5 stars, simply for the fact it isn't compatible with 650.
The Bike Setup
- A 2021 Nukeproof Digger Comp Alloy bike, size medium
- HiFi EP30 Disc Carbon wheelset
---
Thank you for reading 20 articles this month* Join now for unlimited access
Enjoy your first month for just £1 / $1 / €1
*Read 5 free articles per month without a subscription
Join now for unlimited access
Try first month for just £1 / $1 / €1