B'Twin Ultra 700 AF 105 review
Pound for pound the B'Twin Ultra 700 AF leaves the competition standing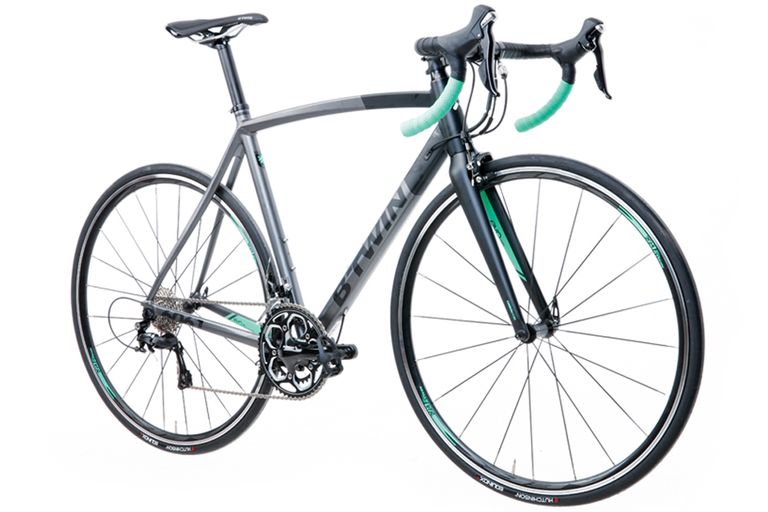 The sport we love should not be prohibitively expensive and the level of enjoyment you experience should not be down to how much cash you spend. It is imperative that good bikes exist at this price point, as they are most people's entry point into road cycling and have the potential to dictate a large chunk of their experience thereafter. The B'Twin wins out, because I was able to forget I was riding a bike that cost just £750 and found myself bombing along country lanes with a smile on my face - and that is what it is all about
For
+

Amazing value

+

Comfortable frame

+

Looks cool

+

Top Spec

+

Fun to ride!
Against
-

Wheels could be finished a bit neater
B'Twin is the house brand of Decathlon sports superstores, meaning that it is essentially a direct sales company. This enables it to keep costs down and pass that saving on to the customer.
Buy now: B'Win bikes now come under a new name, see the Van Rysel bikes at Decathlon now
Frame
The frame and fork here are the same as offered on the B'Twin Ultra 720 AF, which recently won the Cycling Weekly best value bike of the year.
Unusually for this price point the frame features a UCI approved sticker, meaning you could potentially ride this bike in the Tour de France.
This will never happen for me but the sticker is not only a mark of quality but also credibility for a brand that cannot boast the heritage of Specialized and Giant.
Geometry is fairly race orientated and the frame has a smart grey and black paintjob.
What you should look for when buying a £750 bike
Specification
Apart from the Shimano R500 chainset, the bike comes with a complete Shimano 105 11-speed groupset, including the excellent direct mount brakes front and rear.
Tyres are 25mm, with plenty of clearance for wider rubber. The wheels are B'Twin's own and perform pretty well, with decent durability and braking.
The only quibble is the surface finish of the wheels, which shows the join of the rim clearly.
Ride
The ride offered by the B'Twin Ultra 700 AF really is impressive. This is without question a bike you can have fun on.
I thoroughly enjoyed riding this bike and felt that it wasn't holding me back when I put the power down sprinting for signs or up short hills.
>>> B'Twin Ultra 720 AF Ultegra review (video)
If I were looking for a race machine on a budget, save for a wheel upgrade, this would be it. The bottom bracket has been strengthened with a bridge between the chainstays and the frame feels lively.
The 105 direct mount brakes are the best on any bike I've ridden in this price range by far and it's comfortable too, offering noticeable compliance on poor surfaces.
Value
The B'Twin knocks everything else for six in terms of value for money. Other bikes around this price point really struggle to compete with the 105, 11-speed groupset.
A problem we had with previous B'Twin bikes was that the boxes they came in were terrible. Following feedback, this has been addressed and the packaging much improved, with a special solid bottom to hold the bike securely in place.
Buy now: B'Win bikes now come under a new name, see the Van Rysel bikes at Decathlon now
It is not just a bike that would be well suited to beginners. The risk of crashing and cracking your prized carbon frame is a cloud that hangs over many an amateur racer. Upgrading the wheels would render the B'Twin ideal for those wanting a solid bike for their first season of road or criterium racing.