Cervelo R5 2014 road bike review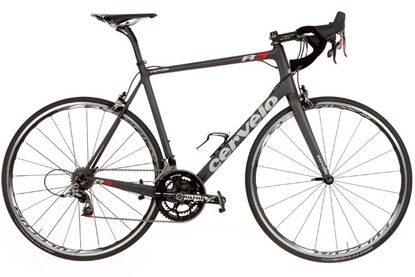 It's been many years since we last had the opportunity to jump on an R-series Cervélo, and it's clear they've really moved forwards over the intervening time. This bike is lighter, faster, stiffer and has better handling to boot. Now that you can run 25c tyres, there really isn't much to criticise. Then again, any bike costing over £5,000 should be pretty near perfect, so it's just a shame the wheels aren't of a similar quality to the rest of the bike.
Reasons to buy
+

Great on changeable road surfaces
You can trust Cycling Weekly. Our team of experts put in hard miles testing cycling tech and will always share honest, unbiased advice to help you choose. Find out more about how we test.
Not many manufacturers are able to claim that their £5k bike is the product of 'drip-down technology' from their even more expensive models. But that's just what Cervélo says about the updated R5.
>>> Cervelo Bikes: S-Series, R-Series, P-Series, T-Series and C-Series explained
Then again, not many manufacturers have the history and portfolio, or put as much resource into race-level bike manufacturing, as Toronto-based Cervélo. For 2014, the R5 has borrowed technical know-how from the design work that went into the RCA. The difference is, the R5's technology has been applied in a more ?cost-effective way.
At the heart of the changes are the new tube shapes. Cervélo uses what it calls Squoval shaping on the R series bikes, and claims this third-generation version saves 7.4w, gives a 9.5 per cent stiffer bottom bracket and an increase of 15 per cent in torsional head tube stiffness when compared to the old R5, all worthwhile improvements.
With a new UK distributor comes the opportunity to buy Cervélos as complete bikes, not just as framesets as before. This reflects the changes in our buying habits. It used to be that any British customer spending multiple thousands on a bike would buy a frame first, then add parts of their individual preference. Nowadays, off the peg is by far the commonest way to buy. There are a plenty of reasons for this, but the biggest is price; buying a complete machine works out cheaper, since manufacturers buy parts in bulk at discounted rates.
Standard choices
Of course, buying off the shelf works just fine if you like the spec options chosen by the maker. When it came to our test R5, some of the choices were, well, interesting. There are three standard builds: the 9000 series Dura-Ace (£5,199), the Di2 electronic shifting version of the 11-speed groupset (£6,799), and the one on test here, the SRAM Red22 with hydraulic rim brakes (£5,299).
The frameset alone would set you back £3,699. Interestingly, someone at Rotor has obviously done a deal with Cervélo, as all three off-the-peg bikes have had their standard cranks swapped out for a set of Rotors - in this case, the 3D+. There's nothing wrong with Rotor cranks, which work well, but, at this price, we would prefer to see a full groupset across the bike. Corners should not be cut - it's just not cricket.
To reiterate, though, the Rotor cranks work well, and it's worth pointing out that they come with standard round chainrings, No Q, in a very sensible semi-compact size: 52t outer 36t inner. Elsewhere, there's a splash of good quality components, with FSA carbon bars and stem, as well as a K-Force seatpost topped off with a Fizik Antares saddle.
The one spec area that is obviously lacking is the wheels. Fulcrum Racing 3.5s are good wheels, but on a bike of this level, they're holding back the frame rather than complementing it. The wheels were fitted with Vittoria Diamante Pro Light tyres; the weather being decidedly autumnal, we quickly relieved the wheels of the Diamantes for something with more puncture protection.
Ride
It's not a particularly easy sensation to explain, but the 2014 R5 manages to be plenty stiff enough while also taking the sting out of poor surface conditions. In short, the high-frequency road buzz that you get when riding over rough tarmac has been damped out, as the thin seatstays and tapered forks manage to dissipate the minor shocks. This is great on poor surfaces, without creating vagueness on well-surfaced roads.
What's interesting - and rare on this type of bike - is the R5's ability to cope with surface changes and bumps. Cervélo's carbon lay-up and tube shapes are something special; you get comfort benefits on poor road conditions but without excessive flexibility when you put in a powerful effort - a great combination.
With such well-developed characteristics, the R5 is an excellent race bike that, thanks to its low weight, makes for a very competitive machine. As for the balance of the bike, Cervélo appears to have very much stuck with what it knows, maintaining a nice, neutral handling character.
Having just stepped off the Pinarello Dogma, the more considered front end of this bike made for an interesting change. I'd describe it as a neutral feel; it treads the middle ground, being neither too steep, which causes a slightly unsettled feeling (as per many current race bikes), nor extremely relaxed and stable, which works better for high-speed descending or nervous riders. It's very much middle-of-the-road handling, which is just fine with me.
As you'd expect, the components work well with SRAM's Hydro brakes, a great option for gaining the extra performance of hydraulics without going all out and fitting discs. The American groupset proves to be less finicky than the Italian stuff but does require a good set-up in order to use the full 11 speeds without chain rub from the Yaw front mech.
Once set up right, though, it works a treat. You might expect the Yaw mech to struggle a little with the Rotor round chainrings, since all the groupset manufacturers make a big deal about using their own chains, chainrings, etc, but I found the performance to be faultless.
Thank you for reading 20 articles this month* Join now for unlimited access
Enjoy your first month for just £1 / $1 / €1
*Read 5 free articles per month without a subscription
Join now for unlimited access
Try first month for just £1 / $1 / €1