Van Nicholas Skeiron Disc review
The Van Nicholas Skeiron Disc is an advanced titanium bike with concealed cables, flat-mount disc brakes and an electronic groupset. Sounds like a dream bike for most of us, right?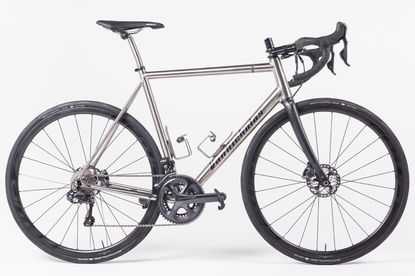 Specs and looks make this bike very exciting, as does its ride on smooth tarmac, but the rough British roads and the price tag are likely to supply a swift reality check
Reasons to buy
+

Great looking

+

Beautifully finished

+

Top-notch geometry

+

Should last a lifetime
Reasons to avoid
-

Heavy

-

Not very comfortable

-

Expensive

-
Why you can trust Cycling Weekly Our expert reviewers spend hours testing and comparing products and services so you can choose the best for you. Find out more about how we test.
Van Nicholas began its bike manufacturing journey as a small, family-run company before becoming part of the well known Koga brand in 2012. It says its reason for being is titanium, which the Dutch firm believes is the best material for building bicycles.
What we've got here is – in Van Nicholas's own words – its most technically advanced road bike to date: the disc-brake Skeiron won a gold award for race bikes at the 2017 Eurobike, so our expectations were high.
'Skeiron' has a number of origins. It's the name of the God of the northwesterly wind. Or, according to another myth, Skeiron was the bandit of Megaris in southern Greece who kicked passers-by off a cliff into the jaws of a giant turtle.
But back to the bike itself. When I saw it, it was love at first sight. I find this kind of industrial look with raw titanium alloy tubes with black decals, black finishing kit and black carbon wheels really exciting. Then I lifted it and it felt much heavier than I had hoped.
Van Nicholas Skeiron frame
The space-grade titanium alloy frame is the undisputed star of the show. If you are a fan of clean and simple design, just look at the Skeiron. And close up it's even more impressive.
Welding titanium neatly requires true craftsmanship and each weld on this frame proves that these guys know how to do their job. The neat integration of the fork and head tube is top notch. As is the norm with disc-brake-specific bikes, the Van Nicholas Skeiron loses the brake bridge, which only gives it a cleaner look in my opinion. There is simply no need for it unless you want stiffer but less comfortable seatstays.
Van Nicholas uses 3Al/2.5V titanium alloy, which is what most titanium bike frames are made of. I must point out here that the test bike came with an optional titanium seatpost which makes the bike look even better and is supposed to make the ride more comfortable.
Regarding geometry, this bike is neither an endurance nor a race bike. It sits somewhere between. It was easy to get a good comfortable fit on it.
Specification
The Van Nicholas Skeiron is sold as a frameset only or as a complete bike. The most basic option is equipped with the Shimano 105 groupset. Our test bike came with the old but still awesome Shimano Ultegra R6800, or more specifically R6870 – the Di2 option with hydraulic disc brakes. The new Shimano Ultegra R8000 and its other versions offer some interesting new features such as the programming button at the top of each hood, but there's nothing to complain about with the R6870.
An Ultegra compact crankset comes fitted into the press-fit bottom bracket: once again, no complaints. Moving to rear of the bike there is an Ultegra Di2 long-cage derailleur and 11-28 cassette. This gives you the option to change the cassette for even wider gear range – up to 32 teeth.
For some reason Van Nicholas decided not to use standard disc sizes: this bike comes with 140mm rotors front and rear and not the usual couple of 160mm front and 140mm rear. Although I didn't really see anything wrong with smaller discs, it does go against what many other manufacturers are doing.
I was pleased to see the Van Nicholas Skeiron specced with the optional FFWD carbon-disc-specific wheels shod with (again) optional 28mm Schwalbe ONE tyres – to which the bike owes most of its comfort.
What is quite impressive is that Van Nicholas develops its own forks, stems, handlebars and even saddles. The fork is made from carbon – as always a good, light and stiff option. The stems and handlebars are made from 6061 alloy. You don't really need to replace any of those. Even the saddle is good.
Ride
The Van Nicholas Skeiron felt pretty heavy on first lift, but when I sat on it for the first time it fitted perfectly and felt right. Probably for the first time I felt instantly good, like really good. No need to change a single thing.
However, despite the wider tyres and lack of brake bridge, the rear struggled to deal with typical rough roads you find in the UK. The titanium seatpost doesn't feel as though it soaks up the buzz very effectively.
However, the front end with the carbon fork is poised and largely deals with road imperfections well by contrast.
I had to ride the Van Nicholas Skeiron aggressively initially to get any sort of decent speed. Out on the road and without looking at any numbers I felt pretty quick buy I was surprised by how slow I actually was. This certainly is not something I would expect from a bike for more than £6,000.
However, no matter what average speed you end up with, the bike feels lively and thanks to that carbon fork and 'all-round' geometry (and bolt-thru front end) the Skeiron dances in the bends and doesn't wallow in self-pity at a stomp of a pedal or a sharp yank of those disc brakes.
Value
Why do people buy titanium bikes? Well, there are plenty of reasons but the most common ones are: a) A titanium frame should last a lifetime; b) Titanium is lighter and stronger than steel; c) A titanium bike should be smoother and more comfortable to ride than a carbon one.
This particular Skeiron comes in at £6,000 and if it lasts a lifetime you get your money's worth.
Titanium is obviously lighter and more durable than steel, but it does not mean you automatically get a lighter bike if you make it out of titanium. The weight will depend on many other aspects such as the tube wall construction and butting.
And as regards comfort, this bike is simply not comfortable. It is a super-stiff race bike made with titanium tubes.
For £6,000 and over you really could have the pick of the top-end carbon bikes with a weight around 6.5kg. And to be honest, I would go that way even though I know owning a unique bike from such an exquisite material is something way beyond owning a mainstream carbon bike from one of the big manufacturers. But for me, the latter just makes much more sense.
Thank you for reading 5 articles this month* Join now for unlimited access
Enjoy your first month for just £1 / $1 / €1
*Read 5 free articles per month without a subscription
Join now for unlimited access
Try first month for just £1 / $1 / €1