Adidas adistar jersey and bib shorts review
Adidas have revamped their road kit for 2014, and it's a marked improvement.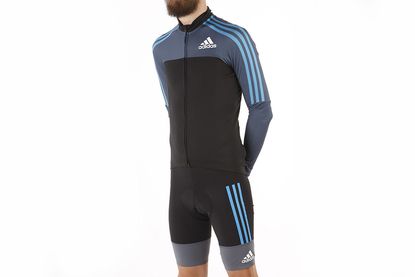 (Image credit: mike prior)
So with a huge price reduction and an updated design, this adistar kit has us really excited. There's not much to fault, apart from the chunky chamois pad, but that's only if we're nitpicking. The pad settled down after a few rides, and became as unnoticeable as the rest of the outfit. We really appreciate kit that just gets the job done, and doesn't remind us it's there, and that's exactly what the Adidas adistar kit does - The fact that it looks great is a bonus.
Reasons to buy
+

Race fit

+

Comfortable

+

Price
Why you can trust Cycling Weekly Our expert reviewers spend hours testing and comparing products and services so you can choose the best for you. Find out more about how we test.
Adidas have teetered on the edge of Cycling clothing for some time. Despite sponsoring British Cycling and previously Team Sky, they've never taken a full step in to the apparel market. That's starting to change now though, and last year Adidas released the expensive predecessor to this kit. The long-sleeve adistar jersey was formerly priced at £190, very much at the top end of the market and battling with some serious competition. It did well, although we considered it overpriced.
After a good - albeit pricey - start last year, we were very excited about this updated kit, with the jersey now priced at only £110. That's an £80 price cut in one year! I'd be a little bit upset if I'd bought the last iteration of this jersey. The shorts are now similarly priced, at £120.
Adidas haven't made any drastic changes to the jersey. That's sensible, because last years model was very good. The cut and fit is more of the same, and by that, we mean it's 'race' cut, with a slim profile. There's a stretchy and fitted material used on the arms and upper body, with a slightly thicker but more breathable material used in the chest and lower areas.
At the rear, a channel along the centre of the back has been removed and replaced with a more breathable material, something we appreciated during the summer. We found the combination of jersey and shorts were ideal for warmer temperatures, but we got away with some 15-degree rides during some warm October spells, with a vest base layer to keep the chill away.
The shorts have also been updated. They now sit higher on the waist, so there's no chance of the white stitching appearing, should your jersey ride up. It was something that ruined the overall smartness of last years outfit. The leg grippers remain excellent, being exceptionally sticky. Great for shaved riders, but possibly not ideal for the hairy legged who might lose a hair or two as the shorts are pulled on. Ouch.
Thank you for reading 10 articles this month* Join now for unlimited access
Enjoy your first month for just £1 / $1 / €1
*Read 5 free articles per month without a subscription
Join now for unlimited access
Try first month for just £1 / $1 / €1