Gore Power Lady CC Tights Short+ review
With mesh inserts, the Gore Power Lady CC Tights Short+ promise to be ideal for hot days in the saddle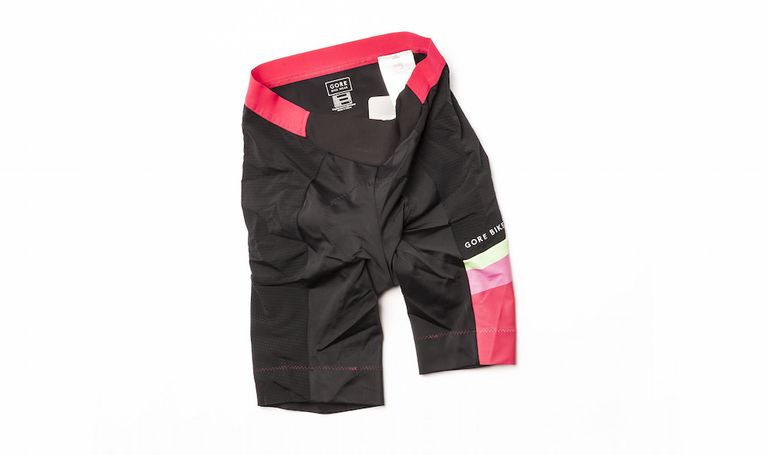 (Image credit: Cycling Studio)
The lightweight and breathable Gore Power Lady CC Tights Short+ offer high-tech details for women wanting high-end cycling shorts without the bib element.
For
+

Flattering women's-specific fit

+

Elastic-free front

+

Silicone free

+

Breathable mesh inserts

+

Lightweight

+

Reflective elements

+

Three colour way choices

+

Seam-free chamois

+
+
Against
-

Slight waistband fit issue

-

legs ride up slightly

-
If you've done your homework on the Gore brand, you'll know that in 30-odd years it has come to represent the gold standard in fabric technology. As a consequence of this high-tech approach to material, it's always exciting to see its latest products, so I was pleased to get hold of a pair of the Gore Power Lady CC Tights Short+.
>>> Buy now from Evans Cycles for just £69.99
I spoke about the three branches to the Gore cycling clothing tree in my review of the GORE Powerlady Bibtights Short+, and suffice to say the Gore Power Lady CC Tights Short+ share the same lineage as the bib version and are designated perfect for the year-round cyclist.
>>> Best women's cycling shorts
Construction
Gore Power Lady CC Tights Short+ use an 80 per cent polyamide/20 per cent elastane fabric which has softer, stretchier, and stronger attributes than a standard polyester. The multiple-panel shorts have integrated breathable mesh panels down two-thirds of the sides, with the remaining third on the right leg reverting to the main shorts fabric, but this time with the colour detail, while the left leg hosts a pocket. Both legs finish with a folded hem without any silicone grippers in sight.
The Gore Power Lady CC Tights Short+ use the Power Woman foam chamois, designed specifically for middle-distance riding, which Gore says offers great breathability, elasticity and moisture management, with padding designed to support the saddle-undercarriage contact point after the pelvic rotation into a road-bike position. Gore has added an additional windproof lamination panel to the front of the chamois area which it says is for even more comfort, something we first came across when testing the above bib short version.
>>>Best women's shorts 2017: waist and bib shorts
The Gore Power Lady CC Tights Short+ design does away with elastic at the front of the shorts, instead using an additional panel of the main shorts fabric which is finished with a raw-cut edge.
Ride
As expected, the Gore Power Lady CC Tights Short+ are exceptionally well made. The choice of using a more expensive polyamide fabric over standard polyester ensures zero stretch-greying on the fabric, with even the breathable mesh panels and lighter coloured details on our test pair all but opaque.
The breathability element to the shorts works well and even on hot days I remained a comfortable temperature throughout the ride.
The chamois has a great balance of padding and flexibility both in and out of the saddle, although it's important to remember that these are middle-distance shorts so don't expect excessive amounts of cushioning. I have to confess to not noticing the extra windproofing protection, but I did feel that it added an extra modesty barrier at the front of the shorts.
The silicone-free legs were a really flattering fit, and extremely comfortable, although I did suffer from a slight riding-up after turning the pedals for a while. I didn't find a use for the side leg pocket. Perhaps I'm a stickler for tradition, instead opting to continue using my rear jersey pockets, but it wasn't detrimental to the short fit so I guess it will be useful somehow for someone.
The fly in the Gore Power Lady CC Tights Short+ ointment, however, is the waistband. While the back of the shorts were comfortable and high enough to tuck my undervest in, preventing any jersey-to-shorts draughty gaps, the front just wasn't quite high enough for me. This meant, upon adopting a cycling position, that the front short panel rolled down to my hips, leaving my stomach unsupported. It was more of a self-consciousness issue than anything else – no gaps appeared, it's just that personally I prefer to be tucked in at the front.
Value
As I've probably said about every Gore product I've reviewed, you're always guaranteed excellent quality. It's rare to find a pair of non-bib shorts that offer technical details such as breathability and excellent chamois. Gore clearly appreciates that even if you're not a bib fan you still want excellent-quality shorts. But with form and function comes a price tag and at just shy or £100 it's a rather high one. It's a shame that they weren't perfect for me, but fit is a real personal issue and I can highly recommend trying a pair on and seeing if they work for you. If they do, you really won't be disappointed.
Hannah Bussey is Cycling Weekly's longest serving Tech writer, having started with the Magazine back in 2011.
She's specialises on the technical side of all things cycling, including Pro Peloton Team kit having covered multiple seasons of the Spring Classics, and Grand Tours for both print and websites. Prior to joining Cycling Weekly, Hannah was a successful road and track racer, competing in UCI races across the world, and has raced in most of Europe, China, Pakistan and New Zealand. For fun, she's ridden LEJoG unaided, a lap of Majorca in a day, win 24 hour mountain bike race and tackle famous mountain passes in the French Alps, Pyrenees, Dolomites and Himalayas. She lives just outside the Peak District National Park near Manchester UK with her partner, daughter and a small but beautifully formed bike collection.