Pearl Izumi Women's Elite Pursuit Bib Shorts review
Can the minimal design of the Pearl Izumi Women's Elite Pursuit Bib Shorts chamios still deliver a luxury ride?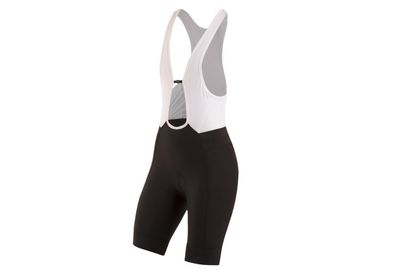 (Image credit: Picasa)
The women's specific Pearl Izumi Women's Elite Pursuit Bib Shorts provide a lot of bang for your buck in terms of form and function. The chamois is excellent, as are the race fit shorts. The bib upper could do with simplifying, but overall they're a great pair of shorts that are idea for training, race day or sportive.
Reasons to buy
+

Fit

+

Chamios

+

Leg grippers

+

UV protection

+

Cooling

+

Easy comfort breaks
Reasons to avoid
-

Weight

-

Robust bib upper
Naming bib shorts after one of the purist cycling disciplines is a brave move. Not only does it mean that that the shorts have to be up to racing standards where every element is placed under the microscope, but also that no stone is left unturned in the quest for technological enhancements.
>>> Best women's cycling shorts
That's exactly what we now all expect from the Pearl Izumi Women's Elite Pursuit Bib Shorts - no pressure.
Pearl Izumi has indeed taken its naming convention rather seriously, and has done its upmost to squeeze as much technology in to a pair of minimal shorts as possible, with the seat pad being no exception.
Construction and fit
It's fair to say that where most women's specific shorts are concerned, the word voluptuous could be easily inserted. Its an error that many cycling short manufacturers make in assuming that in order for a woman to be comfortable on a bike, a chamois must provide padding with a capital P.
This however, is often the opposite to what is actually required. Too much padding can rub, chafe, and totally interfere with the ride feel. So although the padding in the Pearl Izumi Women's Elite Pursuit Bib Shorts looks suspiciously minimal, as soon as they were pulled up, I knew I was on to a winner with the 1:1™ Chamois, which was barely noticeable, stayed in constant contact with my skin and provided the ultimate sweetspot in padding, aka -just enough.
At the legs is a 7.5cm wide leg cuff, that's not that dissimilar to the Movelo Classic White Nth Series Bib Short or the Santini Wave bib short, using a raw cut single layer of silicone backed fabric to provide a smooth transition from short to skin.
Pearl Izumi has worked hard to shoe horn in multiple functions and features in to the short element. They're made from Transfer In-R-Cool® fabric which is said to provide superior cooling and reflective sun protection. It's part of the much rated cold black® range from Schoeller, and something that we are seeing a few brands such as Morvelo and dhb using this summer.
A drop tail design at the back negates the need to strip off for comfort breaks, with a simple pull down system. It's not the first time Pearl Izumi has played with this concept and we've seen various attempts of this in the past with the likes of the Bontrager's Meraj bib shorts, and Endura's FS260-Pro SL Women's bib shorts. But there's a simplicity to the Pearl Izumi Women's Elite Pursuit Bib Shorts design which is very user friendly and certainly not at a detriment to the fit or feel of the shorts.
Up top a mesh bib holds it all together, and this is probably an area the designers need to look at minimising. I suspect a lot of the design rational of the full back and clasped front of the upper is down to the necessity of supporting the drop tail design, and the need to be robust, but I'm sure it could be simplified further. The full back acts as an extra base layer, while the front doesn't fully enclose the body, using a plastic fiddly clip to clasp the two sides together. I also suspect this element is also what is weighing the shorts down, tipping the scales at a rather portly 206g for a size medium.
The Ride
But, as they say, the proof of the pudding is in the eating. Or riding in bib short terms.
I was really impressed. That non-descipt 1:1™ Chamois really is perfect, and a lot of brands could learn a lot from stripping back all the fancy inserts they use and going with something more slimline.
In and out the saddle the pad stayed put, and even without winged flat-locked edges, there wasn't even a hint of friction rubbing.
The annoying clasp on the bib upper was soon forgotten about, although, I do still question the conflicting front and back of the bibs - with hot weather proving tricky to judge what to team them with base layer wise.
Value
The £99 mark for bib shorts seems to be just over average these days, and for the money you do get a lot of with these shorts. There are some design adjustments that, if made, could take these shorts to the next level, but should you do decide to invest now, you won't be disappointed.
Thank you for reading 5 articles this month* Join now for unlimited access
Enjoy your first month for just £1 / $1 / €1
*Read 5 free articles per month without a subscription
Join now for unlimited access
Try first month for just £1 / $1 / €1