Specialized Flux 1250 Headlight review - floodlight function is great for the road, less so the trails
Spreading its lumens over such a wide area does light up the roads nicely - although that does mean the spotlight isn't as bright as other 1,250 lumen lights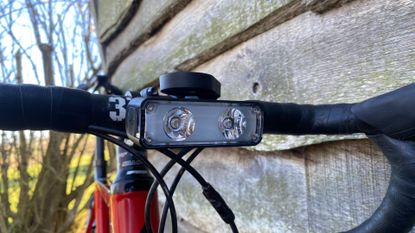 (Image credit: Andy Turner)
A very effective bike light that has both a decent spotlight for range and a great floodlight to illuminate the entire width of the road. Battery life is decent and charging is quick, although a USB-C port would be preferred to Micro USB. Weight is a little heavy for helmet mounting, but bar mounting is very good with the light clip being secure yet easy to remove. Value-wise it falls behind others which offer similar performance for a smaller price. However the floodlight is a feature that's not often found.
Reasons to buy
+

Wide beam covers the entire road nicely

+

Great all round visibility and from the side

+

Easy mounting

+

Compact light

+

Fast charging
Reasons to avoid
-

Not quite as far range as some spotlight style lights

-

Micro USB charging rather than USB-C

-

Not the best value
You can trust Cycling Weekly. Our team of experts put in hard miles testing cycling tech and will always share honest, unbiased advice to help you choose. Find out more about how we test.
Although Specialized is primarily a bike brand, it has managed to expand its remit to such an extent that its helmets, shoes, and saddles have transcended the bikes - you'll see people using them irrespective of what bike they might be riding.
Specialized's lights range, it's fair to say, hasn't permeated the public consciousness in such a way. But should that change? How good is the Specialized Flux 1250 Headlight - and how does it stack up against the best bike lights that we've tested and reviewed?
Specialized Flux 1250: construction
The Flux 1250 is made of aluminium which gives it a premium feel straight away. It also has IP67 waterproofing to ensure that even in torrential downpours the light won't have any issues.
Like most bike lights, charging is done via a Micro USB port, which is going to become increasingly outdated as the EU will be rolling out mandatory USB-C charging for all electronic devices in the near future. The 3,400mAh Li-ion battery is good to last 1.5 hours on max power and up to 20 hours on the low level flash setting.
The light itself has a maximum output of 1,250 lumens, which is thanks to both the spotlight and the wide beam light combining to give that 1,250 lumen total. The LEDs in questions are CREE XP-L and throw out a bright white light. There's a total of seven modes, three of which use both lights on a constant beam, whilst the other four consist of two flash modes and two spotlight beam modes.
Fitting the light can be done in one of several ways. There is a bar mount with a spacer to fit bars of all diameters, with the light clipping onto a proprietary clipping system. This provides great security, easy removal, and no rattling. The other mounts are a GoPro style fitting and a helmet mount.
The ride
Fitting the mounting point to my handlebars proved fairly easy, although I would prefer a regular hex key and bolt compared to the mounting system Specialized used. Clipping the light in was incredibly easy, and my initial worries as to whether it would be secure enough were allayed after multiple rides over severely potholed roads.
It was easy enough to angle the beam so that it illuminated the entire width of the road whilst still having the spotlight element lighting things up a good distance in front of me. I had no problem riding comfortably at night on the roads using the mid-level beam, while the low-level beam is what I used when it was getting dim or raining heavily.
The full beam was great, but given the low temperatures, I was cautious of battery life, as it did seem to be dropping from full to half empty in less than the 45min it should manage in half a charge (the full burn time on full blast being quoted as 90mins)
The light has a slightly unique feature in that it is made up of a spotlight and a wide beam, rather than the more common multiple spotlights. As the lumen count is split between the two, this means the Specialized Flux 1250 Headlight's pure spotlight performance does lag behind some of its competitors.
That said, the wide, floodlighting beam was a feature I very much appreciated, so the comparative spotlight performance isn't necessarily a criticism.
The various different modes did prove useful, with the day flash being great for catching attention whilst also brightening up the road. The specific spotlight functions were not something I tended to use, as I preferred the full wide-beam which lit up more of the road - the spotlights were more useful when used in conjunction with the wide-beam, anyway.
Charging was straightforward and the light would go from near flat to showing 100 per cent in around an hour - quite fast compared to other lights.
Value
At $140.00 / £120.00 for a 1,250 lumen light, the Specialized Flux 1250 Headlight is among the most expensive in this bracket. That said, at the time of writing, it is currently available online for around 33% off.
The 1,300 lumen Lezyne Macro Drive 1300XXL has slightly more lumens and retails for only $109.99 / £90.00, it also boasts a frankly ridiculous 148 hour max runtime but with a 3.5 hour charge time. The Ravemen PR1200 ($89.99 / £99.99) also offers similar lumens at a slightly cheaper price with a slightly better run time, although heavier weight.
For a slightly higher price, you can get the Gloworm XS Light Head Unit (G2.0) ($188.30 / £164.99) which not only has a similar mix of spot and wide beams, but is 2,800 lumens and has a 3 hour run time on the maximum brightness setting! So although I really like the Flux, there are potentially better options available or better value ones, even if some lack the wide beam for illuminating more of the road other than what's directly in front.
Conclusion
The Specialized Flux 1250 Headlight performs brilliantly out on the road with its combination of a wide beam and spotlight offering fantastic long distance illumination, as well as lighting up the entire width of the road - so you can see obstacles, potholes, or errant squirrels coming out at your spokes. However, for trail rides on narrow singletrack, the spotlight function would need to be higher powered.
The claimed battery life is perfectly good at 1.5 hours on max power, but I did find that battery life dropped by more than 50% in less than 45 minutes in very cold temperatures. Charging is quick, so if you need to leave in a hurry then a quick 15 minute charge while you change will get you a decent boost of battery life. A USB-C charger would be preferred to Micro USB, though.
Overall the Flux 1250 is a light that performs very well, but at full retail it is just a bit too expensive relative to the competition.
Thank you for reading 20 articles this month* Join now for unlimited access
Enjoy your first month for just £1 / $1 / €1
*Read 5 free articles per month without a subscription
Join now for unlimited access
Try first month for just £1 / $1 / €1