Ekoi Lady Algoritmo bib tights review
Designed for temperatures from 0-20°C, the women's-specific Ekoi Lady Algoritmo bib tights could be the ideal piece of kit to keep you going right through to late spring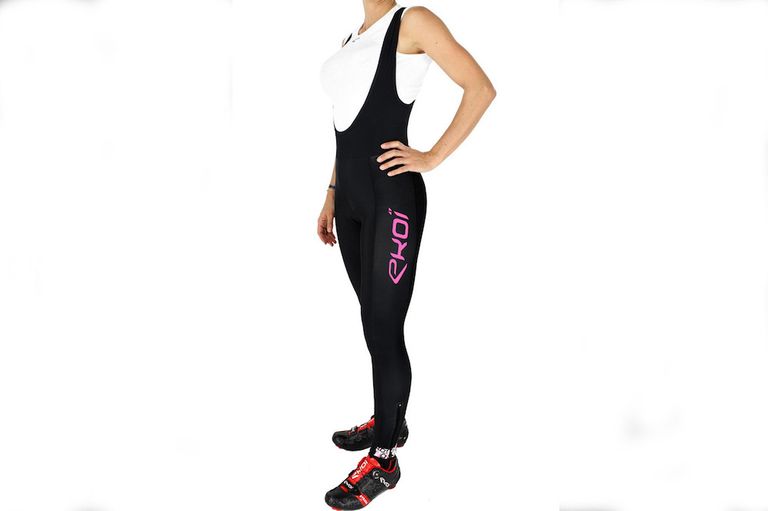 The women's-specific Ekoi Lady Algoritmo bib tights offer a fantastic fit and great comfort for just over £70. The bib tights would be a brilliant addition to any female cycling wardrobe, but be mindful that they don't offer water resistance, so you'll need a back-up pair for wet rides.
For
+

Warm

+

Comfortable

+

Great women's-specific fit

+

Great women's-specific gel chamois

+

Price

+
Unless you have the cash reserves of an oligarch and are able to transport yourself off to warm climes every time you wish to ride your bike, you're going to need to invest in some decent cycling bibs to get you through three of the four seasons in the UK. However, that can mean a wide variety of temperatures, which is why the women's-specific Ekoi Lady Algoritmo bib tights really appealed to us.
http://www.youtube.com/watch?v=uVormqt13d8
Construction
The Ekoi Lady Algoritmo bib tights are made from a fleece-lined Super Roubaix fabric, which is not only super-soft to the touch, but should also offer plenty of natural air insulation in its lofty fibres.
>>> Best bib tights for winter riding 2018
One of the big issues around women's bib tights is how to design the bib element. There are several solutions on the market ranging from halter necks, to clips and everything in between. The Ekoi Lady Algoritmo bib tights however, have opted for a simple over-arm bib with a high back. It's an approach that is much underrated by bib tight manufacturers but in my opinion this way often leads to the most comfortable fit.
At the other end of the Algoritmo bib tights are zipped ankles with an internal silicone band at the hem.
The all-important chamios comes in the form of Ekoi's own women's-specific Lady Gel Pad. The Italian-manufactured insert has varying densities of protection, which French brand Ekoi says is the perfect shape for the female anatomy and, as well as being antibacterial treated, also has micro-perforations for rapid moisture wicking.
Ride
It's always with some trepidation that I approach a first ride with a brand new pair of tights (or shorts), because the consequences of a bad fit can have repercussions for quite some time. So, to get in a pair of the the Ekoi Lady Algoritmo bib tights and immediately be able to bang out a three-hour ride is not to be sniffed at.
A big round of applause to Ekoi for the simplicity of the design and excellent execution of these bib tights. The construction is so neat that it felt like the tights were seamless, with none of the flatlocked seems in direct contact with either the front or back of my knee, key areas for either feeling a restriction of movement or gaining painful friction rubs.
The Ekoi Lady Gel Pad was really impressive too. In more price-conscious cycling attire there is often a temptation to really go overboard with padding for some reason, but it was a perfect balance of protection, comfort and flexibility. The side wings ensured again that no seams were in contact with moving body parts and even after a three-hour ride it still felt really comfortable.
The SuperRoubaix was indeed warm and certainly good enough to keep you riding in the single digits. Although Ekoi says these tights are for temperatures up to 20°C, unless you are a Spanish pro I think you would feel too warm above 12°C.
The only issue is the lack of water repellency in the Ekoi Lady Algoritmo bib tights. I totally understand that in order to get a great price for a great-fitting pair of tights something has to give, but on a mizzly day the tights had soaked through after a few hours and with added wind chill left me feeling pretty cold.
Value
I really love finding a excellent piece of cycling kit that doesn't cost hundreds of pounds, and feel like I've found it in the Ekoi Lady Algoritmo bib tights. They really do offer an awful lot in terms of fit, warmth and comfort for just over £70 . There is the water repellency issue, or rather lack of, which will mean you'll need a plan B pair, but for dry, crisp days, you can't get much better.
Hannah Bussey is Cycling Weekly's longest serving Tech writer, having started with the Magazine back in 2011.
She's specialises on the technical side of all things cycling, including Pro Peloton Team kit having covered multiple seasons of the Spring Classics, and Grand Tours for both print and websites. Prior to joining Cycling Weekly, Hannah was a successful road and track racer, competing in UCI races across the world, and has raced in most of Europe, China, Pakistan and New Zealand. For fun, she's ridden LEJoG unaided, a lap of Majorca in a day, win 24 hour mountain bike race and tackle famous mountain passes in the French Alps, Pyrenees, Dolomites and Himalayas. She lives just outside the Peak District National Park near Manchester UK with her partner, daughter and a small but beautifully formed bike collection.