Upgrade Centerlock 15/20mm rotor lock ring review
You may need an external spline locknut to fix a centerlock disc brake rotor to some wheels. Upgrade Bikes sells one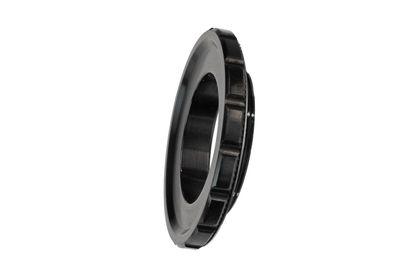 The Upgrade Centerlock 15/20mm lock ring provides an inexpensive, trouble-free, universally fitting way to fix a disc brake rotor to your centerlock equipped wheelset.
Reasons to buy
+

Lets you fix a brake rotor to a wheel with a large diameter hub

+

Tightened with a standard bottom bracket tool

+
Why you can trust Cycling Weekly Our expert reviewers spend hours testing and comparing products and services so you can choose the best for you. Find out more about how we test.
You can't fix disc brake rotors which use Shimano's centerlock standard to all wheelsets using an internally splined locknut, because often the axle is too wide for a standard cassette locknut tool to fit. The Upgrade Centerlock 15/20mm lock ring is externally splined, to get around this problem.
Because of the proliferation of axle standards, many wheel manufacturers make its wheels with a wider diameter axle and sell or provide adapters to fit other axle standards.
>>> Best road bike wheelsets
So you usually find that you can adapt a disc brake rear wheel to 12x135mm thru-axles, 12x142mm thru-axles (which are becoming the de facto standard) or quick release axles. Usually, 12mm is narrow enough that you can use a cassette tool to tighten an internally splined locknut onto the centerlock rotor threads.
The problem is usually with the front wheel, where road bikes can come with 15x100mm thru-axles, 12x100mm thru-axles (again, this is becoming the standard) or quick release axles. To fit a 15mm thru-axle, the wheel axle is usually too wide for a cassette tool to fit and let you tighten the lock ring.
>>> Disc brakes: everything you need to know
So you need a lock ring with external splines. Sometimes, you'll get one with a wheelset, but if you don't, you may need to source one yourself. They're not that easy to find. Fortunately, Upgrade Bikes sells one (opens in new tab) as part of its extensive range of spares to fit its Kinesis branded wheels.
The Upgrade Centerlock lock ring can be tightened using a standard external bottom bracket cup tool. It will also work with narrower hubs, as they follow the same thread standards.
It's a simple solution to the lack of compatibility between standards for thru-axles, although disc brake road bikes are increasingly standardising on 12x100mm front thru-axles and 12x142mm at the rear. Centerlock rotors are rapidly taking over from the 6-bolt standard too. Upgrade also sells adaptors to let you run 6-bolt rotors on centerlock wheels. Centerlock rotors aren't compatible with 6-bolt wheelsets though.
Thank you for reading 5 articles this month* Join now for unlimited access
Enjoy your first month for just £1 / $1 / €1
*Read 5 free articles per month without a subscription
Join now for unlimited access
Try first month for just £1 / $1 / €1