Milkit tubeless valve and refill kit review
Milkit provides an easy solution to tubeless maintenance, although at a price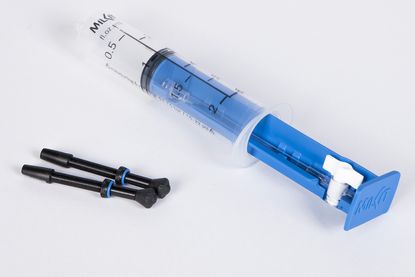 (Image credit: Cycling Studio)
If you're committed to road tubeless, although it's an expensive purchase, the Milkit tubeless valve kit lets you set up and maintain your tyres with ease. It would be particularly useful if you regularly swap tyres on your wheels, but the peace of mind that you've got enough sealant in the tyre is of benefit to the general rider too.
Reasons to buy
+

Adds easy maintenance to tubeless set-ups

+

Avoids mess

+
Reasons to avoid
-

Expensive

-

Need to be careful to lower tyre pressure when using

-
You can trust Cycling Weekly. Our team of experts put in hard miles testing cycling tech and will always share honest, unbiased advice to help you choose. Find out more about how we test.
The Milkit tubeless valve and refill kit helps you maintain your tubeless tyres without needing to pop a bead. It makes topping up sealant levels much less messy.
Tubeless tech is becoming more and more widely available for road bikes, with many wheelsets now tubeless ready. There's an increasing range of tyre options too, with Conti being the latest to offer a tubeless tyre.
Running tubeless brings advantages for road bikes: a more comfortable ride as you can run lower pressures without the risk of pinch flats and a higher degree of puncture protection than with an inner tube, leading to less risk of roadside repair being needed.
>>> How much damage can a tubeless tyre take?
But you can lose significant amounts of sealant when you set up the tyres, if they don't seat easily, and over time the sealant will dry out or some may escape if you have a puncture. So you're never too sure how well protected you are.
The only options up until now have been to pop a tyre bead to see what state the sealant is in – and risk losing more sealant getting the tyre airtight again – or bunging more sealant into the tyre just in case, adding rolling mass.
That's where Milkit comes in. It consists of a large syringe and a pair of patented valves. These are built with a secondary rubber seal at the base of the valve stem, so that you can remove the core without losing pressure. So when you want to check how much liquid sealant is left in the tyre, you unscrew the core and insert the tube from the Milkit syringe through the stem.
Opening the valve on the syringe tube pushes the sealant from the tyre into the syringe. You can then see how much is left from the graduations on the syringe, top up the syringe to the volume needed and re-inject the sealant through the valve core.
The system has been around for mountain bikes since 2015, but Milkit has now launched a couple of road versions. These come with longer 55mm and 75mm valves to handle deeper section aero rims. There's also the original 35mm version if you've got shallow section tubeless wheels.
>>> Why don't the pros use tubeless tyres?
One thing to take care of when using Milkit for road tubeless is tyre pressure. At 100psi, the pressure can potentially turn the syringe plunger into a projectile. Milkit says you should use eye protection and it's a good idea to reduce the tyre pressure before starting too. Even at 20 – 30 psi, there's a significant push that forces the plunger out, so you need to take care that you've got virtually no pressure in the tyre before inserting the syringe.
You need to get the tyre valve right at the bottom of the wheel, to be sure that you've sucked out most of the sealant and there's a tendency for the sealant to foam, so you may need to let it settle before you can determine how much you have in the syringe. But otherwise, it's easy to work out if you need to add more. And pushing the sealant back into the tyre is easy enough too, provided you've dropped the tyre pressure first.
The lower valve seal isn't as airtight as the upper one, so you can lose a bit of air and sealant after you've removed the syringe. But refit the presta valve core into the stem and you quickly get an airtight seal and can reinflate the tyre.
>>> How to puncture proof your tyres
The presta core is not a standard unit, having a long tail that will push down the secondary valve, so you can release air from the tyre if you overinflate. It has a couple of flattened faces too, so that you can use the included tool to screw it in and out easily.
I found the Milkit valve useful when fitting new tyres as well as for maintenance. You can get air into the tyre more quickly without the presta core in place, leading to easier seating. And once seated, the kit allows you to add a measured amount of sealant as a separate step.
If you swap between tyres frequently, Milkit makes this a lot easier and less messy, so it would be useful for cyclocrossers who want to run tubeless rather than tubs. It also means that you can reuse sealant rather than having to replace it, saving some cash.
And once you've bought the kit, you can buy Milkit valves separately if you have multiple wheelsets you want to run tubeless, saving around £20.
Thank you for reading 20 articles this month* Join now for unlimited access
Enjoy your first month for just £1 / $1 / €1
*Read 5 free articles per month without a subscription
Join now for unlimited access
Try first month for just £1 / $1 / €1