Giant SLR 1 Disc Full Carbon 42 wheels review
Giant's second-string 'Wheelsystems' are impressively light, fast and judging by the SLR 1 Disc Full Carbon 42s are a super upgrade to any bike at a very competitive price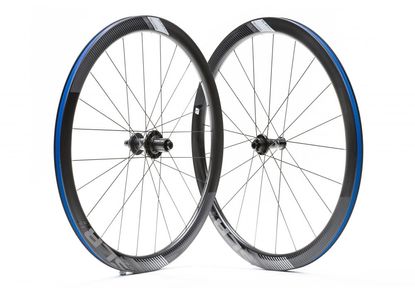 This is a good a wheelset as you'll find at this price. Design, build quality, weight and aesthetics are everything you could hope for. However, bear in mind Giant's advice if you plan on running them with clinchers rather than tubeless.
Reasons to buy
+

Light

+

Aerodynamic

+

Tubeless ready, even set up with tyres fitted if required

+

Competitively priced
Reasons to avoid
-

Clincher tyres can be tricky to fit and seat
Giant is now producing wheels that are as good as any currently on the market, with the Sunweb pro team riding the top-level ones as proof. What's more, as one of the earliest champions of disc brakes, it's a pretty safe bet that a set of disc-specific Giant wheels will be more than fit for purpose.
>>> Buy now at Rutland Cycling for £417.99
Since Giant is able to bring to bear its commanding position as the world's largest bicycle manufacturer, it's not surprising that its own-brand wheels are characterised by a high level of technology paired with a competitively low price. The SLR 0 wheels are at the top of Giant's range, with the SLR 1 considerably cheaper but still offering very good performance.
The Giant SLR 1 Disc Full Carbon 42 wheels we tested have a deep-section carbon tubeless-ready rim that has a depth of 42mm. There are 21 aero spokes at the front and 24 in the rear, Giant using Sapim CX-Sprints, like Zipp and many big other big OEM wheel manufacturers.
Giant uses hubs from DT, though it doesn't specify what model, with sealed cartridge bearings. They come with tool-free removable end caps that are thru-axle or QR compatible.
Set-up
We set the Giant SLR 1 Disc Full Carbon 42 wheels up for a Pinnacle Dolomite 4 that had a QR rear and thru-axle front and it was a cinch. The Shimano Centre-Lock rotors were their usual breeze to fit.
Giant offers its wheels with tubeless Gavia tyres ready fitted with sealant inside, and all you need to do is add air. However, because we wanted to compare the SLR 1 Discs against other wheels for a magazine grouptest, we put Continental Grandsport clinchers on them, and we found it took a bit of wrestling and a lot of air to get them on and seated. We asked for a comment and received this answer from Giant's Marcus Begley:
"The [Giant] Wheelsystems are designed for optimum performance using a tubeless system. To that extent we would always recommend using our Gavia tubeless road tyres.
"However (and from personal experience; my own and colleagues) the Giant SLR 1 Disc Full Carbon 42 wheels do work exceptionally well with conventional clincher tyres. We have used all carbon rim profiles extensively with Vittoria, Conti, Schwalbe in various widths up to and including Conti 28s/Vittoria 28s.
"We do find, when fitting clincher tyres fresh from the box, using a tubeless-style installation technique significantly helps, i.e. using the well in the rim to locate the tyre and using a tyre solution, (eg. Giant Tubeless Tyre Installation Lube) or a soap solution around the bead of the clincher. In order to seat the bead of the clincher tyre we have found that inflation closer to the maximum permitted pressure for the rim (125psi) may be required for first installation. From practice, we have never exceeded 120psi to seat any third-party brand clinchers to our rims. Once first installation and seating has been completed, replacing an inner tube at the side of the road has never caused an issue with re-seating of the tyre using a good quality mini pump or CO2 inflation device."
The ride
The Pinnacle looked immediately more appealing once its Alex rims and unbranded hubs had been replaced with the Giant wheels, and it didn't stop there. When we originally reviewed the Pinnacle, we criticised it for lacking crispness. With the Giant wheels in, not only was it a little bit lighter but the responsiveness we had been missing was restored – and the SLRs also supplied some much needed aerodynamics.
In fact, it was hard to find fault with the Giant SLR 1 Disc Full Carbon 42 wheels. It's nice to be certain of the provenance of these wheels – something not always possible with companies that buy in rims and rebrand them – although we liked that the Giant branding is discreet, clearly mindful of those who don't like to mix and match brands, and you can de-sticker them if you wish.
Thank you for reading 10 articles this month* Join now for unlimited access
Enjoy your first month for just £1 / $1 / €1
*Read 5 free articles per month without a subscription
Join now for unlimited access
Try first month for just £1 / $1 / €1
Simon Smythe is a hugely experienced cycling tech writer, who has been writing for Cycling Weekly since 2003. Until recently he was our senior tech writer. In his cycling career Simon has mostly focused on time trialling with a national medal, a few open wins and his club's 30-mile record in his palmares. These days he spends most of his time testing road bikes, or on a tandem doing the school run with his younger son.