Keep Challenging: The story behind Team Sunweb's dream 2017 season
How Dumoulin, Rivera, Barguil and others delivered an amazing year for Dutch squad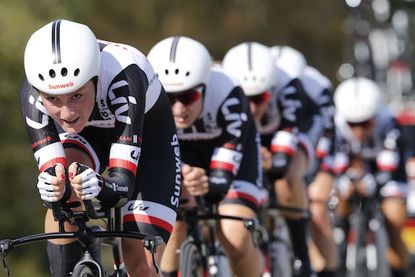 (Image credit: Yuzuru Sunada)
As Team Sunweb's women raced into Bergen and the finish of the team time trial at the World Championships in September, their male counterparts watched tensely. As the seconds ticked by and victory looked likely, conversation stalled. By the time the women celebrated their unexpected success on the podium, the men knew they had a lot to live up to.
"We were watching it on TV and said, 'S**t, they are winning!'" Tom Dumoulin tells Cycling Weekly some weeks later. "We didn't expect either of us to win, we were a podium candidate, the women maybe not even that, and I don't know if it completely changed our mindset, but we thought if they can do that, why can't we?"
They did. Later that day, rather than heading home or to their national federations as planned, riders arranged a quiet celebration, with both teams sharing dinner, a photo, and a couple of glasses of Champagne.
The Bergen victories may have been unexpected, but they were the perfect way to cap a season in which Dumoulin won the Giro d'Italia, the team bagged two Tour de France jerseys and racked up multiple Women's WorldTour victories. Although the team only placed fourth and second in the WorldTour and Women's WorldTour rankings respectively, that was a huge improvement on 16th and seventh in 2016 — making a good case for them being the standout team of the season.
>>> Tom Dumoulin: 'Froome won't sway my Giro or Tour decision'
Those World Championship successes also illustrated perfectly Sunweb's collective, one-team ethos where staff, resources and equipment are shared between men's, women's and men's development teams.
Both TTT squads began their year-long collaboration at pre-season training camps, with women's team coach Hans Timmermans assisting time trial coach Adriaan Helmantel throughout. The two Dutchmen drove the Bergen course together, compared notes, then devised identical race plans before driving behind both winning rides.
All for one
When sponsors asked him to found Skil-Shimano in 2008, it took Dutch businessman Iwan Spekenbrink a while to decide. With no background in cycling he needed to know his vision would be allowed time to succeed.
"I have my ideas about getting the best out of a group of people and how we should approach an elite sports organisation," Spekenbrink tells us. "If you really want to do it well you need two things: it is a team sport and you need to keep innovating.
"For example, Tom Dumoulin is very fast in the time trial, but we know that if Tom has the same aerodynamics in five years' time it will not be good enough, so we have to keep pushing him out of the comfort zone, seeing what
we can improve.
"Back then cycling was completely different, they called it a team but they only came together at the start of a race. So we looked for people with tremendous balance, with a future ahead of them, with a positive personality, but also guys that really were committed, because we are not an easy team, it is very demanding."
Watch: Tour de France 2018 route guide
Spekenbrink's understated passion is persuasive, and it is easy to fall under his spell as he repeats the team motto like some sort of management mantra. The phrase 'Keep challenging' is on everyone's lips, emblazoned on the team's black buses and signs off nearly all their social media posts.
"It's not marketing bluff," says Coryn Rivera, winner of four Women's WorldTour events last season. "The team and teamwork here is what we do and what we are. It may be a cliché, but it's true, you do have to keep challenging and push the boundaries to achieve great things."
"This team is all about the keep challenging philosophy," volunteers Chad Haga, in his fourth year at Sunweb. "The approach to every single race can feel tedious at times, breaking down what went right and wrong and where we can improve, but the gains can't be denied. Now we're a force to be reckoned with."
A year to remember
They began 2017 winning WorldTour events in January and finished the season with Dumoulin's World Championship time trial victory backing up the team victories earlier that week.
"We believed we made a step up in both teams last winter, but we did not expect this," explains Spekenbrink. "The results are better than we are, but that is what sport is all about, you want to perform better than you are.
"We have a bunch of talented riders, but all the other teams have as well, and we have good experts, and the others have, so it is all about collective talents."
For Sunweb, the team is everything and everyone on it must buy into and take responsibility for goals which are set collectively, either pre-season or pre-race. No one is bigger than the team. This rigid and singular ethos forms part of the reason the team has had to say goodbye to several riders it has helped develop to world-class level over the years, including the likes of Marcel Kittel and John Degenkolb.
>>> Giro d'Italia 2018 route: Full details revealed including eight summit finishes and two time trials
But surely Giro champion Dumoulin gets to influence the team?
"Not as much as I had hoped," the 27-year-old smiles. "I can give my input, but I am still not totally deciding my programme, I am not deciding which riders are coming with me, the team decides that and I think it needs to be like that because they have the bigger picture."
The collective ethos was starkly evident when Warren Barguil was ejected from the Vuelta for ignoring team orders.
"I think it was a logical consequence," says Spekenbrink, a harder edge replacing the charm. "We set goals but we don't dictate to people. Yes, we tell them the plan, but we involve them in how we are going to achieve the goal, and once you have agreement then you go for it. If the plan is being questioned there is a consequence.
"But again, keep challenging, we have to look to ourselves, did we manage it well enough, what can we improve to prevent this happening?"
Leaving the team this winter, perhaps Barguil had lost faith in the collective ethos.
"I see myself in a different role," he'd said after telling the team he did not want to conform to its plan.
"The team has to fit you," women's team captain Julia Soek says. "We are all professional, it is about working with and respecting each other. We want to create an open environment where everybody can speak without judgement."
Soek's role provides a conduit between riders and management, and she sits on the rider committee, though there is nothing preventing direct contact with Spekenbrink.
>>> Jonathan vaughters reveals the bold decisions made to save Cannondale-Drapac team
Given Spekenbrink's business background it is perhaps inevitable that Sunweb sounds like a normal workplace. Riders are regularly evaluated, completing log books for management scrutiny, and out-of-season track or cyclo-cross racing is only permitted if the team stands to benefit.
Like a slogan or sales target scrolling above a shop floor, 'Keep Challenging' is everywhere, only half a step away from the vacuous management speak of the The Office's David Brent. For those who embrace it, it is the maxim behind the team's success, for those less convinced it demands compliance. As Barguil can testify, failure to comply has consequences.
However, it provides a succinct reference for constant and intelligent development, and thanks to Spekenbrink's vision Sunweb now compete at every level. So it's down to him, right?
"If you are discussing who is more or less important then you don't get it. We are proud that it is Team Sunweb. Two words."
Keep challenging.
Thank you for reading 10 articles this month* Join now for unlimited access
Enjoy your first month for just £1 / $1 / €1
*Read 5 free articles per month without a subscription
Join now for unlimited access
Try first month for just £1 / $1 / €1
Owen Rogers is an experienced journalist, covering professional cycling and specialising in women's road racing. He has followed races such as the Women's Tour and Giro d'Italia Donne, live-tweeting from Women's WorldTour events as well as providing race reports, interviews, analysis and news stories. He has also worked for race teams, to provide post race reports and communications.