How to grease your Speedplay pedals (video)
It's a messy job, but it's got to be done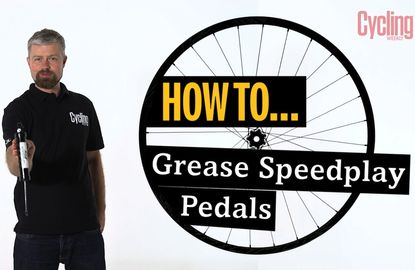 Got some Speedplay pedals? Then at some point you're going to need to give some TLC to your investment and to keep you riding at your best.
It's not a particularly tricky job, but it's one that you'll need to get right to elongate the life of your Speedplay pedals.
>>> How to fit Speedplay cleats (video)
All you need for this particular job is a small Phillips screw driver, to undo the screw on the side, and a Speedplay grease gun to inject the new grease. You can use other grease guns, but a Speedplay manufactured gun will do the best job as it's specifically designed to do it.
Follow our video above to get to know exactly how the job needs to be done, and in no time it'll become a quick an easy job that won't see your expensive pedals seize and need replacing.
You can check out the rest of our workshop and maintenance videos by clicking here.
Thank you for reading 20 articles this month* Join now for unlimited access
Enjoy your first month for just £1 / $1 / €1
*Read 5 free articles per month without a subscription
Join now for unlimited access
Try first month for just £1 / $1 / €1