How to fit Speedplay cleats (video)
Your step-by-step guide to setting up Speedplay cleats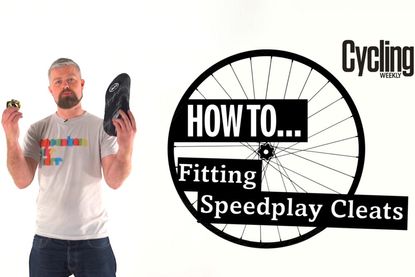 What you need
Phillips 2 screwdriver
Torque wrench
Threadlocking adhesive
Dry lube
How to fit Speedplay cleats
1. Make sure you're putting the correct cleat on the correct shoe. Unlike the cleats for other pedal systems, Speedplay cleats are left/right specific, so make sure that you're not putting the left cleat on your right shoes, or you won't get very far at all.
2. First you need to mount the base plate to the sole of the shoe. Make sure that the plastic shims attached to the bottom of either end of the base plate are the right size so that they follow the curve of the sole.
>>> How to look after your brake pads and rims (video)
Apply some threadlocking adhesive to the thread of the bolts, then screw them into the sole of your shoe, making sure that the base pate is positioned correctly. If you're not sure how to do this, then check out our complete guide to setting up your cleats correctly.
3. The next thing to do is to fit the cleat itself. Apply threadlocking adhesive to the smaller bolts in the package, then make sure that the recessed side of the cleat is towards the inside of your shoes with the arrows pointing forward.
>>> How to change your cassette (video)
Screw the bolts in until it sits snug against the cleat, then tighten it about another quarter turn, making sure that the cleat is in the correct position.
4. Once the cleats are on, it's important to take good care of them. This is easy enough to do by just keeping the bottom of you shoes clean using cleat covers, and to lubricate the springs in the cleats.
Thank you for reading 20 articles this month* Join now for unlimited access
Enjoy your first month for just £1 / $1 / €1
*Read 5 free articles per month without a subscription
Join now for unlimited access
Try first month for just £1 / $1 / €1