How to change your cassette (video)
Learning how to change your cassette is really easy and requires only a couple of tools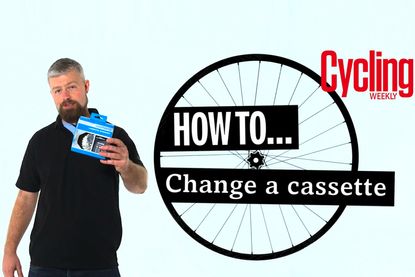 There are three reasons to change your cassette. The most obvious is that your cassette is worn, something that is easy to spot with the cassette teeth becoming pointy and the chain slipping, particularly when out of the saddle. The second reason to change your cassette is if you're fitting a new chain, with an unworn chain not always working well with a partially worn cassette.
>>> How to change your chain (video)
Finally you might be looking to change your cassette in order to fit different gear ratios. This is particularly the case if you're riding in mountains, or hilly terrain and want the safety net of a 28 or 32 tooth sprocket for steeper gradients.
However don't be tempted mix and match individual sprockets from different ratio cassettes. The idea of creating your own custom ratio cassette may be appealing, but the ramps and staggering of an 11-28t cassette are different from an 11-27t. Inter-changing individual sprockets will result in poor shifting.
What you need
Chain whip
Cassette ockring tool
Grease
Paper towels
>>> How to set up your brakes (video)
How to change a cassette
1. Remove rear wheel and quick release
Shift into the smallest sprocket. Release the brakes and quick release to remove the wheel. Unscrew the quick release and remove the skewer, making sure that all parts are kept together.
2. Remove cassette
Wrap your chain whip around the sprockets, and insert the lockring tool. Push down on the chainwhip and lockring tool to loosen the lockring, then continue to unscrew.
>>> How to adjust your headset (video)
3. Clean freehub body
Take the opportunity to give the freehub body a quick wipe down with some paper towels
4. Attach new cassette
Line up the large spline on the new cassette with the largest groove on the freehub body. Push the cassette off its plastic packaging and onto the freehub body. Make sure that all the sprockets are properly in place. Note, If you are putting a 10 speed cassette on an 11 speed free hub, you will require a spacer placed on first.
>>> How to build your new bike
5. Attach lockring
Grease the threads of the lockring then gently screw on by hand. Tighten using the lockring tool. Be careful here, as it is possible to cross thread the lockring. A torque wrench can be useful here, but is not essential.
6. Reattach quick release and fit wheel back onto bike
Put a bit of grease on the quick release skewer, then put it back through the axle. Place wheel back onto bike before doing up the quick release and brakes.
Thank you for reading 20 articles this month* Join now for unlimited access
Enjoy your first month for just £1 / $1 / €1
*Read 5 free articles per month without a subscription
Join now for unlimited access
Try first month for just £1 / $1 / €1