Watch: How to replace your disc brake pads
Essential disc brake knowledge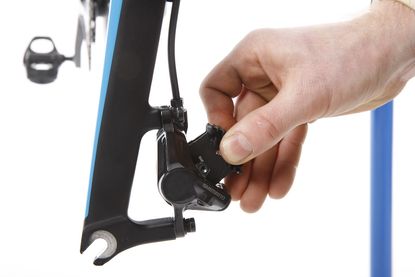 (Image credit: chris catchpole)
Checking your disc brake pads for wear is important, replacing them when there is should be a top priority. The last thing you want is to have the metal back plate of the brake pad rubbing against your rotors and damaging them.
>>> Watch: How to bleed your Shimano disc brakes
How to replace your disc brake pads: What you'll need:
New brake pads (sintered or organic)
Screw driver
Allen keys
Pliers (optional)
Disc pad spreader (optional)
The first thing you need to do is whip your wheel out of the bike so that you can access your disc brake calliper. Then you need to reset the pistons, which is a job that sounds a lot more complicated than it actually is. The easiest way to do this is put a screwdriver between the pads and push it back and forth, levering the pads back into place.
Remove the clip from the retaining bolt either with pliers or by hand then take the bolt out – it's usually an Allen head but can sometimes be Torx. Once that's removed, you're now able to take out the old pads.
At this point grab your new pads and place them into the spring, squeeze them together and slot them into the calliper, then replace the retaining bolt, clip and wheel. If they rub when you turn the wheel it might be that you need to realign the calliper – easiest way to do it is loosen both bolts then hold the brake lever and tighten them again.
Bedding in the new pads is very important, but fortunately quite easy to do. Simply go out and pull 10-20 hard brakes – you'll feel them get more powerful as you go.
Thank you for reading 20 articles this month* Join now for unlimited access
Enjoy your first month for just £1 / $1 / €1
*Read 5 free articles per month without a subscription
Join now for unlimited access
Try first month for just £1 / $1 / €1