Watch: How to check a chain for wear
Checking a chain for wear is a quick job, and if you catch it early you can save the rest of your drive chain and a lot of cash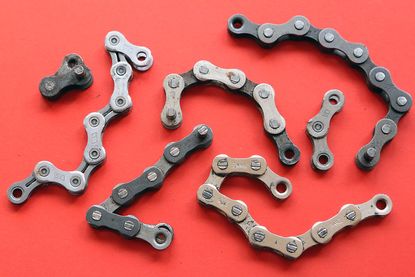 Checking your chain regularly is the easiest way to make sure your drive chain is in the best possible health. It's an important job because if you catch chain wear early, you can swap it out before it ruins your cassette and even your chainrings.
How to check a chain for wear: what tools you need:
It's an easy job checking the wear on your chain, all you need is a chain wear gauge and we recommend using either Shimano's own gauge or a Park Tool one. The Shimano tool is a little more advanced as it spreads the chain rollers, giving a more accurate reading.
When you're checking your chain you're looking for between 0.75% and 1% of wear. If your chain has the former then you're in luck: all you need to do is swap the chain out for a new one. If it's at 1% then it's advised that you change your cassette, too.
Basically, pop one end into a link and if the other end (marked 0.75%) drops into the chain unassisted then you need to change just the chain. Turn it upside down and do the exact same thing to measure whether there has been 1% of wear.
The key here is that we're not forcing the second end of the chain gauge into the link but letting it rest, we're looking to see if it'll drop in of its own accord.
It's a simply job but one that's quite important and it's well worth checking your chain semi-regularly. For this reason, we keep our tools strapped to our track pumps as a reminder for periodic checking.
Thank you for reading 20 articles this month* Join now for unlimited access
Enjoy your first month for just £1 / $1 / €1
*Read 5 free articles per month without a subscription
Join now for unlimited access
Try first month for just £1 / $1 / €1