How are titanium bikes made? (video)
Titanium bikes are experiencing a renaissance. There is something about the look of a bare titanium frame - but they come with a premium price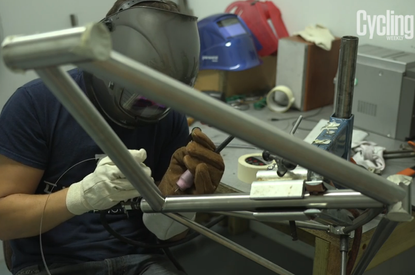 Get The Leadout Newsletter
The latest race content, interviews, features, reviews and expert buying guides, direct to your inbox!
Thank you for signing up to The Pick. You will receive a verification email shortly.
There was a problem. Please refresh the page and try again.
For a while it looked like titanium would be to the cycling world like the mini-disc was to music, a fleeting presence superseded by a new technology.
However, for many a titanium bike is the new n + 1 bike of choice, the bike to complete the stable.
>>> Top ten road bike innovations
Why titanium?
As a material titanium has many attributes: it does not rust and is not prone to fatigue which means the frame does not need to be painted to protect it from the elements. It is also a very strong material that is relatively light.
Titanium race bikes
From a purely race performance perspective titanium frames were largely superseded by carbon. Carbon is lighter, stiffer and in theory gives better power transfer.
>>> Lighter, stronger, thinner: could graphene be cycling's next game changer?
You do see race focused titanium bikes, although many riders opt for a titanium frame with a more relaxed geometry. Normally titanium frames are paired with a carbon fork to provide a compliant ride.
>>> Is the hardest bike race in the world? (video)
How is a titanium bike made?
The first step is a consultation with the rider during which measurements are taken to ensure the frame is bespoke for the rider.
The design is passed to the factory where the titanium tubes are selected. They are then mitred and cut to the correct dimensions.
The frame is built in a jig before the titanium tubes are tacked together before welding. At this stage you can start to visualise the frame.
>>> New steel could be stronger and lighter than titanium
The most technical part of the process is the welding of the frame. This requires lots of skill and attention - it takes around four to five hours and people are always quick to check the welds of a frame.
The welding causes the insides of the frame to warp slightly due to the heat. To solve this and ensure the headset and bottom bracket fit correctly the tubes are reamed and tapped to give a good finish.
No one wants a wonky frame. The penultimate task is to ensure the frame is tracking correctly - to check that it is straight.
This now leaves blasting the frame and applying the finishing touches to the frame.
For more information go to Enigma Bikes.
Thank you for reading 20 articles this month* Join now for unlimited access
Enjoy your first month for just £1 / $1 / €1
*Read 5 free articles per month without a subscription
Join now for unlimited access
Try first month for just £1 / $1 / €1
Get The Leadout Newsletter
The latest race content, interviews, features, reviews and expert buying guides, direct to your inbox!